Cuisine Style: Andhra | Cooking Time: 30 minutes | To Serve: 4 | Take with: Chutney | Type: Breakfast, Weight loss & Easy diabetic recipes
Ingredients
Moong Dal-2 Cups
Raw Rice - 1/4 Cup
Onion - 4 nos
Ginger - 1 piece (1 inch peeled)
Coriander leaves
Cumin Seeds - 1 tbs
Pepper powder (Coarse ground) - 1tsp
Green Chilies -4 Nos
Salt to taste
Oil
Preparation
Soak Moong Dal and raw rice over night.
Coarse grind the following: Moong Dal, Raw rice, green chilies, cumin seeds and ginger and keep it for 2 to 3 hours.
Chop Onion and keep it aside.
Heat a griddle and grease it by oil.
Then pour ladle full of Pesarattu batter over the griddle.
Spread the batter like a dosa (Round shape thin or thick).
Put chopped onions over it and cook for 3 minutes (medium flame).
Sprinkle oil over the edges.
Flip it and cook for 2 to 3 minutes.
Serve with coconut chutney.
Onion Pesarattu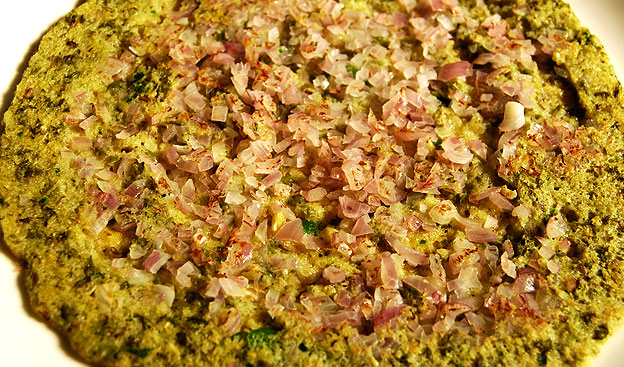 Note
Pesarattu can also be prepared without cumin seeds and ginger.

Tip
You can put coconut scrap instead of onions.
How this Pesarattu recipe is Unique?
We are making Pesarattu after keeping 2 to 3 hours and this gives good flavor and taste.
You may also like these recipes

Coconut Rice
Rice -2 cups, Water- 4 cups, Grated Coconut-1 cups, Coconut Milk- 2 cups,...
Read More >>

Bisibele Bhath
'BISI BELE BHATH' literally means 'hot rice and daal mix'. Obviously...
Read More >>

Urundai Kuzhambu
Soak Channa Dal in the water for 45 minutes. Drain the water and add 2...
Read More >>

Masala Pasta
This is Indo-Italian style masala pasta and sure Indian would love...
Read More >>

Palak Paneer
Wash spinach thoroughly in Water. Heat oil in a pan. Cook spinach. Add water...
Read More >>

Sambar
Choose a heavy cooking pot. Wash and clean the Dal. Boil 2 cups of water and...
Read More >>

Delhi carrot halwa
Delhi carrots [red]-2 cups [finely grated]. Ghee [melted butter]...
Read More >>