Coriander biryani | Kothamalli biryani with roasted bread and nuts [Easy lunch box recipe]

By
Sridher
Cuisine Style: Tamil Nadu, South India | Cooking Time: 15 to 20 minutes | To Serve: 3 | Take with: Kurma, raita,pachadi | Type: Lunch
Ingredients
Coriander puree – ½ cup
[Put ¼ cup of Mint leaves, ½ cup of Coriander leaves & Water in a mixer jar & grind well]
Bread – 2 slices [cut & remove the edges, cut into triangle shape then deep fry]
Basmati rice – 2 cups
Water – 2 ½ cup
Tomato – 1 [finely chopped]
Potato – 1 [peeled, cut into cubes]
Onion – 1 [sliced]
Ginger – 1 tbsp [finely chopped & mashed]
Garlic– 1 tbsp [finely chopped & mashed]
Green chilli – 1 [slit]
Mint leaves - 5
Cinnamon stick - 1
Bay leaves - 1
Green cardamom - 2
Cloves - 3
Fennel seeds – ½ tbsp
Cashew nuts - 6
Almonds – 5
Red chilli powder – ½ tsp
Turmeric powder – ¼ tsp
Garam masala powder – ½ tbsp
Curd – 1 tbsp
Lemon juice – ½ tbsp
Salt to taste
Oil – 2 tbsp
Butter – 1 tbsp
Preparation Method
Wash & soak basmati rice for 15 min.
Heat pressure cooker with oil & butter. Add green cardamom, fennel seeds, cinnamon stick, cloves, & bay leaves, cashew nuts & almonds sauté.
Then add onion sauté till light brown then add ginger & garlic.
Add green chilli, potato, tomato & sauté well. Then add turmeric powder, red chilli powder & garam masala powder sauté.
Add coriander puree mix well. Then add water, salt & 2 tbsp curd mix well, & let it boil.
When boiling add basmati rice mix gently, add mint leaves & cover it & cook for 3 to 4 whistles.
Sprinkle mint leaves, lemon juice & fried bread slices mix gently then serve hot with any raita.

Coriander pulao with roasted bread & nuts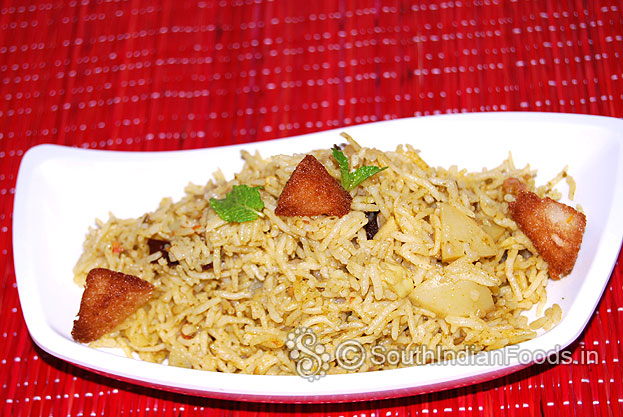 Rate this recipe
You may also like these recipes

Gobi Manchurian
I love Gobi Manchurian, I would like to have it as evening...
Read More >>

Potato Paneer Balls
This is homemade healthy snack which surely..
Read More >>
Ragi semiya kuzha puttu
Ragi semiya – 1 cup. Ghee...
Read More >>

Spring onion kuzhi paniyaram
Paniyaram batter [Idli batter]...
Read More >>

Red kidney beans vada
Red kidney beans [Rajma...
Read More >>

Moong dal Carrot Puttu
Moong dal [pasi paruppu]...
Read More >>

Wheat rava idli
Wheat rava[Godhuma Rava, samba rava] - 1 cup...
Read More >>

Vermicelli kofta in spinach gravy
Vermicelli [semiya] – 1 cup...
Read More >>
Plantain stem pachadi
Plantain stem – 12 inches. Curd – 1 cup. Curry leaves...
Read More >>

Kadarangai Pickle
Kadarangai – 1. Gingelly oil – 50 ml. Mustard seeds...
Read More >>

Ragi semiya upma
Soak (till ragi sink completely) ragi semia in salt...
Read More >>

Thinai sakkarai pongal
Thinai rice (Foxtail Millet)...
Read More >>
Recipes by Categories