Breakfast Recipes >Lemon veg sago upma | javvarisi lemon veg Uppuma | Tapioca uppittu
Lemon veg sago upma | javvarisi lemon veg Uppuma-How to mkae-Video

By
Sridher
Cuisine Style: TamilNadu, South India | Preparation & Cooking Time: 15 minutes | To Serve: 3 | Take with: Kurma, chutney, sambar, pickles, chips | Type: Breakfast, dinner
Lemon juice– 2 tbsp
Carrot – ½ cup [chopped]
Green peas – ½ cup [fresh]
Green capsicum – 2 tbsb [finely chopped]
Onion – 1[chopped]
Ginger – 1 tbsp [finely chopped]
Green chilli – 1 [finely chopped]
Coriander leaves – 2 springs [chopped]
Curry leaves – 1 spring
Turmeric powder – ¼ tsp
Mustard seeds – 1 tbsp
Bengal gram – 1 tbsp
Urad dal – 1 tbsp
Asafetida a pinch
Salt to taste
Oil – 1 ½ tbsp
Preparation Method
Wash & soak sago for 2 hours then drain water.
Boil carrot & green peas separately.
Heat oil in a pan, add mustard seeds & let it splutter.
Then add Bengal gram, & urad dal sauté.
Add onion, capsicum sauté well then add asafetida, ginger, green chilli & curry leaves sauté.
Add boiled carrot, green peas, & turmeric powder sauté gently.
Add sago & salt then mix well. Then add lemon juice mix well.
Add chopped coriander leaves mix well.
Then cut off heat and serve hot with pickle, coconut chutney.
How to make sabudana upma video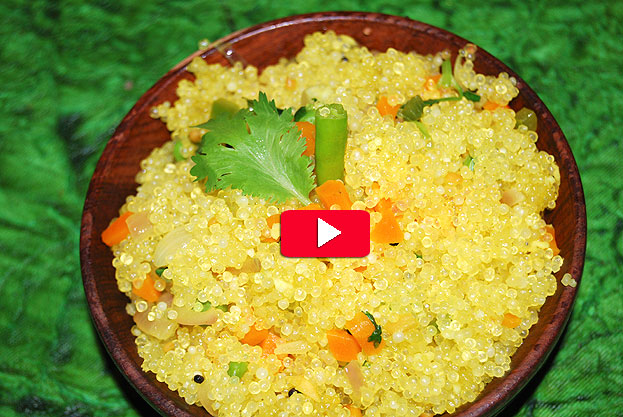 Tapioca uppittu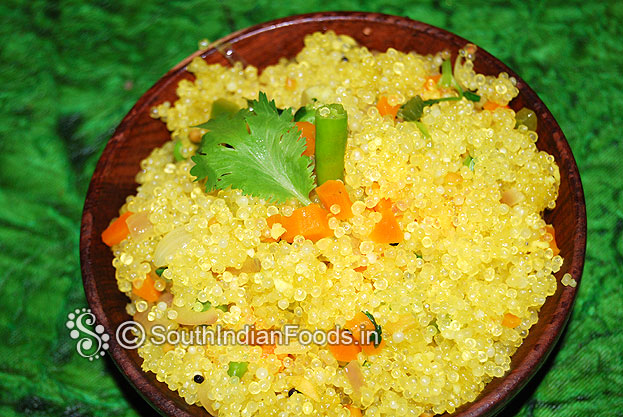 Rate this recipe
You may also like these recipes


Samai khichdi
Samai arisi [Little millet, sama rice, samak rice]- 2 cups...
Read More >>

Crispy dosa
Idli rice - 2 cup. Urad dal - ¾ cup. Fenugreek seeds...
Read More >>

Hotel Idli Sambar
Though everyone hates hotel food some times we...
Read More >>

Kara Kuzhambu
Brinjal - 3 nos. Small Onion (Sambar Onion) - 10...
Read More >>

Thinai Idli
Thinai arisi [Foxtail millet]– 2 cups. Urad dal ...
Read More >>

Ragi laddu
Ragi flour [Kezhvaragu maavu, finger millet flour] – 1 cup...
Read More >>

Potato rice
Rice – 2 cups [boiled]. Potato[Aloo...
Read More >>
Recipes by Categories