Continental Recipes >Tomato fusilli pasta recipe indian style-Easy breakfast recipe-No cheese, zero cholestrol
Tomato fusilli pasta recipe indian style-Easy breakfast recipe-No cheese, zero cholestrol

By
Sridher
Cuisine Style: Indo-Italian | Cooking Time: 10 minutes | To Serve: 3 | Type: Breakfast or Dinner | Take with: Egg
Ingredients
Mini Fusilli Pasta [Durum wheat pasta, Borges] – 1 cup
Onion – 1 [sliced]
Garlic – 2 [mashed or finely chopped]
Green Chilli – 1 [slit]
Tomato -3 [chopped]
Black pepper – ½ tbsp [crushed or freshly ground]
Garam masala – ½ tbsp [optional]
Tomato Sauce - 2 tbsp
Coriander Leaves - 2 tbsp [finely chopped]
Lemon juice - 1 tbsp
Oil - 2 tbsp
Salt to taste
Water as needed

Preparation
Heat oil in a pressure cooker with then add onion and garlic sauté till soft. Then add green chilli sauté gently.
Add tomato sauté till soft then add garam masala powder mix well.
Add water and salt mix well & let it boil. When boiling Mini Fusilli Pasta mix well & cook for 4 whistles.
Then add tomato sauce, lemon juice mix well. Cut off heat then sprinkle chopped coriander leaves and pepper powder mix well & serve hot.
Tomato mini fusilli pasta-No cheese, zero cholestrol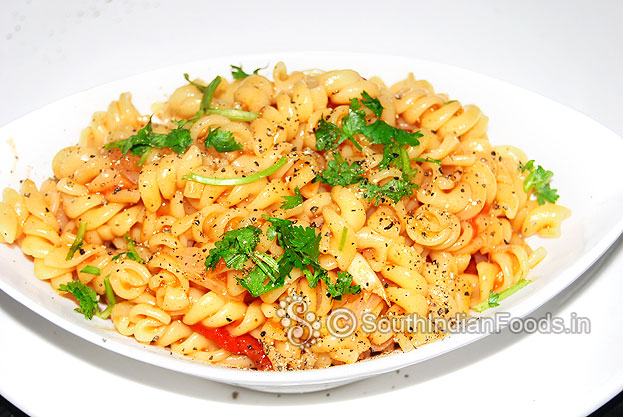 Tomato mini fusilli durum wheat pasta-Pressure cooker method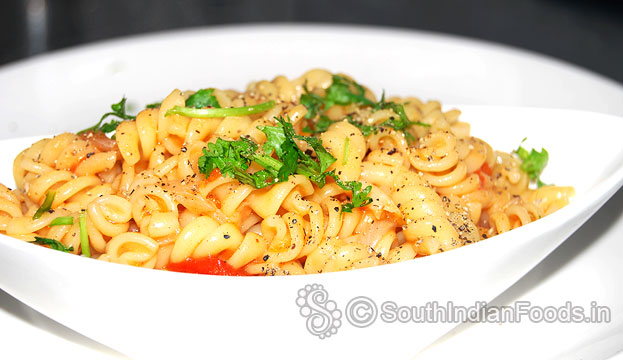 Rate this recipe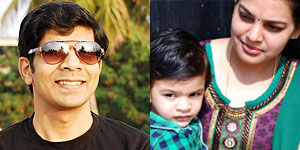 About Us
You may also like these recipes

Shavige bath recipe
Semiya [vermicelli] – 200 gram. Lemon juice – 2 tbsp...
Read More >>

Carrot payasam
Delhi carrots [red]-1 cup [finely grated]. Ghee– 3 tbsp...
Read More >>

Crispy onion rings
Onion – 2 [cut into rings]. Besan [gram flour, kadalai...
Read More >>

Cucumber pachadi
Cucumber – 2 small [cut in to cubes]. Green chilli...
Read More >>

Tomato matar pulao
Tomato – 4 [chopped]. Green peas [matar] – 1 cup...
Read More >>

Toor Dal kuzhambu
Toor dal – ½ cup. Tomato – 1 [chopped]. Dry red...
Read More >>

Shahi Paneer
Paneer [About 1 inch sliced & fried] - 300 grams...
Read More >>

Green gram vada
Green gram [Pachai payaru] – ¾ . Thatta payir...
Read More >>

Senai kizhangu chips
Senai kizhangu [Elephant foot yam] – half. Turmeric...
Read More >>

Badam burfi
Badam [Almonds] – 1 cup. Milk - ½ cup [Optional]...
Read More >>

Kadai paneer
Homemade Paneer [Cottage cheese]– 1 cup...
Read More >>

Poorna kozhukattai
Rice flour – 1 cup. Water – ¾ to 1 cup. Jaggery...
Read More >>

Simple palak paneer
Spinach (palak) - 1 bunch. Cottage cheese...
Read More >>
Recipes by Categories