What is Food Astrology?

By
Guna selvi Sridher
Food Astrology
Click your respective Zodiac signn to see your food astrology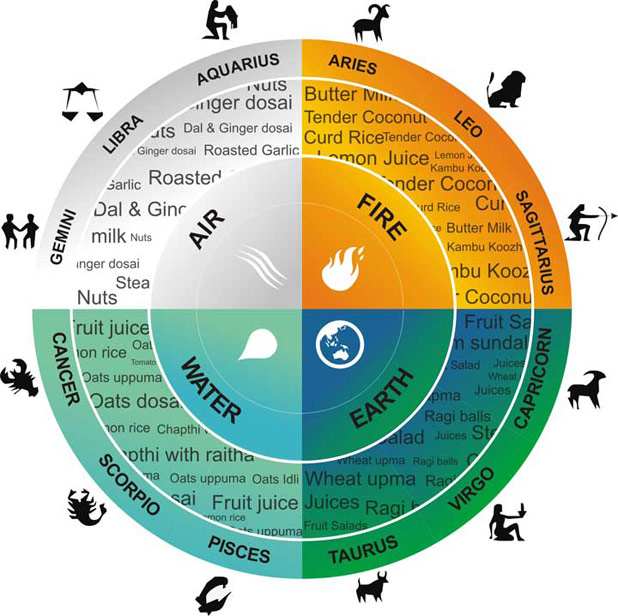 The entire living creature in the earth is composed of five elements and they are:
Space
Air
Fire
Water and
Earth
These basic 5 elements that determine what we are. Without any one of these we cannot live harmony. If there is an unbalance in any one of the five elements it may lead to tension, pressure and angry. These four elements (Except space) rule the Zodiac. The Zodiac rules our diet. Believe it, it's true. Most of us would have consulted astrologer with eager and anxiety about our fortune, but have you ever consulted what to eat according to our zodiac sign. The Zodiac sign is not only determines what is going to happen next but also helps our diet how it would be.
What you eat will determine what you will be. There is strong connection between zodiac signs and food that you eat. So eat according to your signs and live healthily. If you are already green in health, fine tune it further more.
Gemini, Libra and Aquarius
Aries, Leo and Sagittarius
Cancer, Scorpio and Pisces
Taurus, Virgo and Capricorn
AIR (Gemini, Libra and Aquarius)
My dear soft heart Arians, cause of the air signs you are so fast to react anything. You are super active, soft hearted and mentally sensitive. If you are not balancing you air signs with proper and balanced food you will frequently face skin dryness, memory problem, restless etc., Often you would suffer from muscle strain. By following one the following recipes you can balance your air perfectly Asafoetida butter milk, Roasted Garlic, Dal & Ginger Dosai, Steamed vegetable, Vegetable wheat adai, Coconut rice, Puiogre, Vegetable dosai, Idli with garlic chutney
Avoid: Cake, Bread and grains
Tip: Eat roasted garlic in cycle, use Asafoetida in all your recipes
FIRE (Aries, Leo and Sagittarius)
Dear strong and energetic Mr & Mrs Fire signs, you are strong enough to face anything. The fire sign digests & absorb nutrition easily. The fire fights against diseases, allergic, fungal infection. Your fire sign will easily purify toxins. You will rarely have food poison and fall in sick. Because of your fire sign you will easily get tensed and that may cause hypertension and even ulcer. If you feel unbalance in fire inside you (abnormal heat) try out the following food Lemon juice, Tender coconut, Butter milk, Curd rice, Kambu (Pearl Millet – semi solid) Koozh, Raghi Koozh, Lemon Rice, Kambu Idli, Palaya soru (rice soaked overnight which has east) with small onion, Kambu Dosai, Panangkarkandu (Palm Jagery) Milk
Avoid : Spicy oily food
Tip : Men have to take oil bath every Saturday and women on Fridays
WATER (Cancer, Scorpio and Pisces)
Dear tender hearted Waterians, you are so emotionally reactive, sensitive to the environment. You will easily get hold of diseases. You will tend to imagine health problem to a greater extent than they are actually. As you have slow metabolism your digestion system works slowly. Eat exactly what you need. When there is an unbalance in water you will feel tired, stiff and irritated. Illness will occur in cycle. So maintain your water balanced. Any fruit juice, Lemon rice, Tomato rice, Chapthi with raitha, Oats uppuma, Oats dosai or idli will be good.
Avoid: Cake, Bread, Fried items, Sweets and too much of salty items
Tip : Take sundal & protein rich dishes
EARTH (Taurus, Virgo and Capricorn)
Dear confident Earthian, you resist and endure to the maximum. Compared to other signs you are one step ahead to fight against fever, cold, flue and other diseases. You tend to easily put on weight so be careful what you eat. You love to have heavy food and nap after that. It is advisable to take Fruit Salads, Horse gram Sundal, Fruit salad, Steamed vegetables, Chapathi, Wheat upma, Ragi balls, Juices
Avoid: Cake, Bread, Fried items and Sweets
Tip : Take Garlic & Horse gram often in your diet

Rate this recipe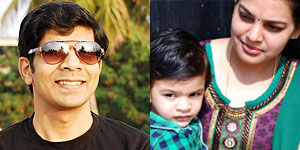 About Us
You may also like these recipes

Delhi carrot halwa
Delhi carrots [red]-2 cups [finely grated]. Ghee [melted...
Read More >>

Vendakkai kara kuzhambu
In a thick pan fry Okra for...
Read More >>
Recipes by Categories