Pavakkai vatha kuzhambu | Bitter gourd vathal kulambu

By
Gunaselvi Sridher
Cuisine Style: South India | Cooking Time: 15 to 20 minutes | To Serve: 6 | Take with: rice | Type: Lunch Gravy
Ingredients
Pavakkai[Bitter gourd]– 2 [slice & remove seeds]
Tamarind extract or tamarind water – 1 ½ cup or tamarind paste – 2 tbsp
Curry leaves – 2 springs
Sambar Onion (Shallots) - 10 (whole)
Turmeric powder – 1 tsp
Jaggery – 2 ½ tbsp [grated]
Mustard seeds – 1 tsp
Urad dal – 2 tsp
Bengal gram – 2 tbsp
Asafetida - 1 tsp
Salt to taste
Gingelly Oil [Sesame oil]– 3 tbsp
Water as needed
For roasting & grinding
Fenugreek - 2 tsp [Dry roast (dont add oil for frying) fenugreek and grind to fine powder]
Rice – 1 tbsp
Dry Red Chilli - 4
Urad dal – 2 tbsp
Toor dal – 2 tbsp
Coriander seeds - 2tbsp
Peppercorns -1tbsp
Heat oil in a pan add toor dal & urad roast till light brown.
Then roast coriander seeds & peppercorns.
Next roast rice & dry red chilli then let it cool.
Put roasted ingredients in mixer jar & grind to smooth paste with ¼ cup of water.
Preparation
Wash & slice bitter gourd, remove seeds, immediately put it in turmeric, tamarind[or lemon juice]& salt added water, leave it for 30 min then drain water
Then place it in a cotton cloth let it dry for 10 min.
Then deep fry bitter gourd till light brown.
Heat oil in a pan add mustard seeds, let it splutter.
Add Bengal gram & urad dal sauté.
Add onion sauté till light brown.
Add fenugreek powder & asafetida mix well. Then add curry leaves sauté.
Add fried bitter gourd, salt & ½ tsp of turmeric powder sauté till soft.
Add the tamarind paste / tamarind extract and mix well. Add water if required & let it boil & thickens.
Add ground paste mixture mix well & let it boil
Add Jaggery & salt let it boil
Finally add 1 tbsp of sesame oil & cut off heat.
Serve hot with rice.
Bitter gourd vatha kulambu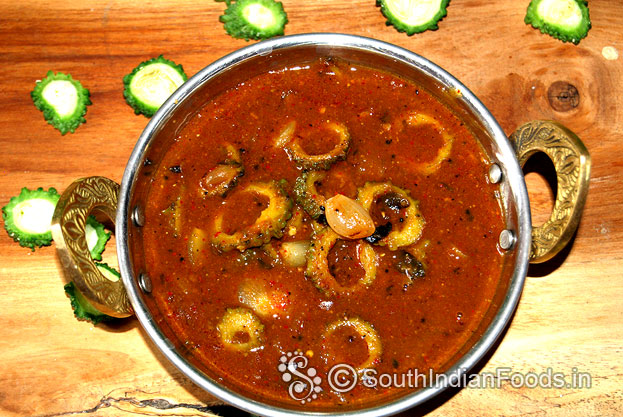 Fried Bitter gourd vatha kulambu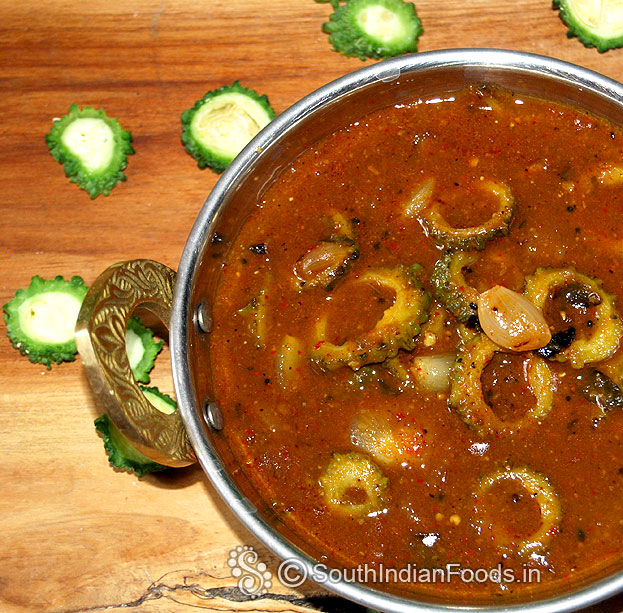 Rate this recipe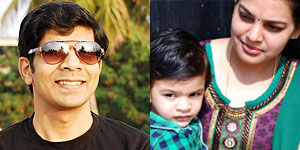 About Us
You may also like these recipes

Carrot Halwa
Peel off the carrot skin and grate and keep aside...
Read More >>


More Kuzhambu
Soak rice and Toor Dal together for 15 to 20 minutes...
Read More >>

Beetroot Spaghetti
Cook the Spaghetti in a beetroot* juice. (* Peel off...
Read More >>

Rajma Masala
Heat oil and butter in a pan, add cumin seeds, when it's...
Read More >>

Shahi Paneer
Heat oil in a pan, add cloves, peppercorn, cinnamon...
Read More >>

Kadala curry
Chickpea – 1 cup [wash & soak overnight then boiled with...
Read More >>

Shell macaroni with sprouts & cheese
Shell macaroni or shell...
Read More >>

Onion bhaji
Onion – 2. Besan [gram flour, kadalai maavu] – 1 cup...
Read More >>

Malai kofta curry
Paneer [Cottage cheese]– 1 cup [crumbled or grated]. Potato...
Read More >>

Crispy onion pakoda
Onion – 2 [Sliced], Gram flour – ½ cup, Rice flour – ¼...
Read More >>
Recipes by Categories