Beetroot Spaghetti - 215 Calories in 1 cup of Beetroot Spaghetti

By
Sridher
Cuisine Style: Indo-Italian | Cooking Time: 15 minutes | To Serve: 2 | Type: Breakfast or Dinner
I was a put up in a challenge circumstances when many of my friends asked "Can you suggest good recipe for the weekend breakfast other than noodles, pasta, Masala Macroni?" I prepared Spaghetti and I feast them with surprise. I tried Spaghetti with variant by adding beetroot which brought color to the dish, yes obviously healthy too. :)
Beetroot Spaghetti can be made in couple of ways. The first method adding fresh beetroot juice while making the spaghetti dough. The second one is cooking the dried Spaghetti in a beetroot juice.
Ingredients
Beetroot - 2
Cheese - 2 tbsp [ Grated ]
Dried basil - 1 tbsp
Onion - 1 [ Chopped ]
Garlic - 1 tbsp [ Grated ]
Green chilli - 1 [ Chopped ]
Coriander leaves - 2 tbsp [ Chopped ]
Pepper powder - 1/2 tbsp [ Freshly ground ]
Lemon juice - 1 tbsp
Mixed herbs - 2 tbsp
Parsley - 2 leaves
Red chilli flakes - 1 tbsp
Oil - 2 tbsp
Salt to taste
Preparation
Cook the Spaghetti in a beetroot* juice. (* Peel off beetroot, boil & grate, put it in a blender with salt and dried basils and grind to nice paste with water then extract the beetroot juice)
In a pan heat the oil add onion sauté well
Once onion turns light brown add mixed herbs, garlic, green chilli & red chilli flakes sauté gently
Add cooked Spaghetti then mix chopped coriander leaves, pepper powder and lemon juice and mix gently
Serve hot with grated cheese and parsley.
Note
For rich flavor add garam masala, 1 tbsp of curd and pinch of sugar

Beetroot Spagetti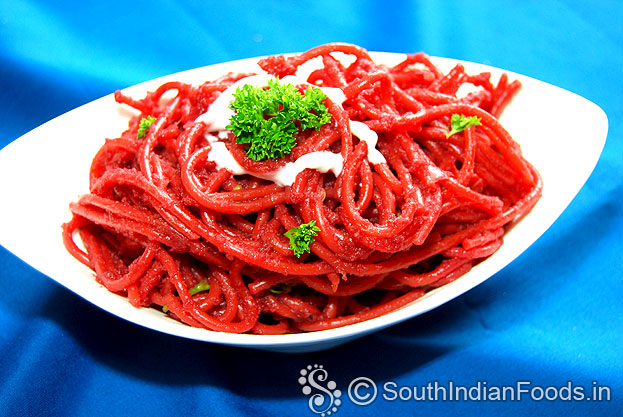 Spagetti in beetroot sauce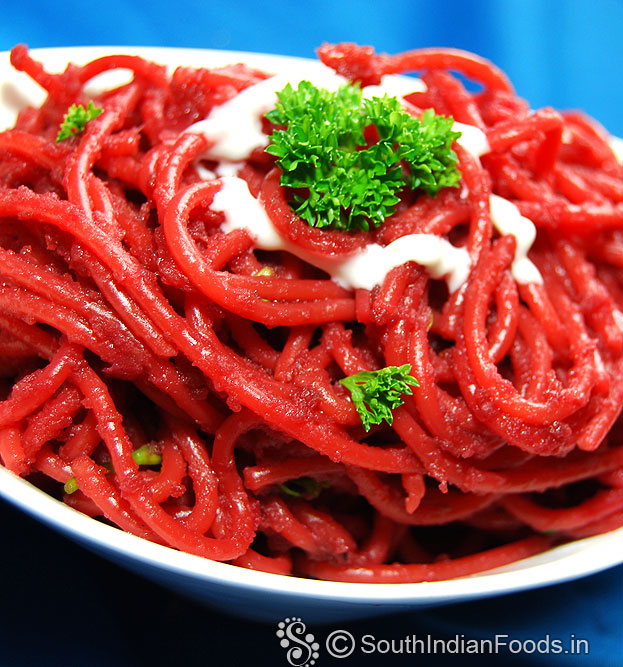 Instant red spagetti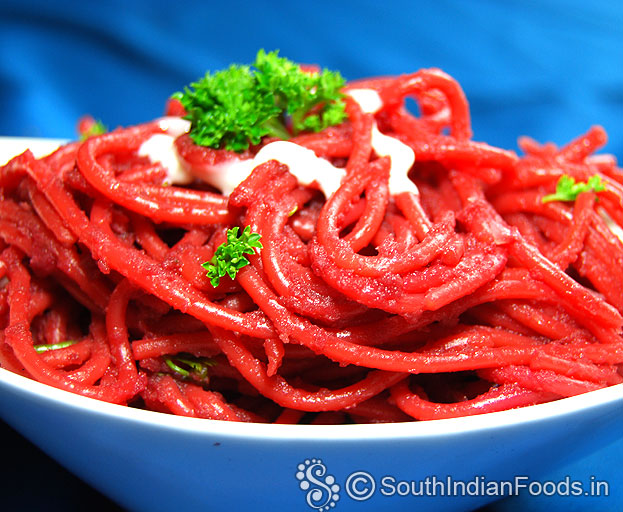 Beetroot Spagetti Pasta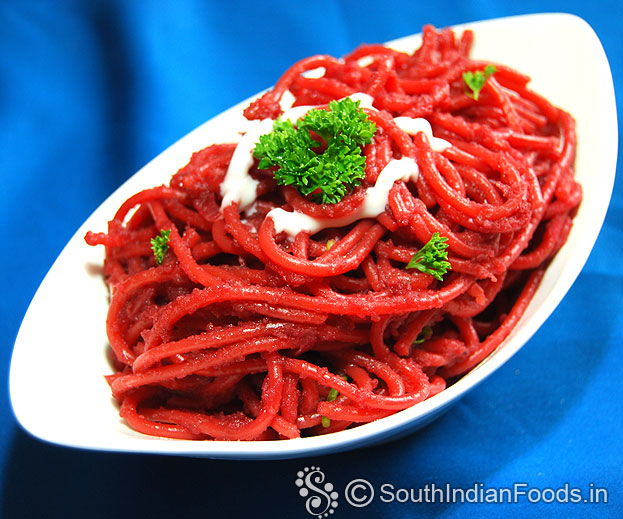 Istant breakfast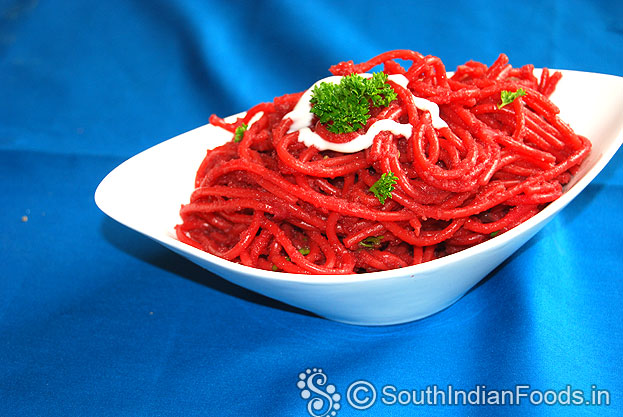 Rate this recipe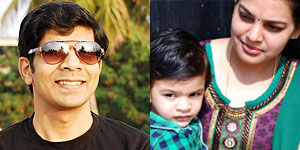 About Us
You may also like these recipes

Carrot potato green peas inji kootu
Potato – 2 [peeled, cut into...
Read More >>

Lemon Rice
Boil the rice in less water, spread over...
Read More >>

Sambar onion ellu puli kootu
Sambar onion [Shallots...
Read More >>

Avarakkai malabar kootu
Avarakkkai [broad beans]...
Read More >>

Bitter gourd fry
Bitter gourd [Pavakkai, karela, Momordica charantia]...
Read More >>
Recipes by Categories