More (Yogurt Gravy) Kuzhambu | Vendakkai more kulambu | Bhindi yogurt curry | Okra buttermilk curry

By
Sridher
kathirvelu
Cuisine Style: TamilNadu, South India | Cooking Time: 15 minutes | To Serve: 4 | Take with: rice | Type: Lunch Gravy
Ingredients
Thick buttermilk (1/2 cup curd + 1 1/2 cups water)- 2 cups
Turmeric powder- 1/4 tsp
Ginger- a small piece
Toor Dal- 1 tsp
Green Chillies- 2
Coconut grated- 2 tbs
Rice- 1 tsp
Tomato- 1 (small)
Salt to taste
Any one of the vegetables (Potato, Beans, Carrot, Cucumber, Ashgourd, Okra, Pumpkin) chopped- 1/2 cup
For Tempering
Coconut oil/cooking oil- 1 tbsp
Mustard seeds- 1/4 tsp
Curry leaves- a few
Asafoetida- a pinch

Preparation
Soak rice and Toor Dal together for 15 to 20 minutes.
Add turmeric powder to buttermilk and beat well and keep it aside.
Grind soaked rice and Dal with coconut, ginger, green Chillies to a fine paste.
Half boil the vegetables (If you use Okra fry with excess oil separately) in a pan then add the ground paste and salt to it.
Simmer the flame and add little water to it so that the veggies are cooked fully and the raw smell of the paste goes off. Add the buttermilk to it.
Heat coconut oil in a frying pan and add the tampering ingredients one by one and fry for a minute.
Pour the mixture to this pan and mix well.
Serve with rice.
Note
More kuzhambu can be prepared without vegetables.

Tip
Potato fry is the best side dish.
How this More Kuzhambu recipe is Unique?
Tempering in coconut oil makes this More Kuzhmabu unique.
Vendakkai more kulambu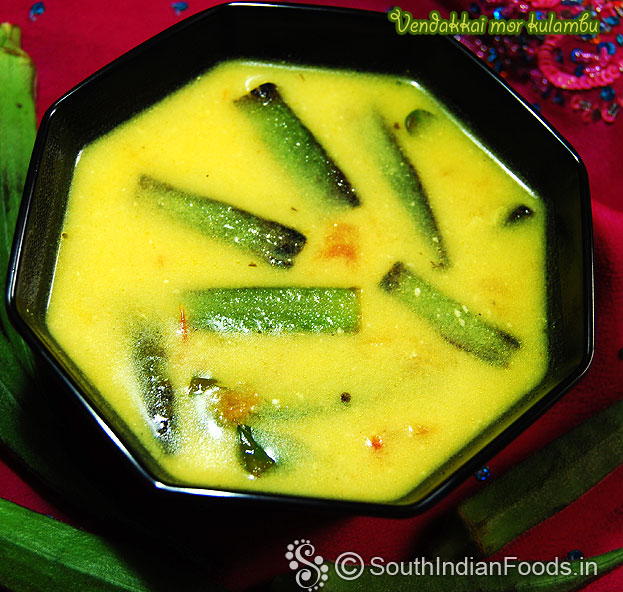 Okra buttermilk curry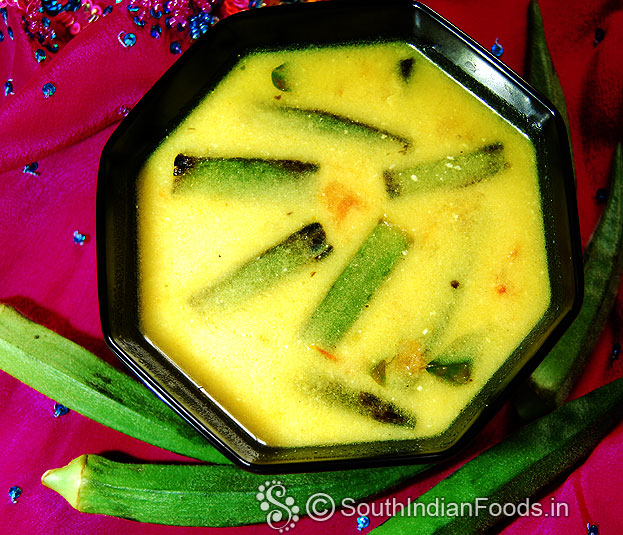 Moru curry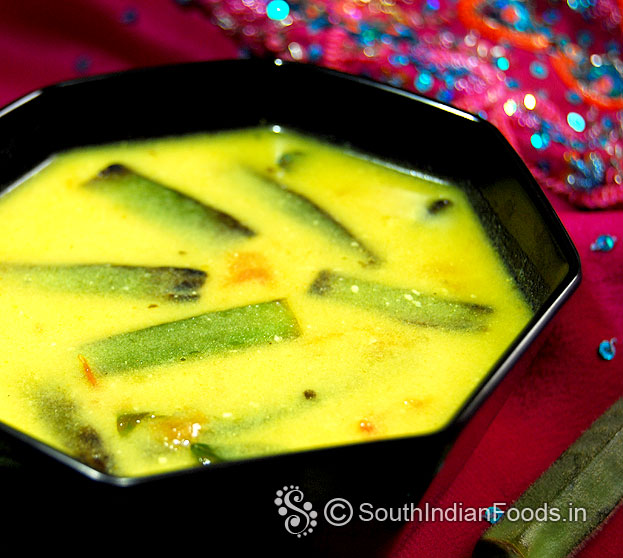 Iadies fingers buttermilk curry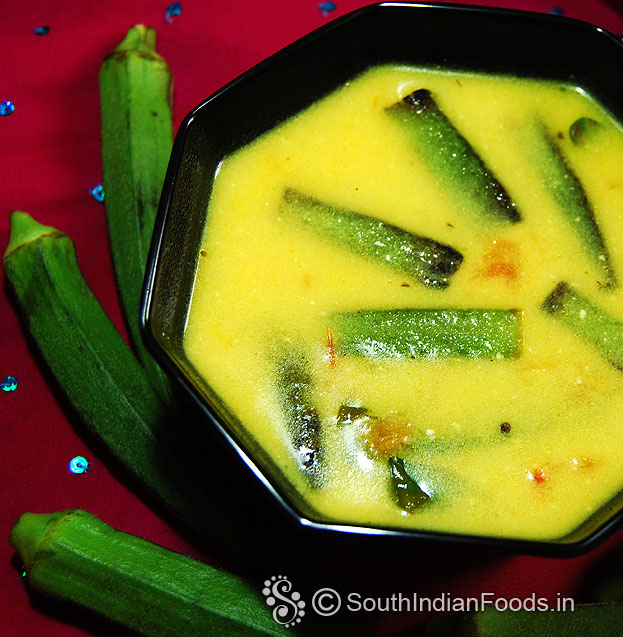 Rate this recipe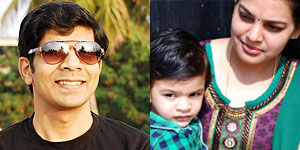 About Us
You may also like these recipes

Carrot Halwa
Peel off the carrot skin and grate and keep aside...
Read More >>

Milagu kuzhambu
Soak tamarind for 45 minutes. Dry roast and grind the...
Read More >>

Samosa
Everyone loves samosa. It is easy to prepare at home...
Read More >>

Paneer Palak Kofta Curry
Take all the ingredients...
Read More >>

Mango Ice Cream
Ice cream is one of the most popular desserts in the...
Read More >>

Ragi aval upma
Ragi aval [Ragi poha, kezhvaragu avul, finger...
Read More >>

Sri lankan coconut roti
Everyone loves samosa...
Read More >>
Recipes by Categories