Bird nest recipe-Vegetable birds nest with potato & green peas-kilikoodu

By
Sridher
Cuisine Style: India & China | Preparation & Cooking Time: 20 minutes | To Serve: 2 | Take with: Green chutney, Tomato chilli sauce | Type: Snacks
Ingredients
Potato – 3
Corn flour – 2 tbsp
Bread crumbs – 1 tbsp
Maida – 2 tbsp
Vermicelli roasted – 1 cup
Pepper powder – ¼ tsp
Salt to taste
Oil for deep frying
Water as needed
For stuffing
Green peas – ½ cup
Paneer – 3 tbsp [grated]
Onion – 3 tbsp[finely chopped]
Green chilli – 1 [finely chopped]
Ginger – 1 tbsp [finely chopped]
Garlic - 1 tbsp [finely chopped]
Sugar a pinch
Turmeric powder – ¼ tsp
Red chilli powder – ¼ tsp
Garam masala powder – ½ tsp
Dry mango powder – ½ tsp or lemon juice – ½ tsp
Coriander leaves – 2 springs[finely chopped]
Salt to taste
Oil – 1 tbsp
Preparation Method
Boil potato, peel off the skin then mash well.
In a bowl add mashed potato, salt, bread crumbs & pepper powder mix well & make soft dough, cover it & keep it aside.
Boil fresh green peas.
In a bowl add maida & water make light consistency batter.
Heat oil in a pan, add onion, ginger & garlic sauté. Then add green chilli, green peas, red chilli powder, turmeric powder, garam masala & dry mango powder mix well.
Finally add paneer, salt, & sugar mix well & cut off heat. Then add coriander leaves mix well.
Divide the potato dough into equal size balls & make hole in the center then stuff each ball with 2 tbsp of stuffing mixture & shape into a ball again.
Dip each balls in the maida mixture, then roll it in roasted vermicelli. Make sure all the sides of the balls equally covered/sealed with vermicelli.
Heat oil in a pan, deep fry all balls one by one on medium flame. Once balls turned golden brown & crispy take it out.
Drain on an absorbent paper & serve hot with green chutney or tomato sauce.
Birds nest with Potato, Green peas & paneer crispy fritters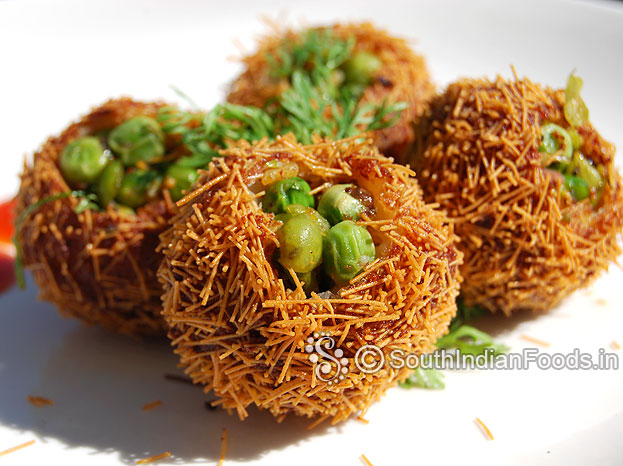 Rate this recipe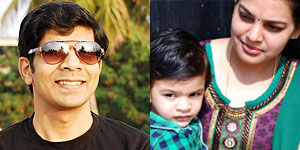 About Us
You may also like these recipes

Paneer capsicum paratha
Paneer[Cottage cheese...
Read More >>

Potato paneer gulab jamun
Potato[Aloo, Urulaikizhangu...
Read More >>

Sweet Paniyaram
Idli batter – 1 cup. Cardamom powder – ½ tbsp...
Read More >>

Crispy okra
Slice okra [ladies finger] alongside...
Read More >>

Aloo matar dry
Potato [aloo, urulaikizhangu] – 1 cup [cut in to cubes &...
Read More >>

Raw banana kofta curry
Raw banana – 1 [boiled...
Read More >>

Onion samosa
Onion – 3 [sliced]. Carrot – 1 [finely chopped]...
Read More >>

Sesame baby corn
Baby corn – ¼ kg or 1 cup. Onion – 1 [finely...
Read More >>

Kara kolukattai
Rice flour – 1 cup. Coconut – 2 tbsp [grated]...
Read More >>
Recipes by Categories