Potato noodles croquettes | Potato noodles wrapped fritters

By
Sridher
Cuisine Style: India & China | Preparation & Cooking Time: 20 minutes | To Serve: 2 | Take with: Green chutney, Tomato chilli sauce | Type: Snacks
Ingredients
Potato [Aloo] – 3
Noodles – ½ cup
Green chilli – 1 [finely chopped]
Garlic – 1 tbsp [finely chopped]
Ginger – ½ tbsp [finely chopped]
Corn flour – 2 tbsp
Red chilli powder – ½ tsp
Garam masala powder – ½ tsp
Dry mango powder – 1 tsp
Coriander leaves – 2 springs [finely chopped]
Rava – 3 tbsp
Salt to taste
Sugar a pinch
Oil for deep frying
Preparation Method
Wash & boil potatoes then peel off the skin & mash well.
In a bowl add mashed potato, salt, ginger, garlic, green chilli, corn flour, red chilli powder, garam masala powder, dry mango powder, coriander leaves, sugar mix well & make soft dough.
Heat water in a pan & let it boil. When boiling add salt, oil, noodles cook till soft. Then drain water & immediately put it in cold water then again drain & keep it aside.
Divide the dough into equal size balls. Then roll out into long cylindrical shaped roll.
Take one long noodles then wrap around each cylindrical roll. Then coat with rava.
Heat oil in a pan then deep fry on medium flame till golden brown in color for 3 min .
Drain on an absorbent paper & serve hot with green chutney or tomato sauce.
Potato noodles wrapped crispy fritters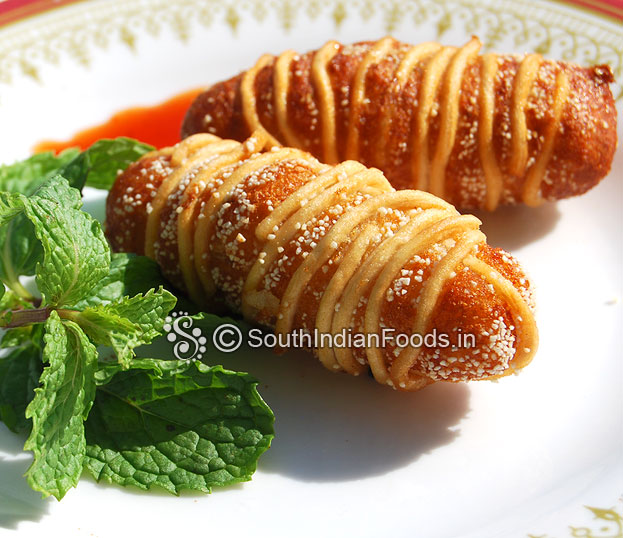 Rate this recipe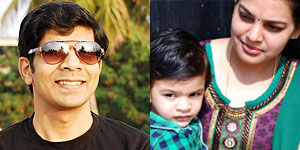 About Us
You may also like these recipes

Potato paneer gulab jamun
Potato[Aloo, Urulaikizhangu...
Read More >>

Sweet Paniyaram
Idli batter – 1 cup. Cardamom powder – ½ tbsp...
Read More >>

Crispy okra
Slice okra [ladies finger] alongside...
Read More >>

Aloo matar dry
Potato [aloo, urulaikizhangu] – 1 cup [cut in to cubes &...
Read More >>

Raw banana kofta curry
Raw banana – 1 [boiled...
Read More >>

Onion samosa
Onion – 3 [sliced]. Carrot – 1 [finely chopped]...
Read More >>

Sesame baby corn
Baby corn – ¼ kg or 1 cup. Onion – 1 [finely...
Read More >>
Recipes by Categories