Falafel | Black chickpea fritters

By
Sridher
Cuisine Style: Middle East | Preparation & Cooking Time: 20 minutes | To Serve: 2 | Take with: Tahini[sesame seeds sauce], Yogurt dip, Green chutney, Tomato chilli sauce | Type: Snacks
Ingredients
Chickpea or black chickpeas [Kabuli chana]– 1 cup
Onion – 1 [finely chopped]
Coriander leaves – 2 springs [finely chopped]
Garlic – 4 cloves [chopped]
Cumin seeds – 1 tbsp
Red chilli powder – 1 tsp
Crushed pepper – ½ tsp
Garam masala powder – 1 tsp
Salt to taste
Oil for deep frying [Ground nut or sunflower oil]
Preparation Method
Wash & soak chick pea for 8 hours. Then wash & drain water.
Put soaked chickpea, onion, garlic, coriander leaves, cumin seeds, Crushed pepper, red chilli powder, garam masala powder in a mixer jar & coarsely grind [don't add too much water]
Then transfer this mixture to a bowl & mix well.
Divide the mixture into equal size balls
Heat enough oil in a pan deep fry till golden brown & crisp on medium hot oil.
Serve hot with tea or coffee or Tahini.
Instant Tahini Paste
White sesame seeds - 1 cup
Olive oil - 4 tbsp
Heat pan add white sesame seeds & dry roast till fragrance
Then cut off heat, let it cool.
Add white sesame seeds in a blender or mixer jar, first coarsely grind then add enough olive oil again grind to smooth paste & put it in airtight container then keep it in a refrigerator use with in 2 weeks.
Instant Tahini Sauce
Tahini paste – ¾ cup
Warm water – ¼ cup
Garlic – 3 cloves
Lemon juice – 2 tbsp
Parsley – ½ tbsp [finely chopped]
Salt to taste
Add all these ingredients in a blender or mixer jar grind to like smooth paste [Consistency should be creamy & thick]
Yogurt Dip
Yogurt / Hung curd – 1 cup
Green chilli – 1 tsp [remove seeds & finely chop]
Garlic – 2 cloves
Lemon juice – 1 tbsp
Coriander leaves / Parsley – 1 spring [finely chopped]
Salt to taste
Put all ingredients in a blender grind to smooth paste.
Add finely chopped coriander & serve
Tips & Notes
If you add too much water mixture becomes sticky & it will break.
Don't overheat oil while deep frying.
Before frying, make small ball, put it in a hot oil & check whether it's breaking or not.
If it's not working & the mixture is sticky add flour & adjust the consistency & check again
Chickpea falafel balls for kids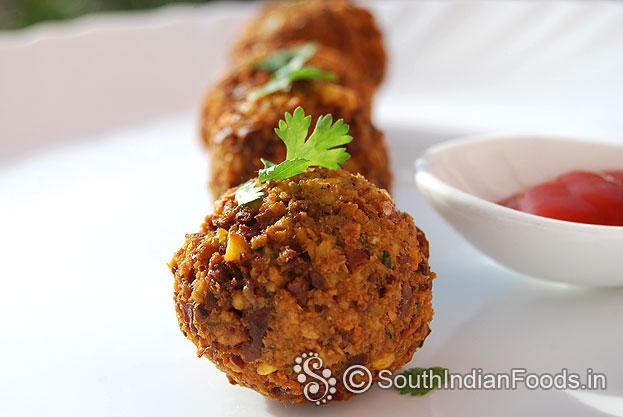 Middle eastern falafel deep fried balls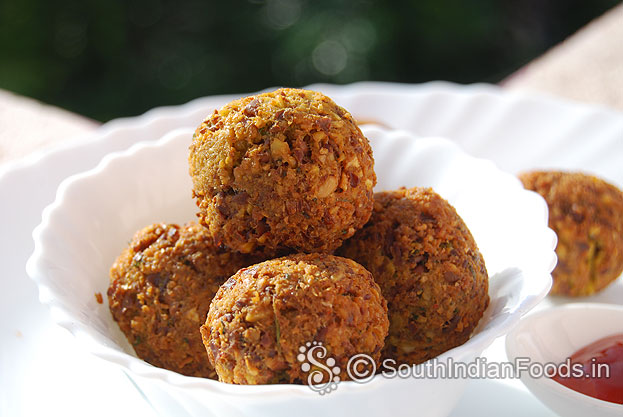 Simple falafel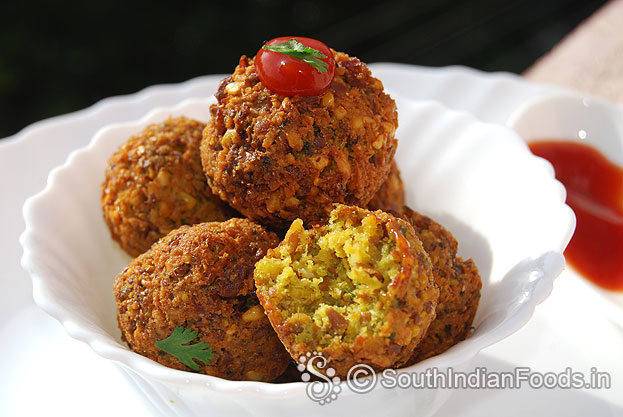 Rate this recipe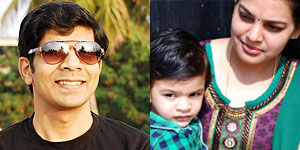 About Us
You may also like these recipes

Paneer capsicum paratha
Paneer[Cottage cheese...
Read More >>

Pomegranate raita
Chickpea or black chickpeas [Kabuli chana]– 1 cup...
Read More >>

Sweet Paniyaram
Idli batter – 1 cup. Cardamom powder – ½ tbsp...
Read More >>

Crispy okra
Slice okra [ladies finger] alongside...
Read More >>

Aloo matar dry
Potato [aloo, urulaikizhangu] – 1 cup [cut in to cubes &...
Read More >>

Raw banana kofta curry
Raw banana – 1 [boiled...
Read More >>

Onion samosa
Onion – 3 [sliced]. Carrot – 1 [finely chopped]...
Read More >>

Sesame baby corn
Baby corn – ¼ kg or 1 cup. Onion – 1 [finely...
Read More >>

Kara kolukattai
Rice flour – 1 cup. Coconut – 2 tbsp [grated]...
Read More >>
Recipes by Categories