Spaghetti With Tomato Sauce | Spaghetti with tomato sauce easy and low calorie

By
Sridher
Cuisine Style: Indo-Italian | Cooking Time: 20 minutes | To Serve: 3 | Type: Breakfast or Dinner
Traditional spaghetti with tomato sauce gives you healthier breakfast. Dried basil gives you best aromatic flavor for this recipe. Red chilli and freshly ground pepper gives spicy texture.
Ingredients
Spaghetti - 250 g
Tomato - 4 to 5
Dried basils – 3 tbsp
Red chilli flacks – 1 tbsp
Garlic [chopped] – 2 cloves
Peppercorns [Freshly ground] – ½ tbsp
Tomato sauce – 2 tbsp
Almonds [Grated] – 1 tbsp
Coriander leaves [chopped] – 2 tbsp
Cheese [grated] – 2 tbsp
Sugar – ½ tbsp
Oil – 3 tbsp
Salt to taste
Preparation
Heat pan with 2 tbsp of oil, add garlic, dried basil, salt and diced tomatoes & sauté gently then make paste in blender with ½ tbsp sugar.
Cook spaghetti in boiled water with salt. When water boils cut off heat and drain excess water.
Heat another pan with 1 tbsp oil add dried basil, tomato puree, and tomato sauce add boiled spaghetti and mix well then cook it for 4 to 5 min so that spaghetti is completely  cooked in tomato puree.
Sprinkle coriander leaves, freshly ground pepper, grated cheese and dried red chilli flakes.
Serve hot with grated almonds.
Spagetti in tomato sauce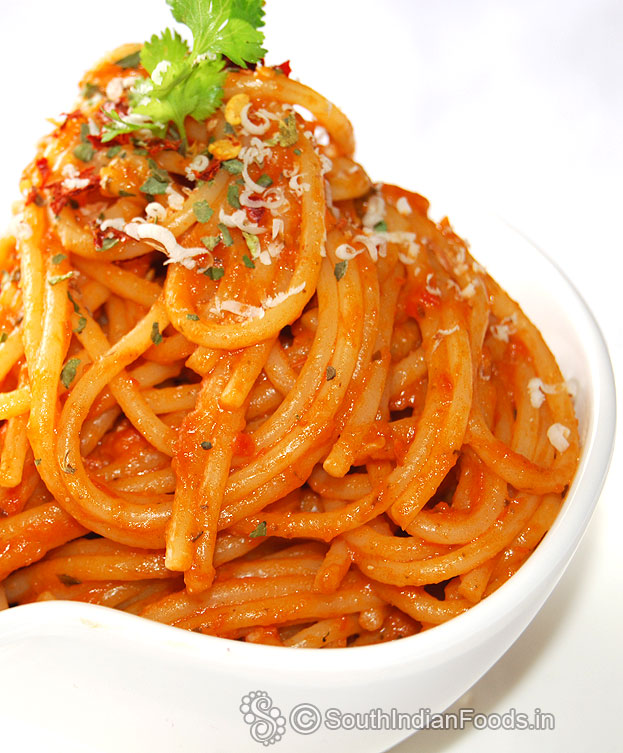 Tomato spaghetti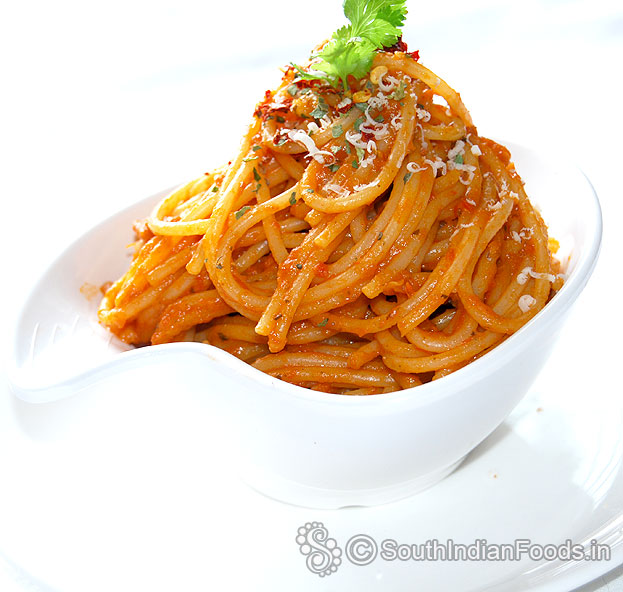 Spaghetti with tomato sauce & dried herbs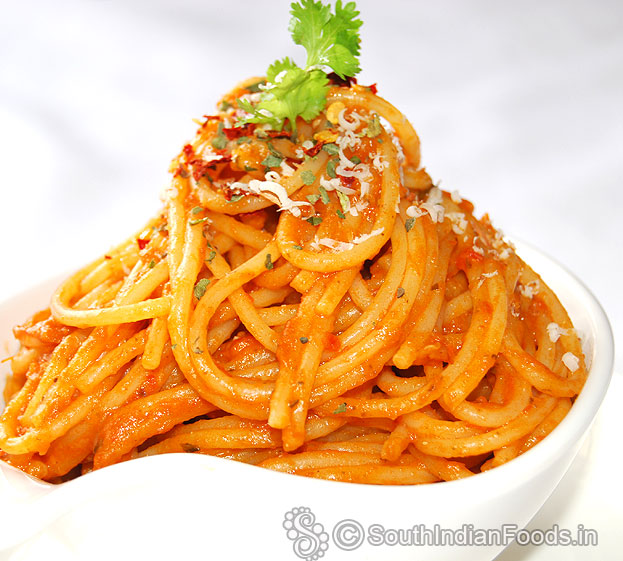 Rate this recipe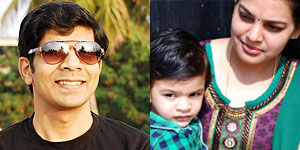 About Us
You may also like these recipes

Moong dal ladoo
Moong dal – 1 cup. Green Cardamom powder – 1...
Read More >>

Paneer tikka with tandoori masala
Paneer [Cottage Cheese]...
Read More >>

Carrot payasam
Delhi carrots [red]-1 cup [finely grated]. Ghee– 3 tbsp...
Read More >>

Kamarkat recipe
Coconut – 1 cup [grated]. Jaggery – 1 cup. Rice...
Read More >>

Sesame bhindi
Bhindi [Okra, vandakkai, ladies finger] – ¼ kg...
Read More >>
Recipes by Categories