Siru keerai masiyal | Siru keerai[Tropical amaranth] kadaiyal

By
Sridher
Cuisine Style: Tamil Nadu, South India | Cooking Time: 10 minutes | To Serve: 4 | Take with: rice | Type: Lunch Gravy, curry,masiyal, kadayal
Ingredients
Siru keerai [Tropical amaranth] – 1 bunch
Sambar onion [Shallots] – 10
Garlic – 2 cloves [mashed]
Green chilli – 1 [slit]
Turmeric powder – ½ tsp
Red chilli powder – ½ tsp
Curry leaves – 1 spring
Cumin seeds – ½ tsp
Mustard seeds – 1 tbsp
Salt to taste
Water as needed.
Method
Pluck the siru keerai leaves, wash & chop.
Heat pan with oil then add mustard seeds, cumin seeds & let it splutter. Then add sambar onion & garlic sauté till soft.
Add green chilli & curry leaves then add chopped siru keerai, turmeric & red chilli powder cook till soft.
Once cooked mash with wooden masher then add salt cut off heat sprinkle coconut oil or ghee then serve hot with rice.

Siru Keerai Kadayal / Tropical amaranth Curry
Siru keerai[Tropical amaranth] kadaiyal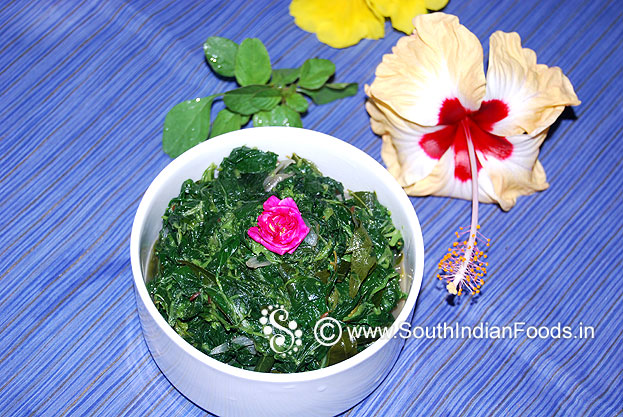 Rate this recipe
You may also like these recipes

Kambu idli
Nellikai - 5 [ chopped and seeds removed]. Coconut...
Read More >>

Red poha Upma
Red Poha [Red rice aval or Red flattened rice] – 1 cup...
Read More >>

Nylon Sago Upma
Nylon Sabhudhana [sago] - 1 cup [Soak sago for...
Read More >>

Carrot Halwa
Peel off the carrot skin and grate and keep aside...
Read More >>

Kuih keria
Sweet potato – 1 cup. Maida or wheat flour – ¼ cup...
Read More >>

Vermicelli kofta in spinach gravy
Vermicelli [semiya] – 1 cup...
Read More >>

Sesame paneer
Paneer [Cottage cheese] – 1 cup. Onion – 1...
Read More >>
Recipes by Categories