Sweets / Desserts > Nenthra pazham payasam | Banana Kheer | Nenthra Pazham Pradhaman-Kerala special-Onam sadhya festival recipe
Nenthra pazham payasam | Banana Kheer | Nenthra Pazham Pradhaman-Kerala onam sadhya festival recipe

By
Sridher
Cuisine Style: Kerala, South India | Cooking Time: 15 min | To Serve: 4 | Type: Sweet, dessert, onam, diwali special sweet, kheer, payasam
Ingredients
Nenthra Pazham [Banana] – 1 [cut in to triangle shapes]
Thick Coconut milk – 1 cup [1st extract]
Milk – ½ cup
Jaggery or sugar – ½ cup
Sugar – 2 tbsp
Green cardamom powder - ½ tbsp
Cashew nuts - 7
Raisins - 6
Pistachio - 4
Almonds [sliced] -3
Ghee - 3 tbsp
Preparation
Heat jaggery & 3 tbsp of water in a pan, let it boil & filter.
Heat ghee in a pan, roast cashew nuts, raisins, pistachios and almonds, slice & keep it aside.
In the same pan add nenthra pazham, sugar roast till golden brown then add milk & let it boil.
When boiling add coconut milk mix well & let it thickens. Then add jaggery mixture.
Add ghee roasted cashew nut, raisins, pistachio and almonds slices.
Finally add cardamom powder & saffron then cut off heat.
Serve hot or chilled.
Nenthra Pazham Pradhaman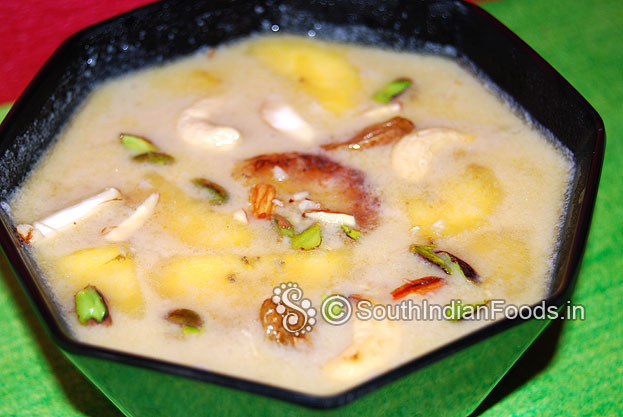 Rate this recipe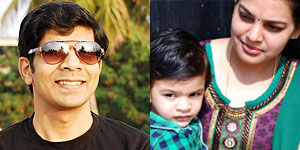 About Us
You may also like these recipes

Wheat ragi chapati
Wheat flour[Atta] – 1 cup. Ragi flour[Finger...
Read More >>

Fried Rice
Put soaked (1 hr) basmati rice in boiling water and...
Read More >>

Delhi carrot halwa
Delhi carrots [red]-2 cups [finely grated]. Ghee...
Read More >>

Thinai sweet pongal
Thinai rice (Foxtail Millet) – 1 cup, Moong dal...
Read More >>

Adhirasam
Adhirasam is one of the traditional sweets...
Read More >>
Recipes by Categories