Grilled vegetable sandwich-With video

By
Sridher
Cuisine Style: India | Preparation & Cooking Time: 10 minutes | To Serve: 2 | Take with: Tomato chilli sauce, | Type: Breakfast, dinner
Ingredients
Bread – 2 slices
Carrot – 1 [thinly sliced]
Capsicum – 3 slices [grilled]
Cucumber – 1 [thinly sliced]
Onion – 1 [thinly sliced]
Green chutney – 1 cup [put coriander, mint, sugar, salt, ½ tbsp lemon juice & 1 tbsp of water in a mixer jar then grind well] or grind in stone mortar.
Pepper powder – ¼ tsp or freshly ground peppercorns – ½ tsp
Salt to taste
Cheese slices – 1 or 2
Butter – ½ tbsp
Preparation Method
Cut & remove the brown edges of the bread. Grease two bread slices with green chutney.
Take one bread slice & place carrot, capsicum, onion & cucumber slices.
Sprinkle salt, pepper powder & place one cheese slice.
Then cover with another slice of bread & press gently.
Preheat sandwich maker & grease with ½ tbsp of butter.
Then place prepared sandwich, close it & grill.
Once it's ready take it out & serve hot with tomato chilli sauce.
Grilled vegetable sandwich-Video
Veg sandwich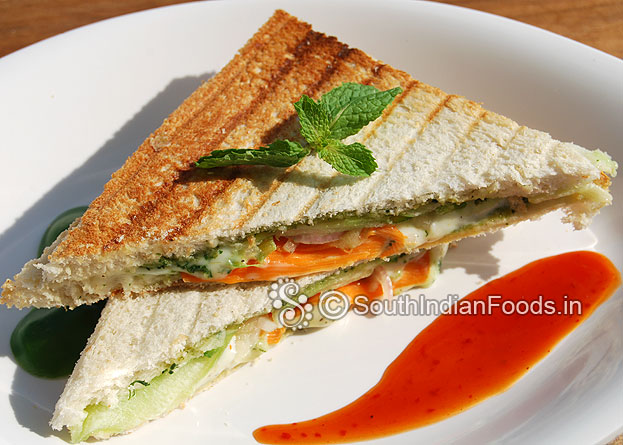 Rate this recipe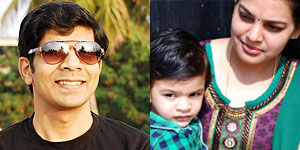 About Us
You may also like these recipes

Potato gulab jamun
Potato[Aloo, Urulaikizhangu]– 1 [boiled, peeled,mashed]...
Read More >>

Dum banana kacha kela curry
Raw banana[kacha kela...
Read More >>

Capsicum rice
Basmati long grain rice – 1 ½ cup [Boiled]. Red & yellow...
Read More >>

Paneer capsicum paratha
Paneer[Cottage cheese...
Read More >>

Potato carrot beans salad
Potato – 1 [cut into stripes]...
Read More >>

Potato noodles croquettes
Potato [Aloo] – 3. Noodles...
Read More >>

Onion samosa
Onion – 3 [sliced]. Carrot – 1 [finely chopped]. Garlic...
Read More >>

Kulfi
Milk – 3 cups. Sweet condenced milk – ½ cup...
Read More >>

Khoya matar curry
Matar [Green peas] – 1 cup [fresh]. Khoya [kova...
Read More >>

Dum aloo
Baby Potatoes [Aloo] – 7 [washed & peeled]...
Read More >>
Recipes by Categories