Continental Recipes > Spirali Tricolor Pasta | Spirali Tricolore pasta | Tri color pasta with sweet corn
Spirali Tricolor Pasta | Spirali Tricolore pasta | Tri color pasta with sweet corn

By
Sridher
Cuisine Style: Indo-Italian | Cooking Time: 10 minutes | To Serve: 3 | Type: Breakfast or Dinner
Ingredients
Tricolor spirali Pasta - 1 cup
Tomato - 1 chopped
Tomato chilli sauce - ½ cup
Corn kernels - ½ cup [boiled]
Dried Oregano - 1 tbsp
Dried Rose merry - ½ tbsp
Dried basil - 2 tbsp
Onion - ½ sliced
Ginger [grated] - ½ tbsp
Garlic [chopped] - 1 tbsp
Green chilli - 1 chopped
Coriander leaves [chopped] - 2 tbsp
Curd [fresh, whisked] - 1 tbsp
Pepper corn [freshly ground] - ½ tbsp
Almonds [dry roasted, grated] - 1 tbsp
Lemon juice - ½ tbsp
Salt to taste
Sugar - a pinch
Oil - 2 tbsp
Butter - ½ inch
Preparation
Heat pressure cooker then add 1 tbsp oil, butter then add sliced onion & sauté till light brown. Add ginger, garlic and green chilli sauté gently then add dried oregano, rose merry and basil & sauté gently then add chopped tomatoes mix well.
Add salt and Tricolor spirali Pasta with water mix and well then cover it and cook it for 3 whistles.
Heat 1 tbsp oil in another pan add boiled corn kernels then tomato chilli sauce and cooked pasta, sugar and fresh curd mix well and stir for 2 min then cut off heat. Sprinkle coriander leaves, freshly ground pepper corns and lemon juice mix well then garnish with roasted and grated almonds serve hot.

Rate this recipe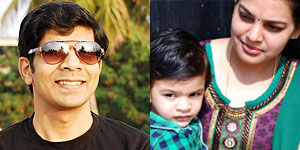 About Us
You may also like these recipes

Sesame paneer
Paneer [Cottage cheese] – 1 cup. Onion – 1...
Read More >>

Gujarati potatoes
Baby potatoes – ¼ kg. Cumin powder – 1 tbsp...
Read More >>

Karamani vadai
Karamani [Cowpea, Lobia, Black eyed pea] – 1 cup...
Read More >>

Thinai Idli
Thinai arisi [Foxtail millet]– 2 cups. Urad dal – ¾ cup...
Read More >>

Mango Halwa
Wash, peel and cut the mango in to small cubes...
Read More >>

Corn Green Peas Tikki
Mix green peas, sweet corn...
Read More >>
Recipes by Categories