Masala Pasta-How to make one pot masala pasta-Indian style-Stepwise Pictures & video

By
Sridher
Cuisine Style: Indo-Italian | Cooking Time: 10-15 minutes | To Serve: 2 | Type: Breakfast or Dinner
This is Indo-Italian style masala pasta and sure Indian would love this. It's spicy, tangy and sweet. I have pressure cooked rather than draining the water. It gives better taste. I like this spring type pasta compared other shapes.
Ingredients
Spring Pasta - 1 cup
Tomato -2 [chopped]
Onion - 1 [sliced]
Garlic - 2 [finely chopped]
Green Chilli - 1 [slit]
Black pepper - 1 tbsp
Tomato Sauce - 2 tbsp
Soya Sauce - 1 tbsp
Curd - 1 tbsp
Coriander Leaves - 1 spring
Lemon juice - 1 tbs
Garam Masala* - 1 tsp [optional] or dried mixed herbs[Pasta mix-Snapin]- 2 tbsp
Olive Oil - 2 tbsp
Salt to taste
*Garam Masala (for 2 tbs)
Manually grind the following: 1/2 inch of Cinnamon, 2 Cardamom, 1/4 tsp of Coriander seeds, 1/4 tsp of cumin seeds, 1/4 tsp fennel seeds, peppercorns - 2, 1 tsp sugar

*Dried mixed herbs[Pasta mix]
Oregano, parsley, basil, red chilli flakes, onion flakes, peppercorns & garlic.
You can add fresh basil leaves

Preparation
Heat oil in a pan with then add onion and garlic sauté till soft. Then add green chilli sauté gently.
Add tomato sauté till soft then add garam masala or dried mixed herbs mix well.
Add water and salt mix well & let it boil. When boiling Fusilli Pasta mix well, cover lid & cook till soft [Apr. 15 min].
Then add tomato sauce, dark soya sauce, curd, freshly ground peppercorns, and lemon juice mix well.
Cut off heat & sprinkle chopped coriander leaves mix well. Then add grated cheese& serve hot.
How to make Masala pasta video
How to make Masala Pasta-Stepwise pictures[Simple, Easy & Delicious]
Indian basil leaves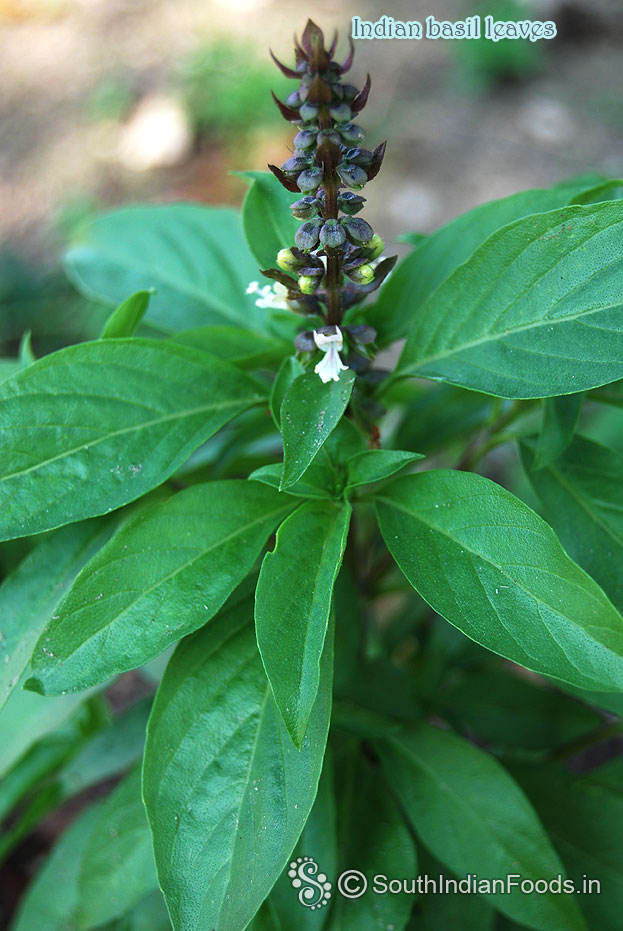 Heat oil, add garlic, onion saute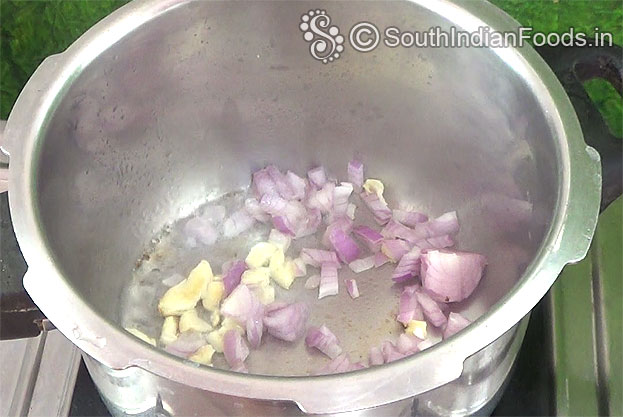 Add Green chilli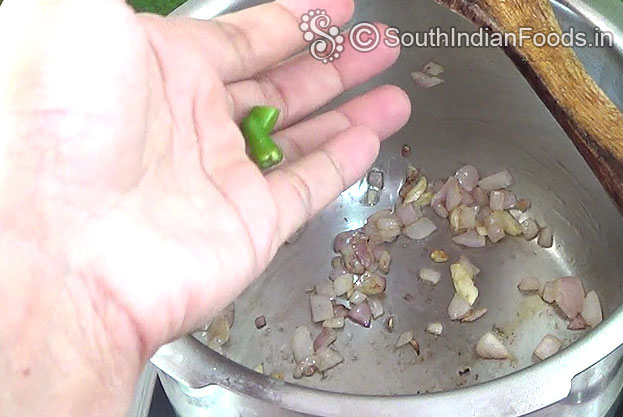 Add Tomato saute till soft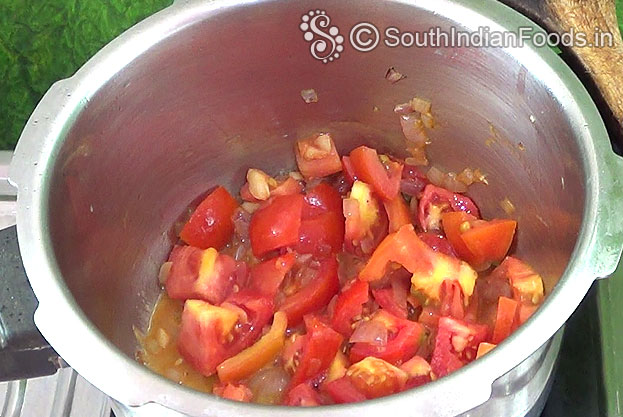 Add Garam masala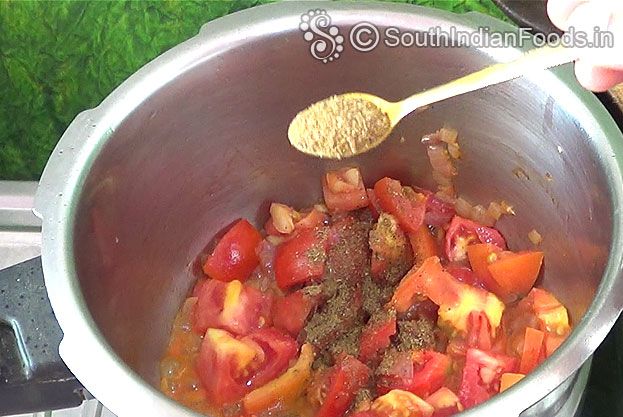 Add Tomato sauce
Add Pasta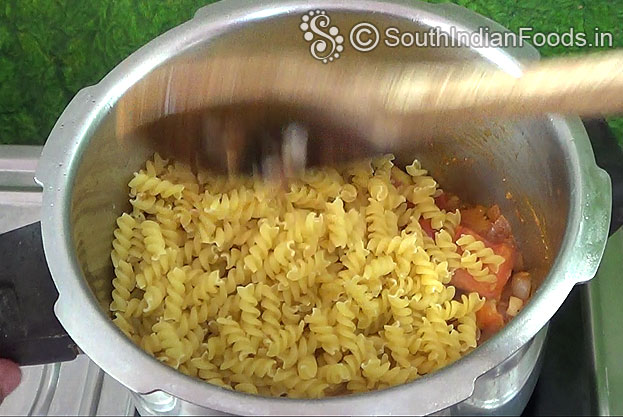 Add salt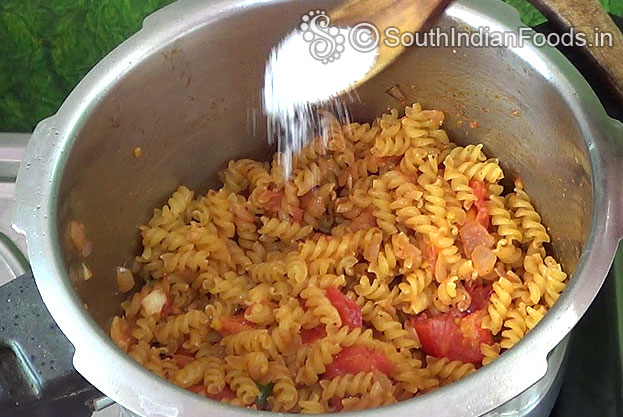 Add Water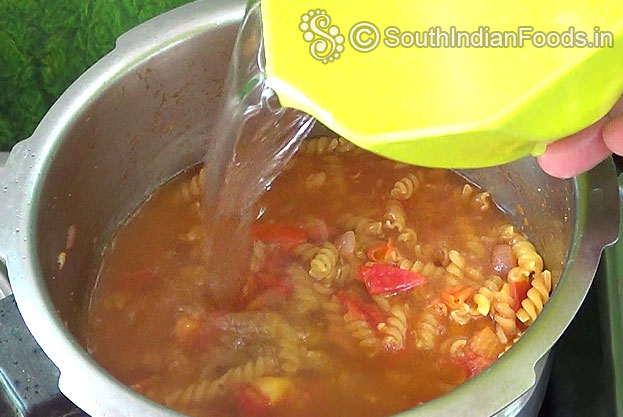 Cover lid, cook for 4 to 5 whistles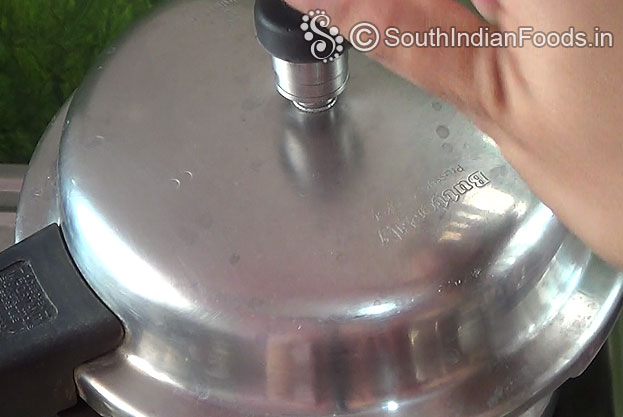 After 5 whistles, soft & juicy pasta is ready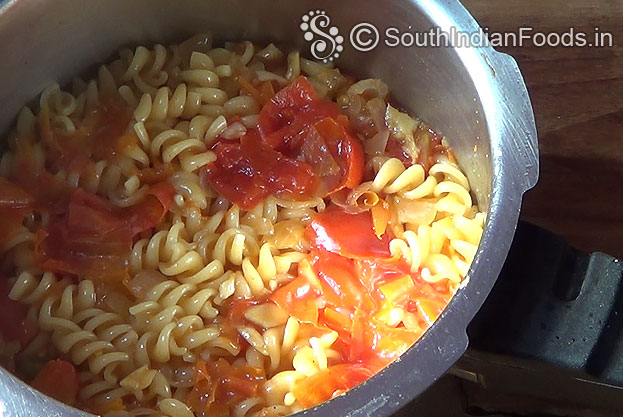 Add Coriander leaves, mix well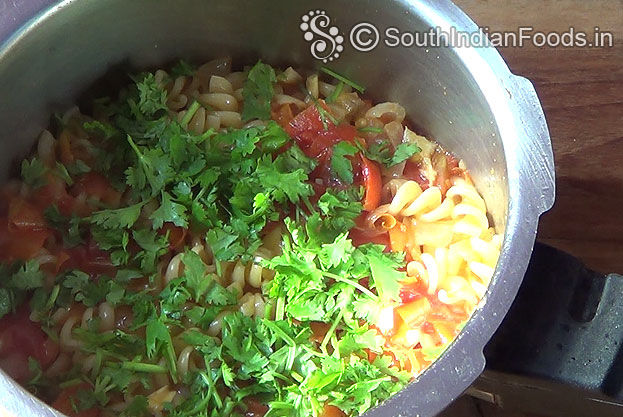 Sprinkle freshly ground pepper, serve hot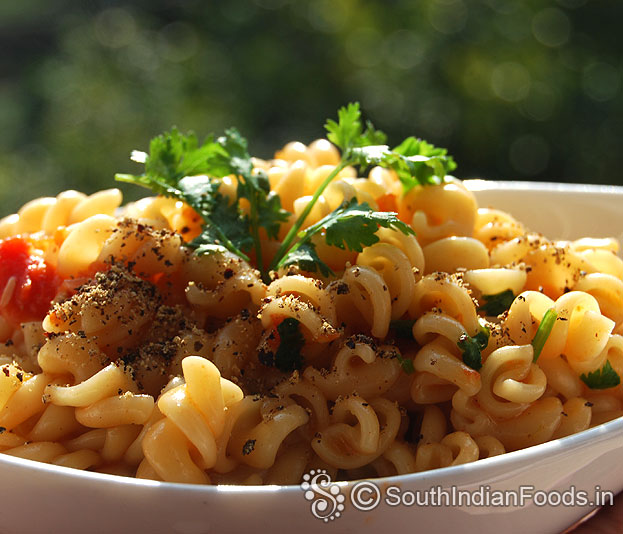 One pot fusilli pasta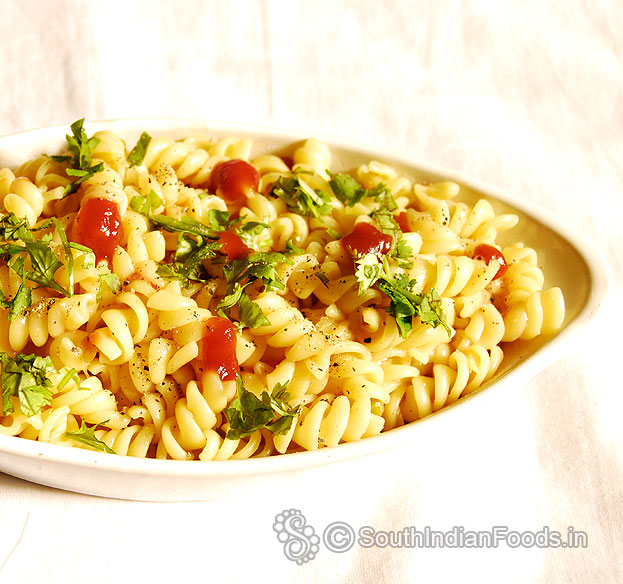 Indian style pressure cooker pasta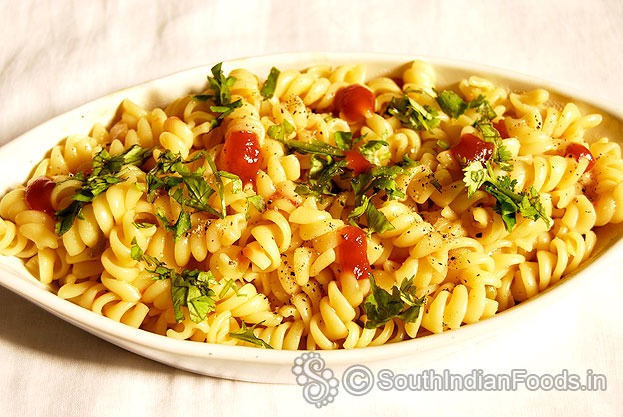 8 min pasta recipe for breakfast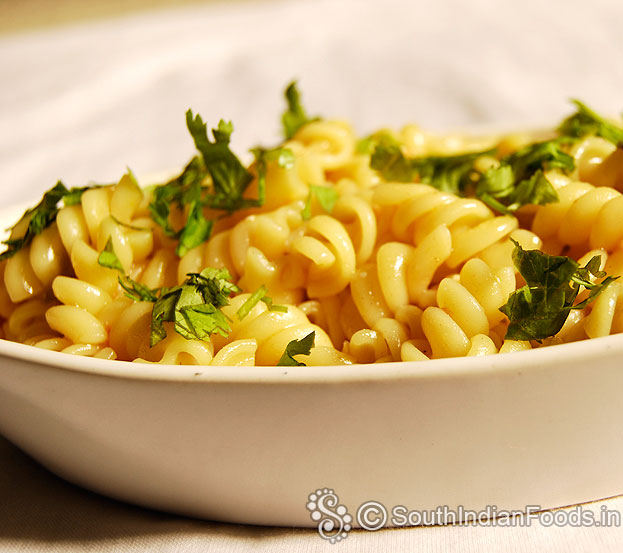 Instant masala pasta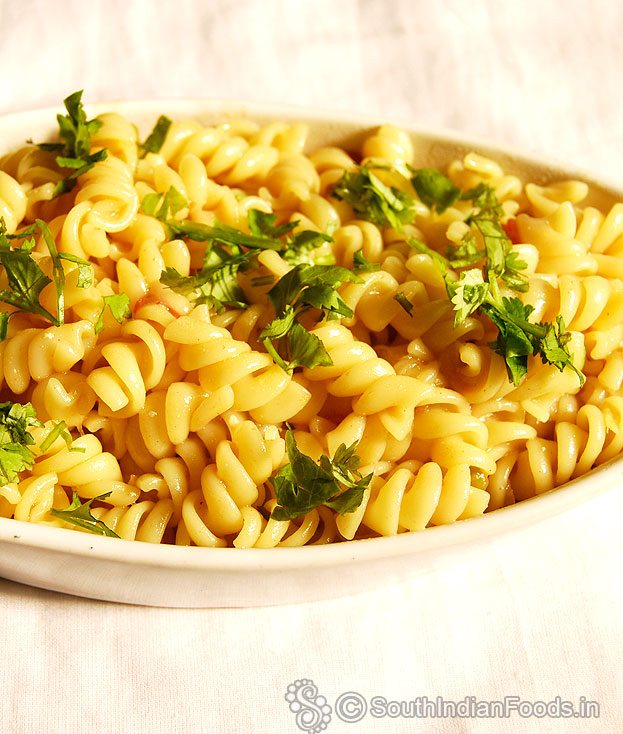 Indian style masala pasta with tomato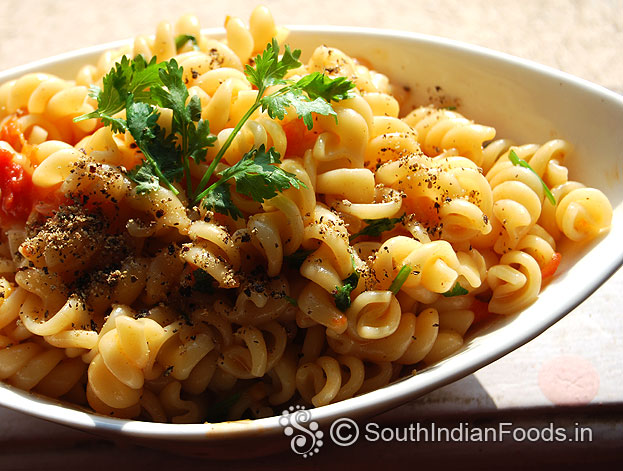 Rate this recipe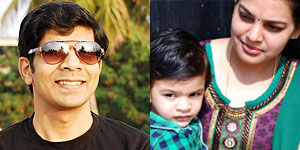 About Us
You may also like these recipes

Palak Paneer
Wash spinach thoroughly in Water. Heat oil in a pan...
Read More >>

Vangi Bhath
Cut brinjals into cubical shape. Heat oil in a pan and put...
Read More >>

Vathal Kuzhambu
Vathal Kuzhambu and Srirangam are closely...
Read More >>

Paneer Butter Masala
Heat oil with butter in a pan then put cumin seeds. When...
Read More >>

Delhi carrot halwa
Delhi carrots [red]-2 cups [finely grated]. Ghee [melted...
Read More >>

Set Dosa
Soak all together over night and grind to smooth...
Read More >>
Recipes by Categories