Chinese toffee banana | Banana fritters with sesame sprinkles

By
Sridher
Cuisine Style: China | Cooking Time: 15 to 20 min | To Serve: 4 | Type: Sweet, dessert, fritters
Ingredients
Banana – 2
Plain flour – 1 cup
Corn flour – ¼ cup
Sugar – 1 ½ cups
White & black sesame seeds- 3 tbsp [roasted]
Ice cubes – 1 bowl
Water as needed
Oil for deep frying
Preparation
Peel off the banana skin then cut into pieces.
For batter:-Take a bowl add plain flour, corn flour, 1 tbsp of oil, water mix well till smooth.
Rollout banana slices with corn flour.
Dip each banana pieces in the batter then deep fry in medium hot oil till golden brown.
Heat pan add sugar and ½ cup of water then caramelize till golden brown without stirring. Then cut off heat.
Then add roasted sesame seeds.
Add each deep fried banana pieces into the caramelized sugar & immediately take it out & put it into the ice cubes & then drain, quickly transfer pieces to a serving plate & serve with ice cream.
Toffee banana sweet fritters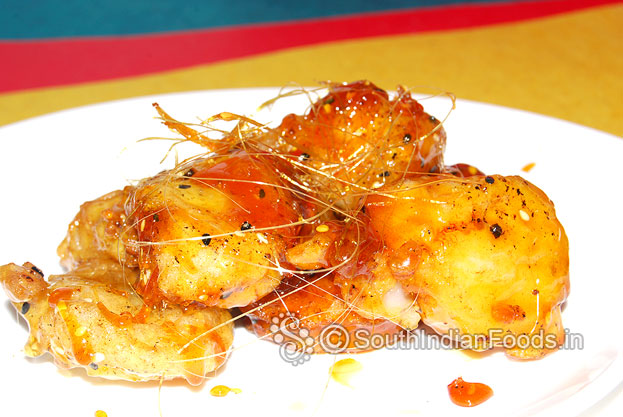 Rate this recipe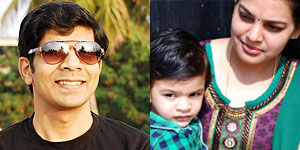 About Us
You may also like these recipes

Cornmeal idli
Corn rava – 1 cup. Curd – 1 cup. Water as...
Read More >>

Rava Kesari
Sooji / Ravai - 1 cup. Carrot Juice - 1 cup. Ghee...
Read More >>

Simple palak paneer
Spinach (palak) - 1 bunch. Cottage cheese..
Read More >>

Vangi Bhath
Rice (cooked) - 2 cups. Brinjals small and..
Read More >>

Lemon poha
Aval [poha or Flattened rice] – 1 cup. Peanuts – ¼ cup...
Read More >>

Kara Kuzhambu
Brinjal - 3 nos. Small Onion (Sambar Onion) - 10...
Read More >>

Raw banana kofta
Raw banana – 1 [boiled, mashed]. Potato ...
Read More >>
Recipes by Categories