Broccoli Fusilli Pasta | Broccoli pasta recipe indian style

By
Sridher
Cuisine Style: Indo-Italian | Cooking Time: 15 minutes | To Serve: 3 | Type: Breakfast or Dinner
Ingredients
Broccoli - 1 cup
Fusilli Pasta - 250 g
Tomato - 1[big]
Tomato sauce - 3 tbsp
Dried basil - 2 tbsp
Dried oregano - 1 tbsp
Green chilli - 1 chopped
Garam masala – 1 tsp
Red chilli flakes – 1 tbsp
Garlic - 1 tbsp finely chopped
Chopped coriander leaves - 3 tbsp
Freshly ground pepper - 1 tbsp
Lemon juice - 1 tbsp
Salt to taste
Sugar - a pinch
Oil - 2 tbsp
Water as needed
Preparation
Break the broccoli florets.
Add broccoli in boiling water and cook for 3 mins and drain.
In the same water add enough salt & add Fusilli pasta cook till soft.
Heat oil in a pan and add garlic, chilli flakes sauté gently.
Add green chilli, dried basil and oregano.
Then add tomato and salt & sauté till soft. Then add tomato sauce & sugar mix well.
Add broccoli & sprinkle salt sauté for a min.
Finally add chopped coriander leaves & freshly ground pepper and serve hot.
Note
If you couldn't get dried oregano and basil add ½ tbsp of garam masala. You can add grated cheese

Broccoli Fusilli Pasta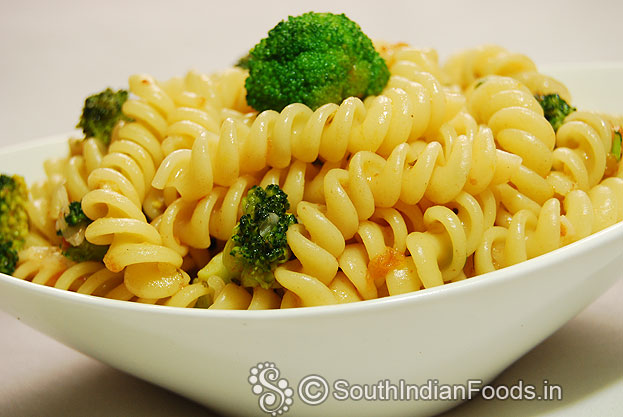 One pot indian broccoli pasta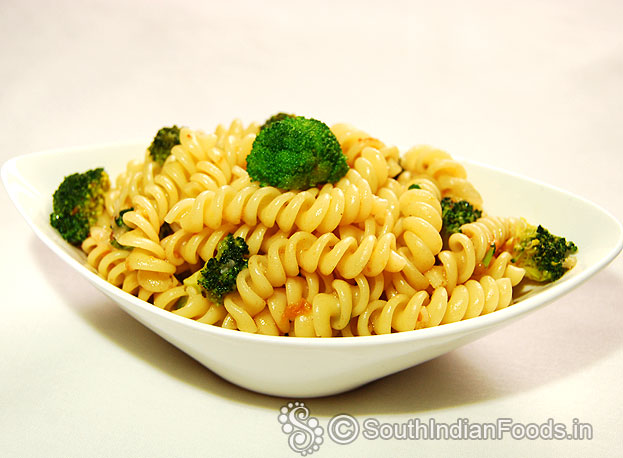 Instant pressure cooker masala pasta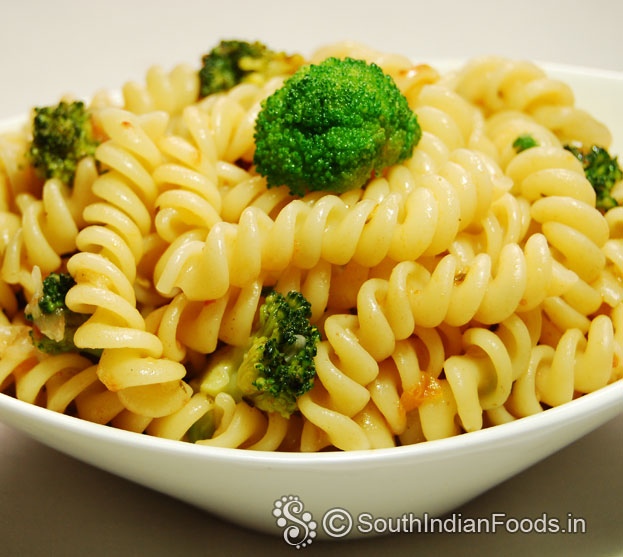 Rate this recipe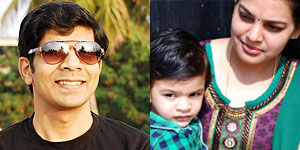 About Us
You may also like these recipes

Thayir semiya
Semiya[Vermicelli, sevai]– 1 cup. Curd – 1...
Read More >>

Tamarind Rice
Soak tamarind in the water for 45 minutes and get thick...
Read More >>

Adai
Toor dal – 1 cup. Bengal gram – ¾ cup. Idli rice – 2 cup...
Read More >>

Vatha Kuzhambu
Fresh Turkey berry (Sundakai) - 1 Cup [Main Ingredient]...
Read More >>

Idiyappam
Rice flour – 1 cup. Oil – 2 tbsp. Salt to taste...
Read More >>

Neer dosa
Sona masoori rice – 1 cup. Grated coconut...
Read More >>
Recipes by Categories