Beetroot Coconut Burfi-How to make perfectly with video

By
Sridher
Cuisine Style: South India | Cooking Time: 25 minutes | To Serve: 4 | Type: Innovative Sweet
This Beetroot coconut burfi from our innovative kitchen is unique in nature, vibrant in color, yummy in taste and finally "YES" for healthy. This less used ghee sweet would definitely make you to eat fullest of your tummy. Excite your taste buds with Beetroot coconut burfi, your eyes as well.
Ingredients
Beetroot - 1 cup [Finely grated]
Coconut - 1 cup [grated]
Sugar - 1 ½ cup
Water - 1 cup
Grated carrot - 2 tbsp
Cardamom powder - 1/2 tbsp
Saffron - 1 tbsp
Milk - 2 tbsp
Cashew nut grated - 3 [fried in ghee]
Grated Pistachio - 1 tbsp
Ghee - 6 tbsp
Preparation
Heat pan with ghee add grated coconut and sauté till the moisture out
Heat another pan with ghee then add grated beetroot and carrot and sauté for 3 min
Heat pan with 1 cup of water and 1 ½ cup sugar. Once it's boiled well and bubbles come like string consistency adds coconut then stir continuously. Then add beetroot, carrot and ghee then mix well.
Heat 2 tbsp of milk. Once it's boiled cut off heat then add 1 tbsp of saffron then mix well.
Pour saffron milk in beetroot mixture and mix well then add grated cashew nut, cardamom powder and stir continuously
Once moisture out from the mixture and mixture come out together turn off flame and transfer to this in a ghee greased tray. Spread out the mixture evenly. Sprinkle ghee and crushed pistachios and leave it cool
Once it's set and cut this into diamond or square shape and keeps it in airtight container.
Note
How to make Instant beetroot burfi Video
Beetroot Thengai Burfi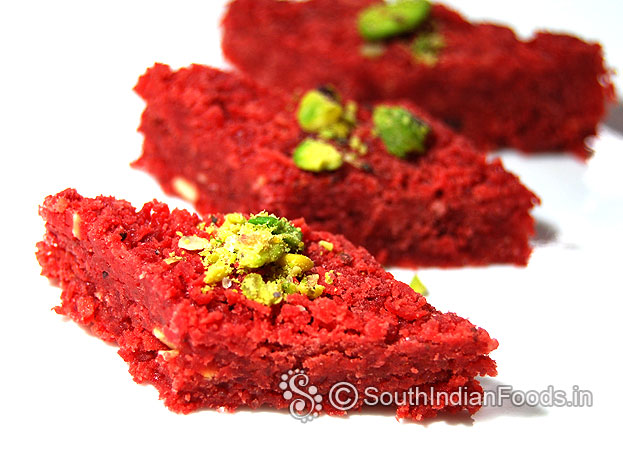 Beetroot coconut red colour burfi without artificial colour added for diwali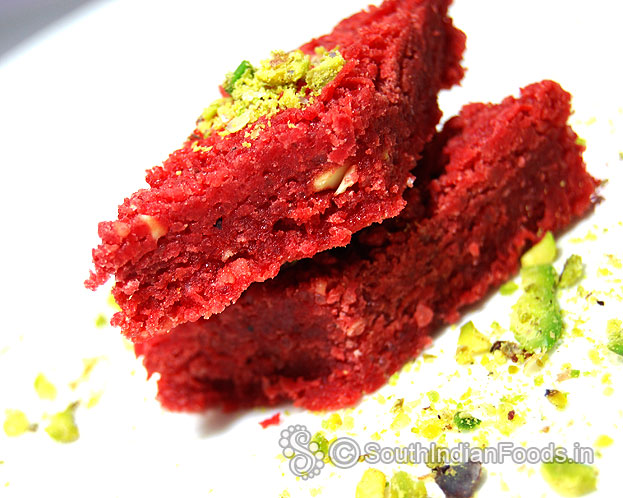 Beetroot Nariyal Burfi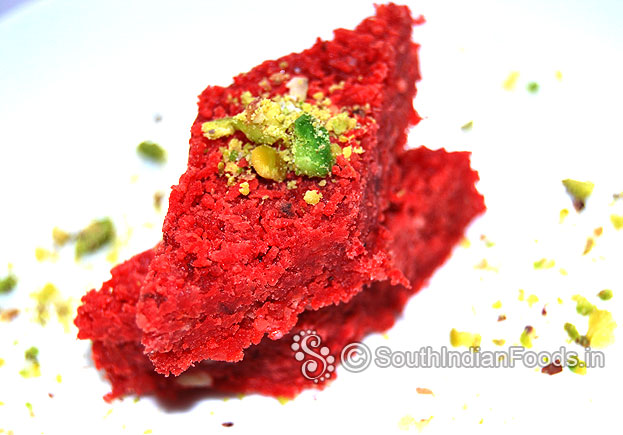 Rate this recipe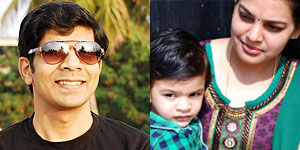 About Us
You may also like these recipes

Simple palak paneer
Spinach (palak) - 1 bunch. Cottage cheese...
Read More >>

Sambar onion ellu puli kootu
Sambar onion [Shallots...
Read More >>

Crispy onion rings
Onion – 2 [cut into rings]. Besan [gram flour, kadalai...
Read More >>

Vangi Bhath
Cut brinjals into cubical shape. Heat oil in a pan and...
Read More >>

Kodo millet upma
Varagu arisi [kodo millet]- 2 cups. Onion...
Read More >>

Vendakkai puli kulambu
Vendakkai [ladies finger]...
Read More >>

Crispy rava dosa
Rava – 2 cup. Maida – 2 tbsp. Rice flour...
Read More >>
Recipes by Categories