Avial | Aviyal for adai south indian recipe

By
Guna selvi Sridher
Cuisine Style: Tamil Nadu, India | Cooking Time: 10 minutes | To Serve: 4 | Take with: Adai | Type : Avial, coconut veg curry
Ingredients
Carrot – 1 cup [Cut into cubes]
Potato –1 cup [Cut into cubes]
White Pumpkin [venpoosani, ash gourd] - 1 cup [Cut into cubes]
Turmeric powder – ¼ tsp
Salt to taste
Water as needed
For grinding
Coconut – 4 tbsp
Cumin seeds – 1 tbsp
Ginger - 1 tbsp
Green chilli - 1
Put above ingredients in a mixer jar grind to fine or coasre paste
For seasoning
Coconut Oil – 2 tbsp
Mustard seeds - 1 tbsp
Curry leaves - 1 spring
Method
Boil potato, carrot & white pumpkin
Heat oil in a pan then add mustard seeds. Once it's spluttered add curry leaves fry
Add boiled vegetables, salt and turmeric powder mix well.
Then add freshly ground paste mix well. Then add ½ cup water mix well.
When boiling cut off heat & serve hot with paruppu adai
For avial variations
You can add drumstick, flat lima bean, avarakkai, beans, radish, brinjal, egg plant, peerkangai[ridge gourd], raw banana, yellow pumpkin, kovakkai, Tindora...
Adai avial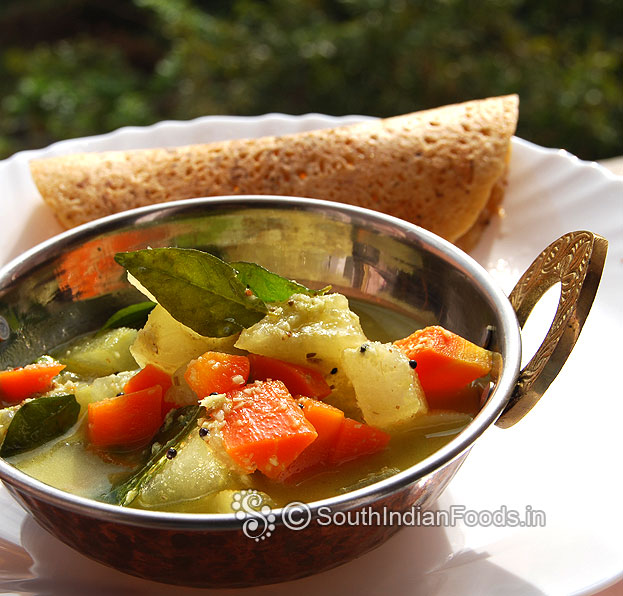 Venpoosani aviyal / White pumpkin coconut curry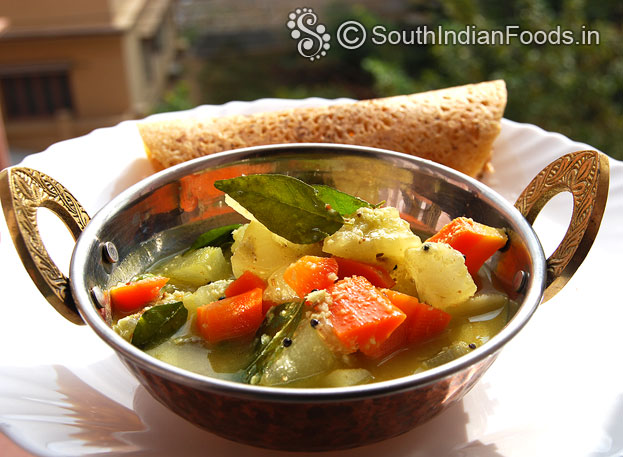 Rate this recipe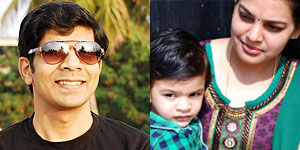 About Us
You may also like these recipes

Spinach Spaghetti
Boil Water in a broad pan. Once water boiled add salt and...
Read More >>

Spirali Tricolor Pasta
Tricolor spirali Pasta - 1 cup. Heat pressure cooker...
Read More >>

Chocolate biscuit
Grind almonds and cashew to fine powder. Heat pan...
Read More >>

Karamani vadai
Karamani [Cowpea, Lobia, Black eyed pea]...
Read More >>
Recipes by Categories