Spinach Spaghetti

By
Sridher
Cuisine Style: Indo-Italian | Cooking Time: 15 minutes | To Serve: 3 | Type: Breakfast or Dinner
Ingredients
Spaghetti - 200 gram
Spinach - 1 cup
Coriander leaves - ½ cup
Parsley - 2 tbsp
Pistachio - 3 tbsp
Garlic - 3 tbsp
Green chilli - 1 chopped
Peppercorn [freshly ground] - 1 tbsp
Sugar - 1 tbsp
Salt to taste
Lemon juice - 1 tbsp
Oil - 3 tbsp
Preparation
Boil Water in a broad pan. Once water boiled add salt and spaghetti.
Once spaghetti is cooked cut off heat and drain extra water.
Dry roast pistachios and keep it aside.
Heat oil in a pan then add spinach, parsley, coriander leaves, green chilli and garlic sauté for 1 min.
In a blender add sautéed ingredients, dry roasted pistachios, sugar and salt blend and grind to fine paste.
Heat another pan with 2 tbsp oil. Add garlic sauté well.
Add ground paste sauté gently then add boiled spaghetti mix well.
Sprinkle freshly ground peppercorn and lemon juice mix well. Cut off heat. Garnish with grated cheese and serve hot.
Tip
You can add chopped baby spinach, roasted peanuts or grated cheese
Italian spaghetti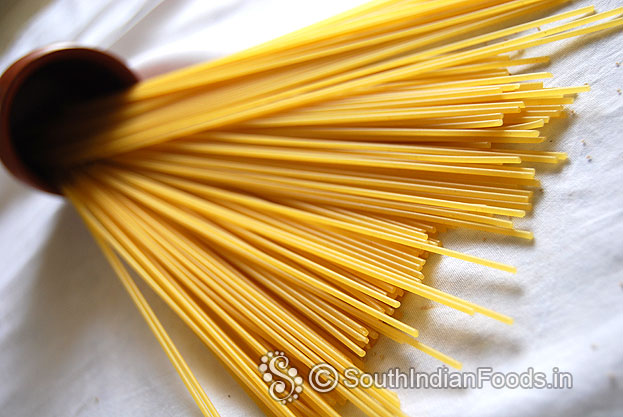 Spinach pasta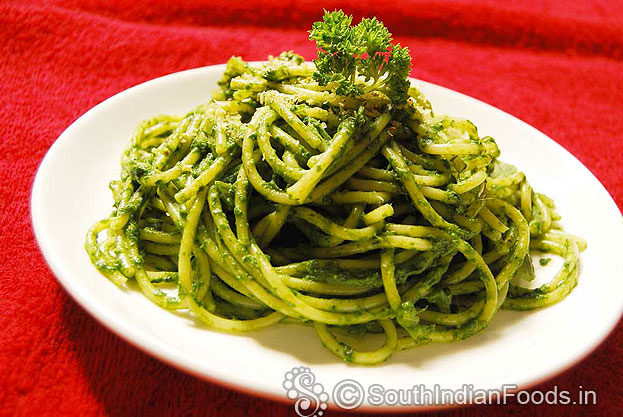 Pesto pasta indian style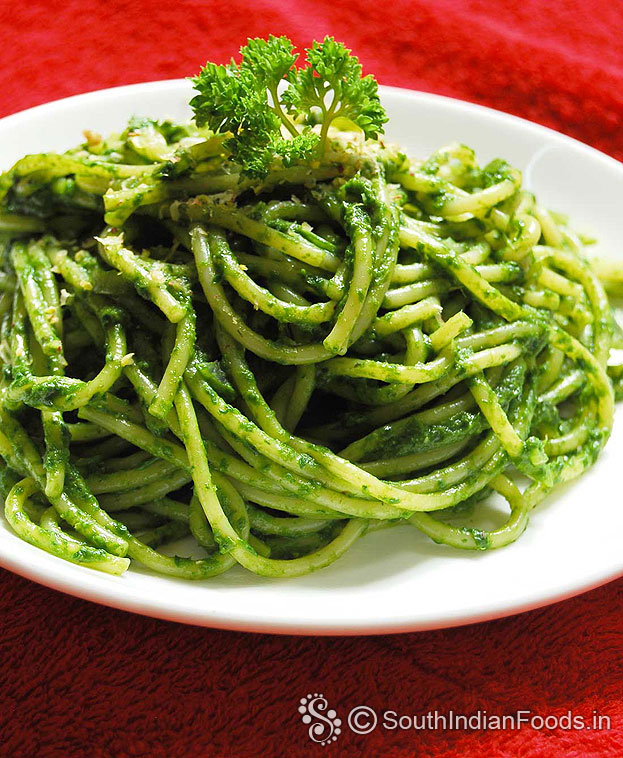 Palak pasta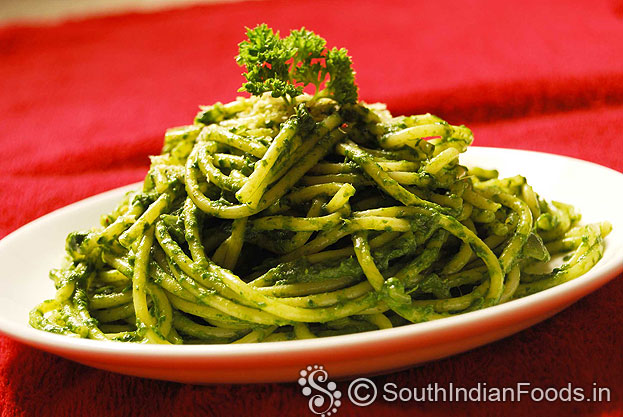 Rate this recipe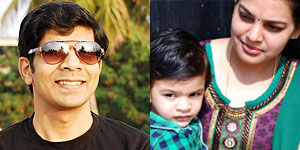 About Us
You may also like these recipes

Kharabath
Roast the rava. In a pan heat oil put mustard...
Read More >>

Senai kizhangu chips
Senai kizhangu [Elephant foot yam] – half...
Read More >>

Simple palak paneer
Spinach (palak) - 1 bunch. Cottage cheese..
Read More >>

Crispy okra
Slice okra [ladies finger] alongside and cut...
Read More >>
Recipes by Categories