Baby corn green peas pulao | Baby corn matter pulao-Easy lunch box recipe

By
Sridher
Cuisine Style: North India | Cooking Time: 20 minutes | To Serve: 4 | Type: Rice, pulao | Take With: Raita
Ingredients
Basmati rice -2 cups [boiled]
Baby corn - 5
Green peas [Matter] – 1 cup [boiled]
Onion – 1 [sliced]
Green chilli – 1 [slit]
Ginger & garlic – 1 tbsp [grated, each]
Fennel seeds – 1 tbsp
Green cardamom - 3
Cinnamon - 1
Stone flower – ½
Cloves - 2
Bay leaves - 1
Cashew nuts – 7 [ghee roasted]
Almonds – 5 [ghee roasted]
Red chilli powder – ¼ tsp
Gram masala powder – ½ tsp
Salt to taste
Ghee -2 tbsp
Oil – 2 tbsp
For batter
Maida – 3 tbsp
Rice flour – 3 tbsp
Pepper powder – ½ tsp
Salt to taste
Water as needed
Wash baby corns.
In a bowl add maida, rice flour, salt & pepper mix well. Then add water stir well. Batter should be light & mild watery.
Dip baby corn in maida batter mixture then deep fry till golden brown & keep it aside.
Method
Wash & soak basmati rice for 15 min. Then boil & drain water.
Heat oil & butter in a pan then add cardamom, cloves, stone flower, cinnamon; bay leaves, cashew nuts and fennel seeds then add onion sauté till golden brown.
Add green chilli, green peas, turmeric powder, red chilli powder and garam masala powder mix well.
Add boiled basmati rice, salt mix well.
Add fried baby corns, almonds & cashew nuts then serve hot.

Baby corn pachai pattani pulao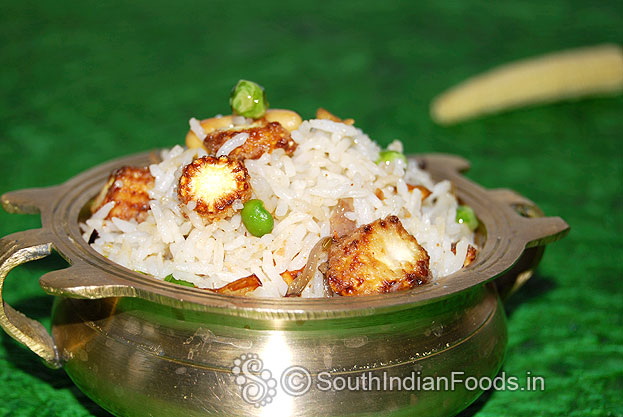 Baby corn matter pulao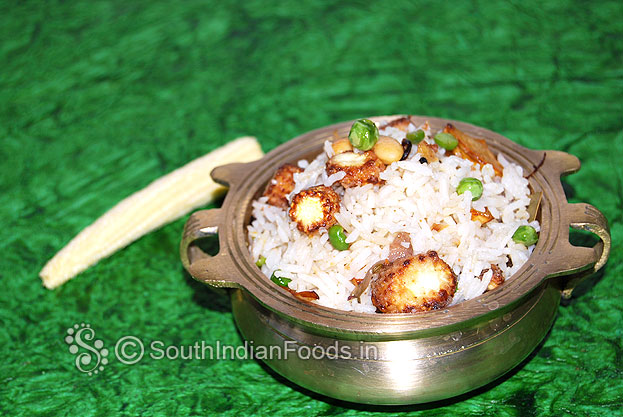 Rate this recipe
You may also like these recipes

Gongura pappu
Gongura leaves [Sorrel leaves, pulicha keerai, Hibiscus...
Read More >>

Tomato Rice
Generally tomato Rice differs according to their...
Read More >>

Thinai upma
Thinai [Foxtail Millet]- 2 cups. Onion-1. Carrot...
Read More >>

Carrot Idli
The usual idli has only two forms fried idli...
Read More >>

Crispy okra
Slice okra [ladies finger] alongside and cut...
Read More >>

Sweet Ragi Paniyaram
Whole Ragi - 2 cups, Jaggery - 4 to 5 tbsp. Soak...
Read More >>

Rava Idli
Mix 1 cup of rava with ½ cup curd and ¼ cup water...
Read More >>

Broccoli Pasta
Add broccoli in a boiling water and cook for 5 mins...
Read More >>

Kaja Sweet
Kaja is a traditional Andhra sweet which has crispy...
Read More >>

Curry Leaves Rice
Heat pan with oil then add curry leaves sauté gently...
Read More >>

Godhumai Kali
Wheat granules (broken into small particles) - 1 cup...
Read More >>

Hotel Idli Sambar
Though everyone hates hotel food some times we...
Read More >>

Macaroni With Tomato Sauce
Macaroni - ½ cup, Tomato...
Read More >>

Corn Green Peas Tikki
Mix green peas, sweet corn...
Read More >>
Recipes by Categories