Chickpea Croquettes / Brown Chickpea Croquetas / Spanish Croquettes

By
Sridher
Cuisine Style: Spanish | Cooking Time: 20 minutes | To Serve: 4 | Type: Snacks | Take with: Tomato sauce,Green Chutney
Main Ingredients
Brown chickpeas - ½ cup [soaked (overnight) and boiled]
Bread crumbs - 3 tbsp
Onion [Finely chopped] - 2 tbsp
Ginger and green chilli paste - 1 tbsp
Coriander leaves [Chopped] - 2 tbsp
Coconut [grated] - 2 tbsp
Carrot [grated] - 2 tbsp
Corn flour - 1 tbsp
Plain flour - ½ tbsp
Garam masala - ½ tbsp
Turmeric powder - ½ tsp
Redchilli powder - ½ tsp
Lemon juice - ½ tbsp
Sugar - ½ tsp
Salt to taste
Oil - 2 tbsp
Other Ingredients
Egg – 2 [whisked]
Bread crumbs for rolling - 200 gram
Corn flour - 50 gram
Oil for deep frying
Preparation
Heat oil in a pan then add cumin seeds and onion & sauté. Add ginger, green chilli paste and turmeric powder. Add grated carrot, grated coconut sauté for 1 min then add boiled and mashed brown chickpeas, garam masala, corn flour, Maida, bread crumbs and sprinkle 1 tbsp of water and mix well.
Once all ingredients are mixed well cut of heat then add lemon juice, sugar and chopped coriander leaves. Refrigerate for 10 min
Grease your palm with oil then make equal size rectangular croquettes. Roll it on corn flour and then dip with egg wash and roll it again on bread crumbs. Then deep fry all croquettes in medium to high heat. Serve hot with green chutney or tomato sauce.
Croquettes with Veg Filling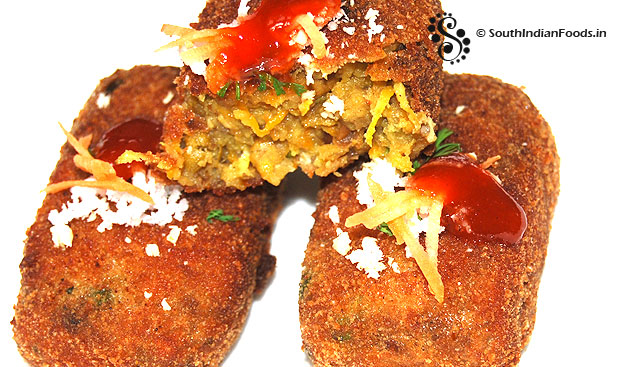 Tip
Polythene sheet or plantain leaf can be used to avoid stickiness when making croquettes..
Note
Mixture is not too hard or not too runny.
Medicinal value
Chickpeas has rich of zinc, foliate and protein.

Rate this recipe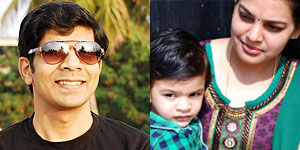 About Us
You may also like these recipes

Moongil arisi sadam
Moongil arisi [Bamboo rice] – 1 cup. Water – 5 to...
Read More >>

Nellikkai Chutney
Nellikai - 5 [ chopped and seeds removed]. Heat...
Read More >>

Curd Oats
Oats - 1 cup. Curd - ½ cup. Boil water pour oats...
Read More >>

Chana masala
White chickpeas – 1 cup [Boiled]. Tomato...
Read More >>

Lemon Rice
Boil the rice in less water, spread over...
Read More >>

Milagu kuzhambu
Soak tamarind for 45 minutes. Dry roast and...
Read More >>

Pachai payaru kadayal
Green gram [pachai payaru] – 1 cup. Samba...
Read More >>

Kathirikai bonda puli kootu
Kathirikai [Brinjal or...
Read More >>

Fried Rice
Put soaked (1 hr) basmati rice in boiling water...
Read More >>
Recipes by Categories