Rasam Recipes >Ginger Rasam | Inji Rasam-How to make-Step by step photos
Ginger Rasam | Inji Rasam-How to make-Step by step photos

By
Sridher
Cuisine Style: Tamil Nadu, India | Cooking Time: 5 to 8 minutes | To Serve: 3 | Type : Side dish, rasam, saaru, charu, soup | Take with : Rice
Ingredients
Ginger - 2 tbsp [cut into thin strips]
Tomato – 1 or 2
Tamarind - 1 inch piece
Garlic – 3 cloves [crushed]
Curry leaves – 1 spring
Coriander leaves – 2 tbsp [chopped]
Mustard seeds – 1 tbsp
Turmeric powder – ¼ tbsp
Asafetida a pinch
Salt to taste
Oil - 1 tbsp
Water as needed
For grinding ingredients
Cumin seeds - 1 tbsp
Coriander seeds - 1 tbsp
Peppercorns - 1 tbsp
Dry roast above ingredients, let it cool & coarsely grind or freshly grind without roasting
Preparation Method
Wash and mash tomato & tamarind with hands & drain the skin & extract water.
Heat oil in a pan, add mustard seeds & let it splutter.
Add garlic, asafetida, turmeric powder, ginger & curry leaves sauté.
Add tomato tamarind water, ground powder & salt mix well & let it boil.
When boiling add chopped coriander leaves & gigner, cut off heat.
Serve hot with rice.
How to make Easy Ginger Rasam - Step by step photos
Wash & soak tomato tamarind in warm water
Tomato and tamarind water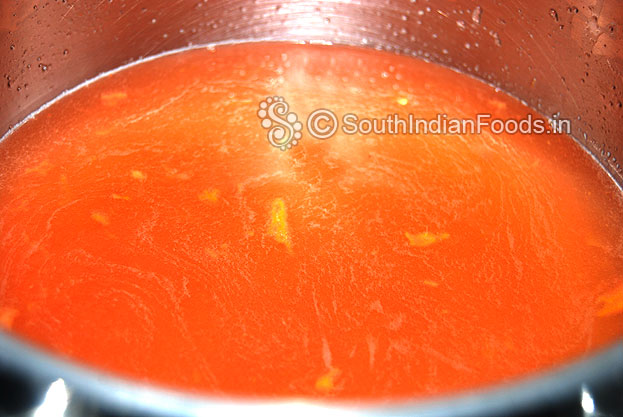 Heat oil, add mustard, garlic, ginger, curry leaves
Add tomato water & salt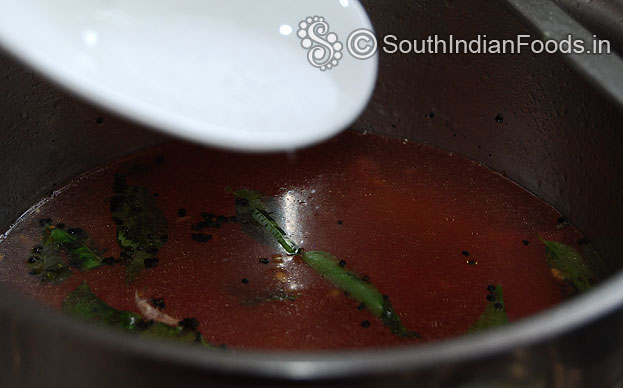 Add turmeric powder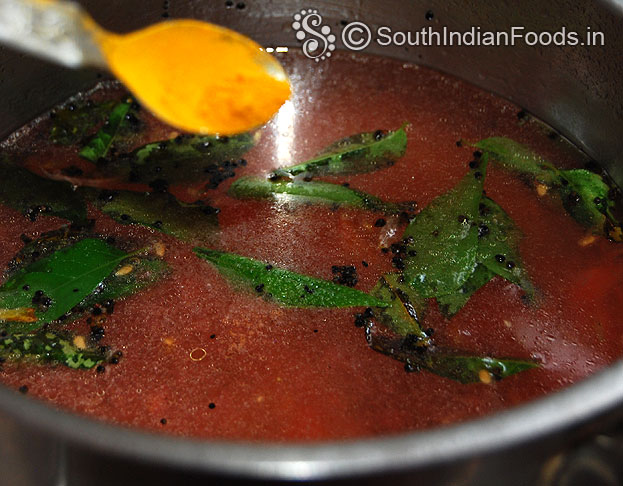 Add asafetida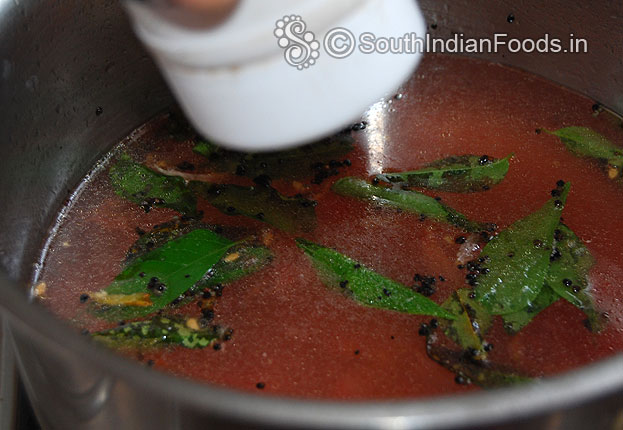 Add freshly ground rasam powder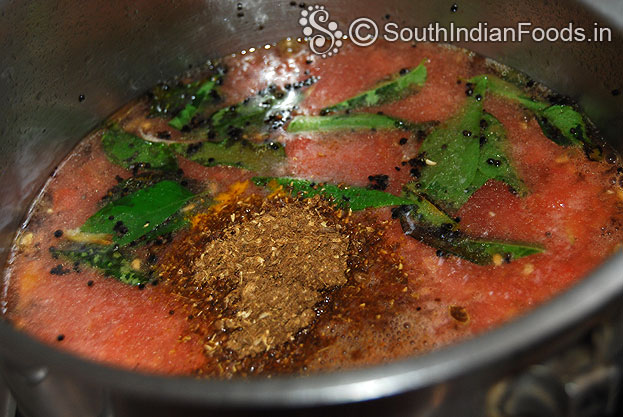 Add ginger, cut off heat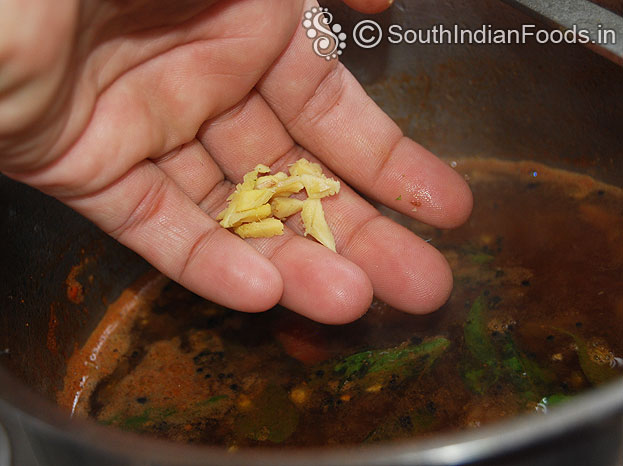 Add coriander leaves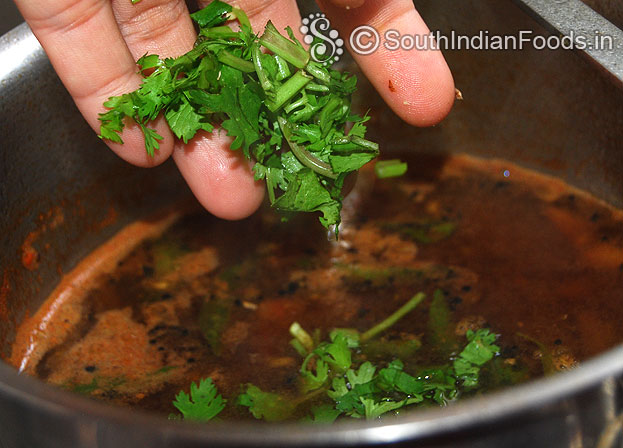 Quick inji rasam saaru is ready, serve hot with rice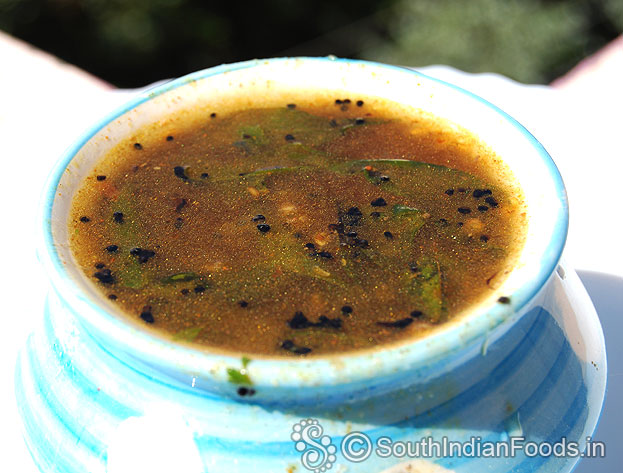 Rate this recipe
You may also like these recipes

Basmati Rice
Basmati rice -2 cups. Green cardamom - 2...
Read More >>

Fruit ice pops
Pomegranate[Madhulai, Anar]- 1 cup. Sugar or brown sugar....
Read More >>

Potato thoran
Poato[Urulaikizhangu] –3 [cut into cubes]. Onion – 1...
Read More >>

Shahi tukda
Bread – 2 slices, Milk - 2 cups, Saffron – ½ tbsp...
Read More >>

Ven pongal
Rice [Boiled rice, Raw rice] – 1 cup. Moong dal...
Read More >>

Coriander biryani
Coriander puree – ½ cup. [Put ¼ cup of Mint...
Read More >>

Vendakkai sambar
Vendakkai [ladies finger in english, okra...
Read More >>

Puliogre
Soak tamarind in the water for 45 minutes and get thick...
Read More >>

Curd Rice
Boil the rice and smash. Pour 1 cup of and mix...
Read More >>

Kadhambam Rice
Some dishes don't have alternative and you...
Read More >>

Spirali tricolor pasta
Tricolor spirali Pasta - 1 cup. Heat pressure...
Read More >>

Adai
Toor dal – 1 cup. Bengal gram – ¾ cup. Idli rice – 2 cup...
Read More >>

Vatha Kuzhambu
Fresh Turkey berry (Sundakai) - 1 Cup [Main Ingredient]...
Read More >>

Idiyappam
Rice flour – 1 cup. Oil – 2 tbsp. Salt to taste...
Read More >>
Recipes by Categories