Tomato Rasam | Thakkali rasam-How to make-Video

By
Sridher
Cuisine Style: Tamil Nadu | Cooking Time: 5 to 10 minutes | To Serve: 3 | Type : Side dish, Soup | Take with : Rice
Ingredients
Tomato – 3
Garlic – 3 cloves [crushed]
Curry leaves – 1 spring
Green chilli – ½
Coriander leaves – 2 tbsp [chopped]
Mustard seeds – 1 tbsp
Cumin seeds – ½ tbsp
Turmeric powder – ¼ tbsp
Cumin powder – ½ tbsp [freshly grind]
Pepper powder – ½ tbsp [freshly grind]
Asafetida a pinch
Salt to taste
Sugar – 1 tsp
Water – 1 ½ cup
Preparation
Wash and put tomato in bowl add 1 ½ cup of water then mash well with hands and drain tomato skin.
Heat pan with oil add mustard seeds, cumin seeds then add garlic, curry leaves and green chilli.
Add tomato mashed water then add asafetida, turmeric powder, salt, cumin and pepper powder mix well.
Once it becomes to boil add sugar turn off heat then add chopped coriander leaves.
Serve hot with rice.
How to make Simple Tomato Rasam video
Tip
Instead of green chilli add dry red chilli for seasoning.
Thakkali rasam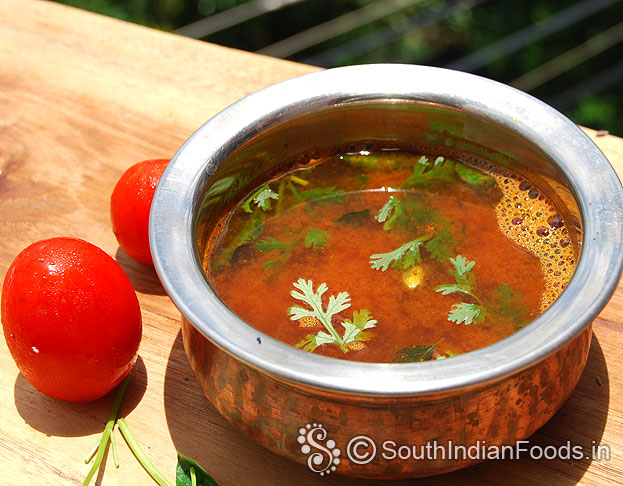 Rate this recipe
You may also like these recipes

Kara Kuzhambu
Brinjal - 3 nos. Small Onion (Sambar Onion) - 10...
Read More >>

Green gram vada
Green gram [Pachai payaru] – ¾ cup. Thatta...
Read More >>

Senai kizhangu chips
Senai kizhangu [Elephant foot yam] – half...
Read More >>

Tomato chutney
Tomato – 3 [chopped]. Onion – 2 [sliced]. Coconut – 1 tbsp...
Read More >>

Tomato kurma
Tomato – 4 [chopped]. Onion – 1 [sliced]. Ginger...
Read More >>

Kathirikai gothsu
Egg plant [brinjal, Kathirikai]– 1 big.Tamarind...
Read More >>

Mini thayir vadai
Urad dal – 1 cup. Curd – 2 cups. Sambar...
Read More >>

Murungakkai sambar
Murungakkai [drumstick] - 2. Toor dal – 1 cup...
Read More >>

Sweet potato cheese balls
Sweet Potato[Sakkaravalli...
Read More >>
Recipes by Categories