Kids Recipes > Sweet potato cheese balls | Sakkaravalli kizhangu crispy balls
Sweet potato cheese balls | Sakkaravalli kizhangu crispy balls

By
Sridher
Cuisine Style: India | Cooking Time: 20 minutes | To Serve: 4 | Type : Snacks | Take with: Tomato sauce, Green Chutney
Ingredients
Sweet Potato[Sakkaravalli kizhangu- 1 cup [boiled, mashed]
Cheese-¼ cup [grated]
Green chilli – 1 tbsp [finely chopped]
Garlic – 1 tbsp [grated]
Onion – 2 tbsp [finely chopped]
Red chilli powder – ½ tsp
Lemon juice – 1 tbsp
Garam masala powder- ¼ tsp
Coriander leaves – 2 tbsp [finely chopped]
Carrot – 2 tbsp [grated or finely chopped]
Pepper powder - ¼ tsp
Breadcrumbs – 2 tbsp
Corn flour – ¼ cup
Rava – ¼ cup
Salt to taste
Oil for deep frying
Preparation
Heat oil in a pan; add onion, garlic & carrot sauté.
Add green chilli, red chilli powder, salt and corn flour then sauté. Turn off flame.
Add mashed potato, breadcrumbs, coriander leaves, lemon juice, salt, garam masala & pepper powder mix well.
Make lemon size ball out of the mixture. Depress the center of the ball and fill the cheese and make ball again by closing all the edges.
Roll each ball in the corn flour & rava mixture. Make sure all the sides are rolled with rava & corn flour equally.
Deep fry all the balls in golden brown color. Serve hot with tomato sauce, chilli sauce or green chutney.
Sweet potato cheese ball recipe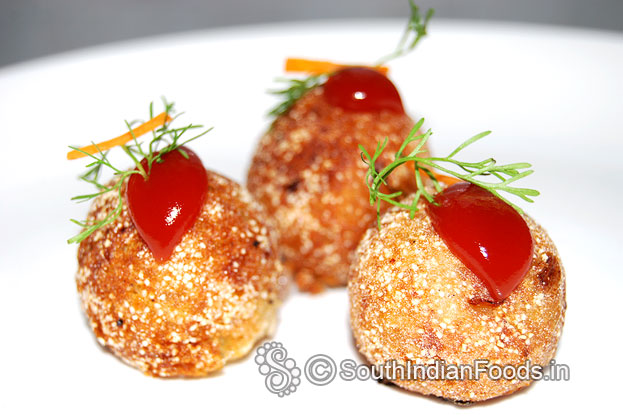 Sakkaravalli kizhangu crispy balls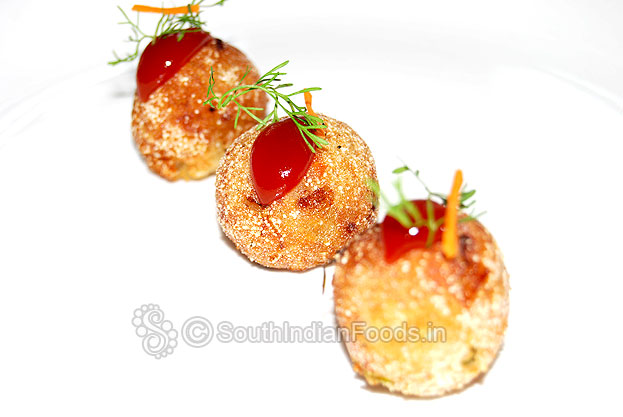 Rate this recipe
You may also like these recipes

Sesame bhindi
Bhindi [Okra, vandakkai, ladies finger] – ¼ kg...
Read More >>

Veg wheat ragi roti
Wheat – 1 cup. Ragi - ¼ cup. Onion – 2 [finely chopped]...
Read More >>

Kathirikai bonda puli kootu
Kathirikai [Brinjal or eggplant...
Read More >>

Ragi flour dosa
Ragi flour [Kezhvaragu maavu, Finger millet flour...
Read More >>

Raw mango rice
Rice – 1 cup. Raw mango [pulippu mangai] – 1 cup...
Read More >>

Paneer tikka with tandoori masala
Paneer [Cottage Cheese]...
Read More >>

Ragi rotti
Ragi [Finger Millet]– 1 cup. Cabbage – ¼ cup [grated]...
Read More >>

Green gram & potato sundal
Green gram [Pachai payaru...
Read More >>

Tomato bath recipe
Basmati rice – 2 cup. Water – 2 ½ cup. Tomato – 4...
Read More >>

Shavige bath recipe
Semiya [vermicelli] – 200 gram. Lemon juice – 2 tbsp...
Read More >>

Carrot payasam
Delhi carrots [red]-1 cup [finely grated]. Ghee– 3 tbsp...
Read More >>

Vegetable semiya upma
Semiya [Vermicelli, sevai]...
Read More >>

Kambu paniyaram
Kambu (pearl millet ) - 2 cup. Urad dal - ½ cup...
Read More >>

Coconut ragi semiya
Ragi semiya – 200 gram. Coconut – 1 cup. Onion...
Read More >>
Recipes by Categories