Pesarattu dosa with carrot onion toppings | Matki dal dosa

By
Sridher
Cuisine Style: Andhra, South India| Preparation Time: 10 min | Cooking Time: 5 min | To Serve: 4 | Take with: Chutney, pickle, rava upma | Type: Breakfast or dinner
Ingredients
Green gram – 1 cup
Onion - 1 [thinly sliced]
Carrot – ½ cup [grated]
Curry leaves – 1 spring
Cumin seeds – 1 tbsp
Coriander leaves – 2 springs
Garlic – 2 cloves
Green chilli - 1
Ginger – 1 inch piece
Oil – 2 tbsp
Salt to taste
Preparation Method
Wash & soak green gram over night. Then drain water.
In a mixer jar add green gram, green chilli, cumin seeds, ginger, garlic, coriander & curry leaves then coarsely grind with small amount of water [apr, ½ cup].
Take a bowl, add coarsely grind green gram mixture mix well & leave it for 15 min or you can make instant dosa.
Heat iron dosa tawa and grease with oil.
Then pour ladle full of Pesarattu dosa batter over the iron dosa tawa & spread the batter like a dosa (Round shape thin or thick).
Then sprinkle onion & carrot toppings & pour 1 tbsp of oil around the dosa.
Then cover lid & cook for 2 minutes (medium flame).
Sprinkle oil over the edges & flip it & cook for a minutes. Then cut off heat & serve with chutney, grated jaggery.
Carrot onion pesarattu[green moong bean] dosa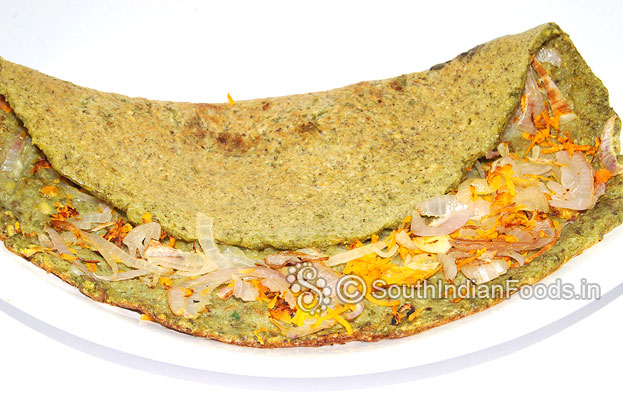 Rate this recipe
You may also like these recipes

Crispy okra
Slice okra [ladies finger] alongside...
Read More >>

Aloo mushroom
Potato [Aloo] – 2 [cut into 1 inch thin squares...
Read More >>

Kadarangai Pickle
Kadarangai – 1. Gingelly oil – 50 ml. Mustard...
Read More >>

Gujarati potatoes
Baby potatoes – ¼ kg. Cumin powder – 1 tbsp...
Read More >>

Carrot Halwa
Peel off the carrot skin and grate and keep...
Read More >>
Vangi Bhath
Cut brinjals into cubical shape. Heat oil in a pan...
Read More >>

Senai kizhangu varuval
Senai kizhangu [Elephant...
Read More >>

Navadhanya sundal
Navratri festival is a Hindu festival which is...
Read More >>

Onion samosa
Onion – 3 [sliced]. Carrot – 1 [finely chopped]...
Read More >>
Recipes by Categories