Aloo mushroom gravy | Potato mushroom curry

By
Sridher
Cuisine Style: North India | Cooking Time: 25 minutes | To Serve: 4 | Type: Gravy | Take With: Roti,Chapati,Paratha,Naan,Rice
Ingredients
Potato [Aloo] – 2 [cut into 1 inch thin squares and fry]
Butter Mushroom – ½ cup [wash & dry out for 5 min]
Phool makhana – ½ cup [fried]
Tomato puree – 1 cup
Cashew nut paste – 3 tbsp
Onion paste – 3 tbsp
Ginger and garlic paste – 1 tbsp [each]
Green chilli – 1 [sliced]
Garam masla – bay leaves, cumin, cloves, cinnamon, cassia, fennel, cardamom, star anise [dry roast then grind with sugar, salt]
Turmeric powder – ¼ tsp
Kasoori methi powder – ¼ tsp
Cumin powder – ½ tbsp
Coriander powder – ½ tbsp
Cardamom powder – ¼ tsp
Red chilli powder – ½ tbsp
Pepper powder – ¼ tsp
Coriander leaves – 2 springs [finely chopped]
Dill seeds – ½ tbsp
Curd / Fresh cream – 2 tbsp [well beaten]
Butter – 1 inch cube
Oil – 2 tbsp
Salt to taste
Water as needed
Method
Heat Oil and butter in a pan, put dill seeds then add onion sauté till raw smell out. Add Ginger and garlic paste. Then add green chilli.
Add mushroom mix well then add salt, turmeric & red chilli powder.
Add tomato puree mix well & cook for 5 min.
Add cashew nut paste mix well. Then add fried aloo, phool makhana.
Add coriander, cumin, pepper powder one by one and kasoori methi powder mix well
Add green cardamom powder and garam masala powder. Add curd mix well then cut off heat. Add chopped coriander leaves.
Garnish with butter and serve hot with rice or chapathi , naan or dosa.
Aloo mushroom masala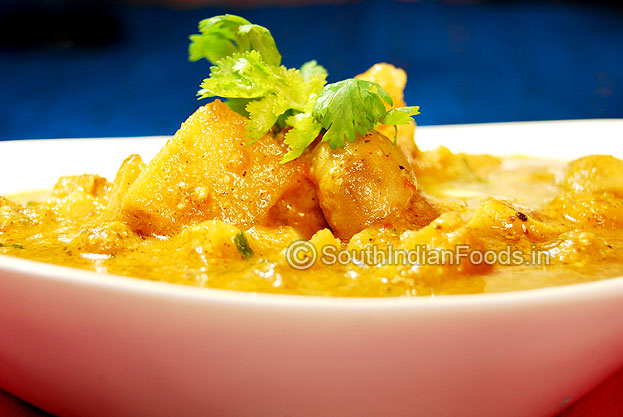 Rate this recipe
You may also like these recipes

Cannellini beans puli kootu
Cannellini beans [White...
Read More >>

Drumstick varuval
Drumstick [Murungakkai ] – 2. Curry leaves – 1..
Read More >>

Peerkangai kootu
Ridge gourd [Peerkangai] – 1 cup [chopped]...
Read More >>

Kodo millet upma
Varagu arisi [kodo millet]- 2 cups. Onion...
Read More >>

Carrot tomato rasam
Carrot – 1 [chopped]. Tomato -1 [chopped]...
Read More >>

Carrot capsicum poriyal
Carrot – 1 cup. Capsicum...
Read More >>

Vendakkai poriyal
Vendakkai [Ladies finger] – ¼ kg. Mustard...
Read More >>

Karamani sundal
Karamani [cowpea] – 1 cup. Coconut – ½ cup...
Read More >>

Gongura pappu
Gongura leaves [Sorrel leaves, pulicha keerai, Hibiscus...
Read More >>

Thinai upma
Thinai [Foxtail Millet]- 2 cups. Onion-1. Carrot...
Read More >>
Recipes by Categories