Tomato matar pulao | Tomato green peas rice-Easy lunch box recipe

By
Sridher
Cuisine Style: North India | Cooking Time: 20 minutes | To Serve: 4 | Type: Rice, pulao | Take With: Raita
Ingredients
Tomato – 4 [chopped]
Green peas [matar] – 1 cup [fresh]
Basmati rice – 2 cups
Water – 2 ¼ cups
Onion – 1 [sliced]
Green chilli – 1 [slit]
Garlic – 4 cloves [chopped & mashed]
Ginger – 1 tbsp [chopped & mashed]
Mint leaves – 5 springs
Turmeric powder – ¼ tsp
Red chilli powder – ½ tsp
Garam masala powder – ½ tsp
Cardamom – 2
Cloves -3
Cinnamon – 1
Bay leaves – 1
Fennel seeds – 1 tbsp
Sugar a pinch
Salt to taste
Butter – 1 inch cube
Oil – 2 tbsp
Method
Wash & soak basmati rice for 15 min.
Put mint leaves & sugar in a mixer jar then grind well with ¼ cup of water.
Heat oil & butter in a pan then add cardamom, cloves, cinnamon; bay leaves, cashew nuts and fennel seeds then add onion sauté till golden brown.
Add green chilli & tomato sauté till soft. Then add ground mint puree mix well.
Add green peas, turmeric powder, red chilli powder and garam masala powder mix well.
Add water and salt mix well& let it boil.
When boiling add basmati rice, cover it & cook for 3 to 4 whistles. Garnish with mint leaves then serve hot with raita.
Tomato matar mint pulao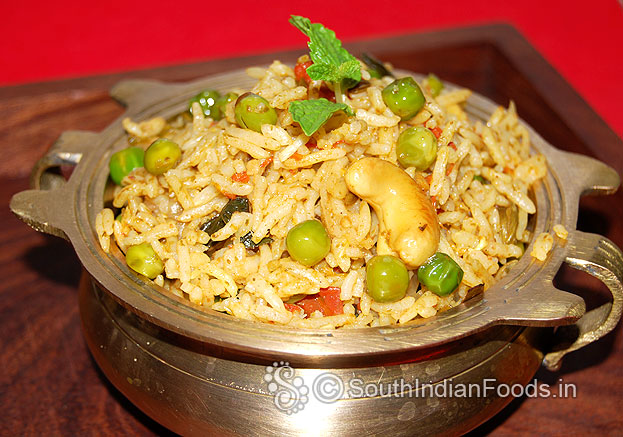 Tomato green peas rice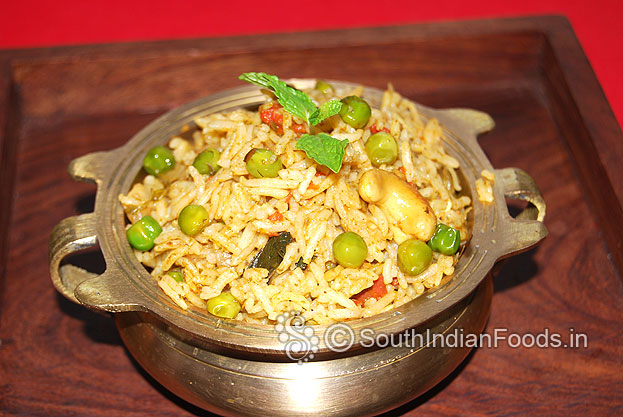 Rate this recipe
You may also like these recipes

Onion pickle
Onion – 3 [finely chopped]. Garlic – 2...
Read More >>

Pomegranate rava kesari
Semolina [suji, Sooji , rava...
Read More >>

Veg ragi flour idli
Ragi flour – 3 cups. Urad dal – ¾ cup. Red...
Read More >>

Penne Rigate Pasta
Penne Rigate Pasta - 200 g. Black olive...
Read More >>

Tamarind matta rice
Kerala Matta Rice - 2 cups [Boiled]. Tamarind...
Read More >>

Curry Leaves Rice
Curry leaves - 1 cup. Heat oil in a pan, add...
Read More >>

Aloo Rajma Cutlet
Rajma - ½ cup [soaked and boiled]. Rajma...
Read More >>

Maravalli kilangu idli
Maravalli kizhangu – 2 cup [wash...
Read More >>

Fenugreek rasam
Fenugreek – 1 tbsp [dry roast & grind to fine...
Read More >>
Badam Powder
Confusing with so many ads with what...
Read More >>

Kadhambam Rice
Some dishes don't have alternative and...
Read More >>


Veg Lemon Rice
Basmati Rice [boiled] - 1 cup. Lemon Juice...
Read More >>

Senai kizhangu varuval
Senai kizhangu [Elephant...
Read More >>
Recipes by Categories