Ragi Modak [Ragi sweet dumpling]

By
Sridher
Cuisine Style: South India | Cooking Time: 15 minutes | To Serve: 4 | Type: ganesh chaturthi special sweet
Ingredients
Outer layer of ragi modak
Ragi flour - 1 cup
Water - 1 cup
Powdered sugar - 1 tbsp
Salt a pinch
For Filling
Coconut [Grated] - ½ cup
Jaggery [grated] - ½ cup
Cashew nuts - 6 [ghee roasted, grated]
Almonds - 5 [ghee roasted, grated]
Raisins - 5[ghee roasted, chopped]
Pista - 5 [ghee roasted, grated]
Ghee - 4 tbsp
Cardamom powder - ½ tbsp
Preparation Method
Outer layer of ragi modak
Mix ragi flour, salt, powdered sugar. Boil water in a broad pan. Once its boiled then add ragi flour and continuously stir well. Once it becomes smooth dough cut off heat, cover it and keep it to cool down.

For Filling
Heat pan with ghee add grated coconut sauté till light brown then add grated jaggery and mix well and cut off heat then add all grated nuts and cardamom powder and mix well.

Final Cut
Once the dough is ready divide it into equal portions of balls and flatten each ball into circle shape then fill them with stuffing.
Hold & stretch all the corners toward the top and merge at the top.
Repeat this for all balls.
Then place all modak in a steamer or idly cooker and steam it for 5 min then serve hot.

Modak Mould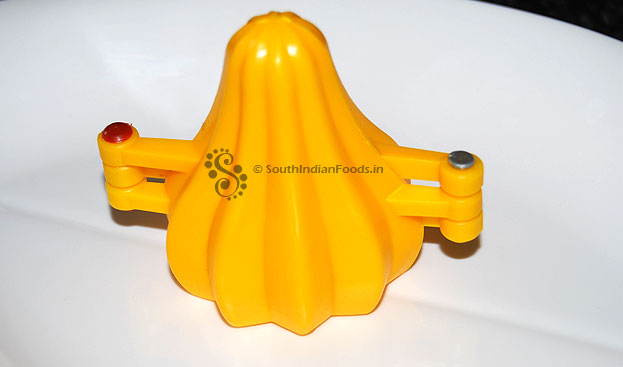 Tip
Use modak mould to ease the process of making modak.

Rate this recipe
You may also like these recipes

Vegetable stew
Carrot -1 [cut into cubes]. Green peas – ½ ...
Read More >>

Cauliflower Kurma
Cauliflower – 1 cup. Sambar onion...
Read More >>

Kara Kuzhambu
Brinjal - 3 nos. Small Onion (Sambar Onion) - 10...
Read More >>

Ragi semiya kheer
Ragi semiya [vermicelli] – ¼ cup. Jaggery – 3...
Read More >>

Sweet potato cheese balls
Sweet Potato[Sakkaravalli...
Read More >>

Green gram vada
Green gram [Pachai payaru] – ¾ cup. Thatta...
Read More >>

Crispy onion pakoda
Onion – 2 [Sliced], Gram flour – ½ cup, Rice...
Read More >>

Tomato kurma
Tomato – 4 [chopped]. Onion – 1 [sliced]. Ginger...
Read More >>

Mini thayir vadai
Urad dal – 1 cup. Curd – 2 cups. Sambar...
Read More >>
Recipes by Categories