How to cook thinai arisi-foxtail millet recipe

By
Sridher
Cuisine Style: Ancient Tamil Nadu | Cooking Time: 20 minutes | To Serve: 3 | Take with: Kulambu, Sambar, Kuzhambu | Type: Lunch, Weight loss & Easy diabetic recipes
Ingredients
Thinai [foxtail millet] – 3 cups
Water – 3 ¾ to 4 cups
Salt to taste
Preparation
how to cook thinai arisi foxtail millet recipe
Wash & soak thinai for 20 min.
Heat pan pour 4 cups of water, salt & let it boil.
Then add soaked thinai then cook in medium flame for 5 min.
Check & stir gently in the middle of cooking process.
Then cover lid & cook for 10 min in low flame.
Once moisture out then cut off heat. Then cover lid & leave it for 5 min then serve hot with sambar or kuzhambu.
How to cook foxtail millet in open pan-quick recipe
Cooked thinai arisi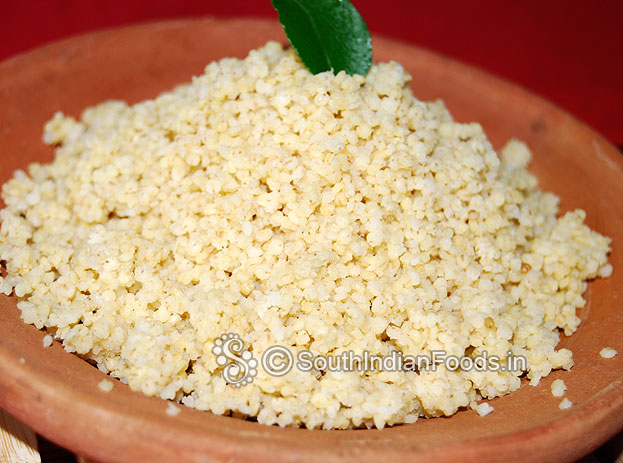 Rate this recipe
You may also like these recipes

Vendhaya keerai sambar
Vendhaya keerai [Fenu...
Read More >>

Verkadalai puli kuzhambu
Peanuts[Verkadalai,...
Read More >>

Sambar
Choose a heavy cooking pot. Wash and clean...
Read More >>

Avarakkai sambar
Toor dal [Thuvaram paruppu] – ¼ cup. Avarakkai...
Read More >>

Chow chow sambhar
Chow chow -1 [wash & peel the skin, cut into...
Read More >>

Soya chunks masala
Soya chunks [Meal maker, soya...
Read More >>

Kathirikai gothsu
Egg plant [brinjal, Kathirikai]– 1 big. Tamarind...
Read More >>

Murungakkai sambar
Murungakkai [drumstick] - 2. Toor dal – 1 cup...
Read More >>

Pirandai thuvaiyal
Pirandai [adamant creeper] – 1 cup [Wash...
Read More >>

Kollu chutney
Horse gram [kollu] – 3 tbsp. Sambar Onion...
Read More >>

Radish sambar without coconut
Radish – 1 cup [cut into...
Read More >>
Recipes by Categories