Baby corn raw mango poriyal recipe

By
Sridher
Cuisine Style: Tamil nadu, South india | Preparation&Cooking Time: 15 minutes | To Serve: 4 | Type : Curry,Masala, kulambhu | Take with : Rice, idli, dosa, roti, paratha
Ingredients
Baby corn – 5 [chopped]
Raw Mango – 3 tbsp [grated or chopped]
Coconut – ½ cup [grated]
Garlic – 1 clove [mashed]
Onion – 1 [chopped]
Green chilli – 1 [sliced]
Curry leaves – 1 spring
Coriander leaves – 2 tbsp [chopped]
Mustard seed – ½ tbsp
Bengal gram – ½ tbsp
Urad dal – ½ tsp
Red chilli powder – ¼ tbsp
Salt to taste
Oil -2 tbsp
Water as needed
Method
Heat oil in a pan add mustard seed, let it splutter.
Add Bengal gram, urad dal sauté.
Add onion sauté till soft.
Add garlic, green chilli and curry leaves sauté.
Add chopped baby corn sauté gently.
Add red chilli powder sauté well.
Add enough water cook for 3 to 4 min.
Add grated coconut, raw mango, & salt mix well
Add chopped coriander leaves mix well then cut off heat and serve hot.
Baby corn raw mango stir fry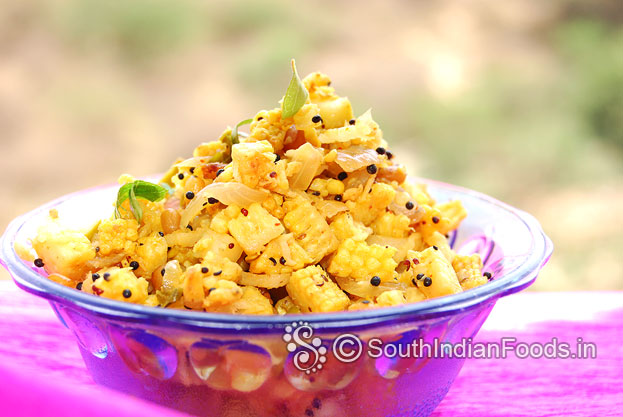 Rate this recipe
You may also like these recipes

Potato carrot beans salad
Potato – 1 [cut into stripes]...
Read More >>

Capsicum rice
Basmati long grain rice – 1 ½ cup [Boiled]...
Read More >>

Onion samosa
Onion – 3 [sliced]. Carrot – 1 [finely chopped]. Garlic...
Read More >>

Tomato matar pulao
Tomato – 4 [chopped]. Green peas [matar...
Read More >>

Paneer
Milk – 3 ltr. Lemon – 2 ½ or 3 or lemon juice – 4 tbsp...
Read More >>

Khoya matar curry
Matar [Green peas] – 1 cup [fresh]. Khoya [kova...
Read More >>

Jangiri
Urad dal [split skinless black gram, whole urad...
Read More >>

Ghee murukku
Rice flour [Arisi maavu, chawal ka atta ]– ¼ cup...
Read More >>
Recipes by Categories