Aloo palak restaurant style | Potato spinach curry | Urulaikizhangu pasalai keerai kuzhambu - Calories - 297

By
Sridher
Cuisine Style: North India | Cooking Time: 15 minutes | To Serve: 4 | Type: Gravy | Take With: Roti,Chapati,Paratha,Naan,Rice
Ingredients
Potato [Aloo] – 4 [boiled]
Spinach – 1 bunch
Cumin – 1 tbsp
Onion – 1 [grated]
Garlic – 2 cloves [grated]
Ginger – ½ tbsp [grated]
Green chilli – 1 [chopped]
Curd / Fresh cream – 1 tbsp [fully whisked]
Garam masala- ¼ tbsp
Cumin powder – ½ tbsp
Coriander powder- ½ tbsp
Pepper powder – ¼ tbsp
Turmeric powder – ¼ tsp
Red chilli powder – ½ tbsp
Kasoori methi powder– ½ tbsp
Salt to taste
Butter – 1 inch cube
Oil – 2 tbsp
Preparation
Wash and cook spinach till soft then put it in a blender to make fine paste.
Cut the boiled potatoes to ½ inch cube.
Heat pan with oil & butter then add cumin, onion and sauté gently till translucent. Now add ginger, garlic and green chilli sauté gently.
Add potatoes sauté gently. Then add turmeric powder, red chilli powder and salt & mix well.
Add spinach puree, cumin powder, garam masala powder, coriander powder and pepper powder mix well.
Add kasoori methi powder and whisked curd or fresh cream and mix well. Cut off heat. Serve hot with roti, naan and rice.
Note
Don't overcook spinach. It loses its color, nutrition and flavor.
It would taste more when fried potato is added.
Aloo palak gravy with cream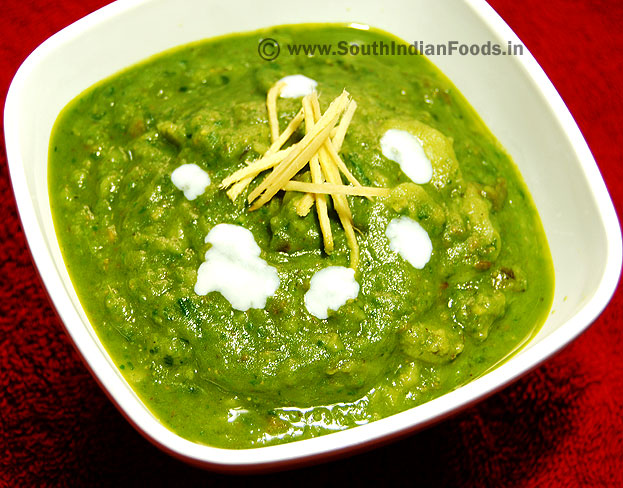 Rate this recipe
You may also like these recipes

Kamarkat recipe
Coconut – 1 cup [grated]. Jaggery – 1 cup. Rice...
Read More >>

Crispy okra
Slice okra [ladies finger] alongside and...
Read More >>

Thuvaram paruppu kuzhambu
Toor dal – ½ cup. Tomato...
Read More >>

Thengai mangai pattani sundal
Dried green peas [Pachai...
Read More >>

Senai kizhangu chips
Senai kizhangu [Elephant foot yam] – half...
Read More >>

Thinai upma
Thinai [Foxtail Millet]- 2 cups. Onion-1. Carrot...
Read More >>

Tamarind ragi semiya
Ragi semiya [Anil] – 2 cup [200 gm]. Tamarind...
Read More >>
Recipes by Categories