Spinach murukku | Palak chakli-How to make-Step by step photos & Video

By
Sridher
Cuisine Style: Tamil Nadu, South India | Preparation & Cooking Time: 15 minutes | To Serve: 2 | Take with: Curd rice, tea, coffee | Type: Easy diwali & pongal snacks or crisps
One of the healthiest greens in the world is Palak(Spinach). To bring color & healthy values to Murukku palak juice is added. Tastiest & healthiest Murukku.
Ingredients
Rice flour [Chawal ka atta]– 2 cups
Gram flour[Besan flour] – 1/2 cup
Spinach– 1 cup[1 handful]
White sesame seeds [Till, Ellu] – 1 tbsp
Asafetida a pinch
Butter– 1 inch cube
Red chilli powder- 1 tbsp
Oil for deep frying
Salt to taste
Water as needed
Preparation Method
Add spinach, 1/2 cup water in a mixie jar grind to fine puree then filter & extract spinach juice.
In a bowl add rice flour, gram flour, asafetida, red chilli powder, sesame seeds, salt, & butter mix well
Then add spinach juicemix well, knead it & make soft dough [It should be soft & non sticky].
Heat enough oil in a pan, take murukku mould plate then place it in a muruku kuzhal.
Fill the prepared dough in a muruku kuzhal [one handful] & just press out or squeeze over the ladle & deep fry till crisp on medium hot oil.
Flip over & fry another side.
Once it ready or the oil sound disappears then take it out & drain on absorbent paper.
Leave it for room temperature [Apr. 2 min]. Then store in an airtight container

How to make Spinach murukku video
How to make Spinach murukku-Stepwise pictures
Spinach murukku ingredients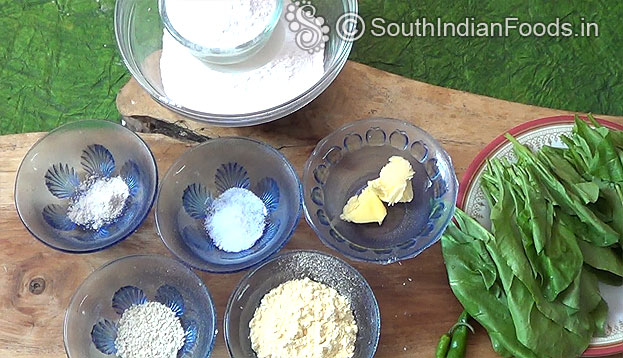 Add spinach,water, grind to fine puree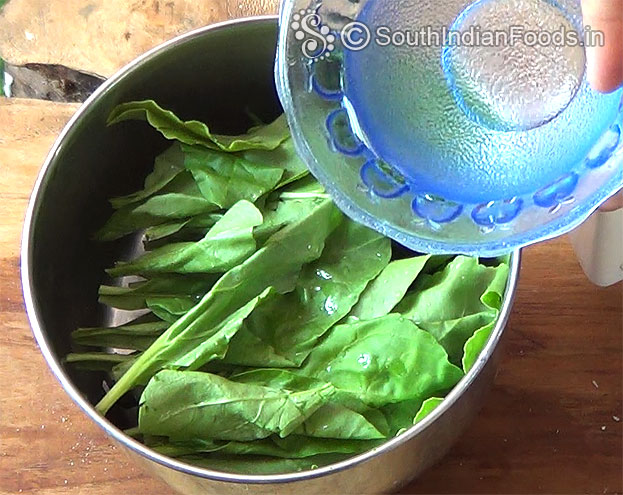 Filter to extract spinach juice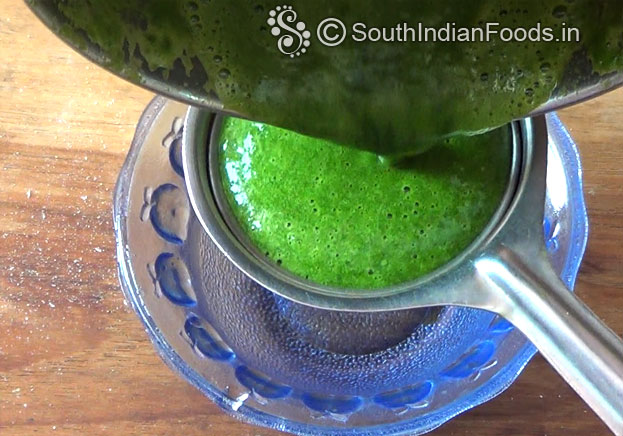 Spinach juice is ready
In a bowl add all ingredients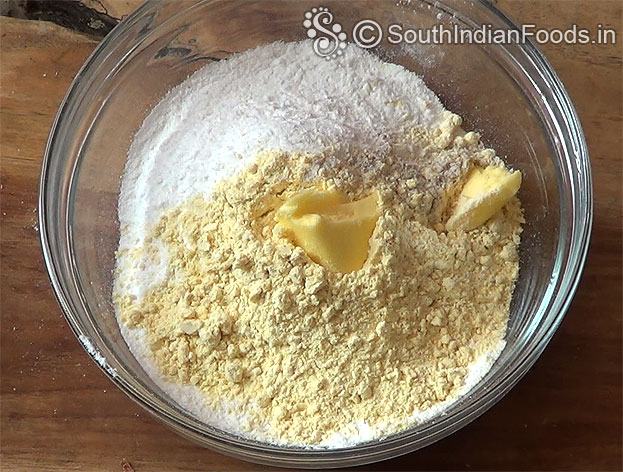 Add sesame seeds, Mix well with butter & salt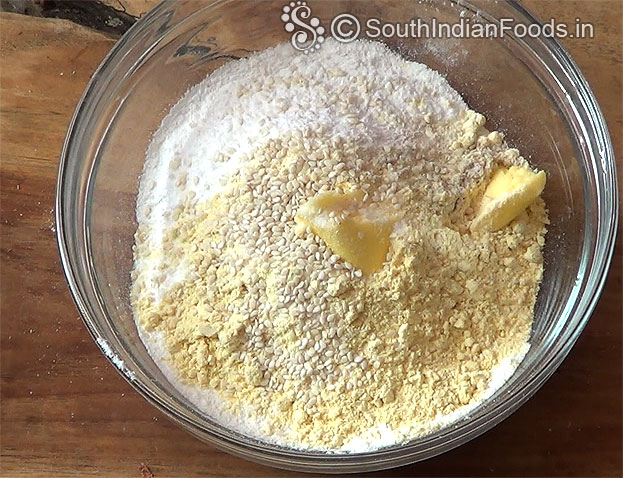 Add Spinach juice mix well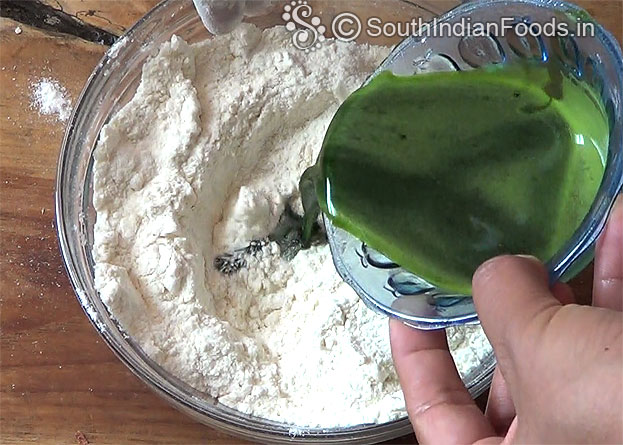 Mix well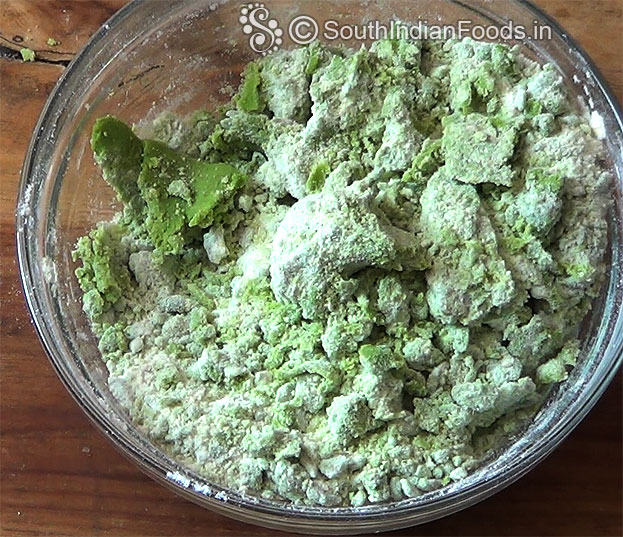 Knead it, make soft dough
Add oil, knead it again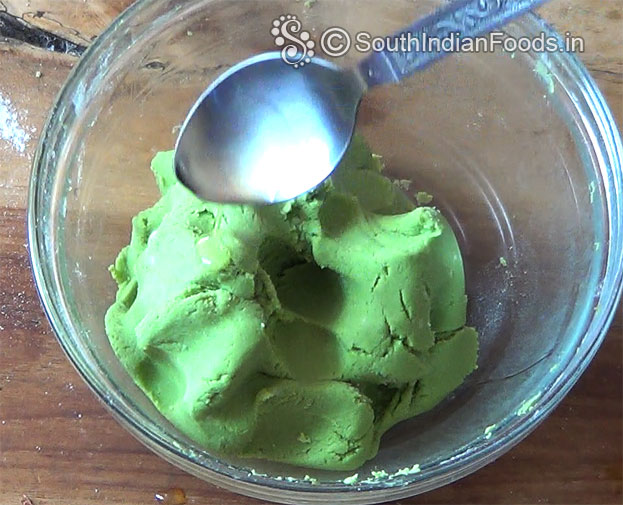 Spinach murukku dough is ready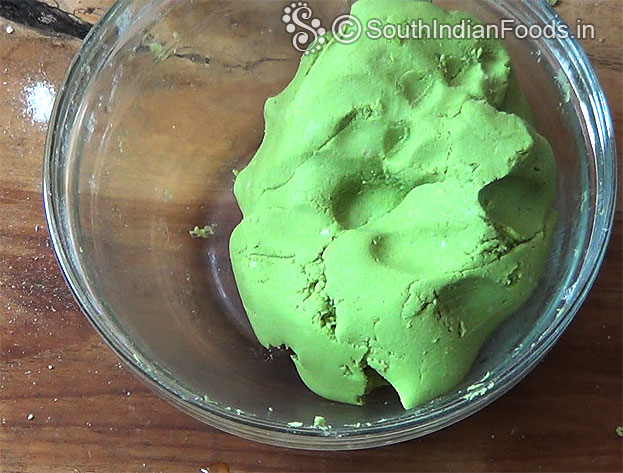 Put 1 handful dough into the murukku kuzhal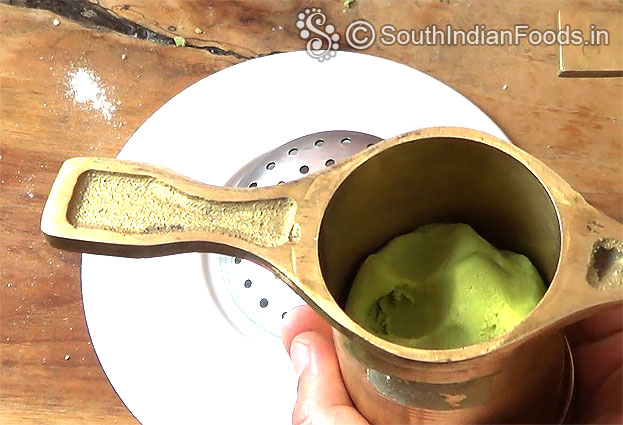 Squeeze over the ladle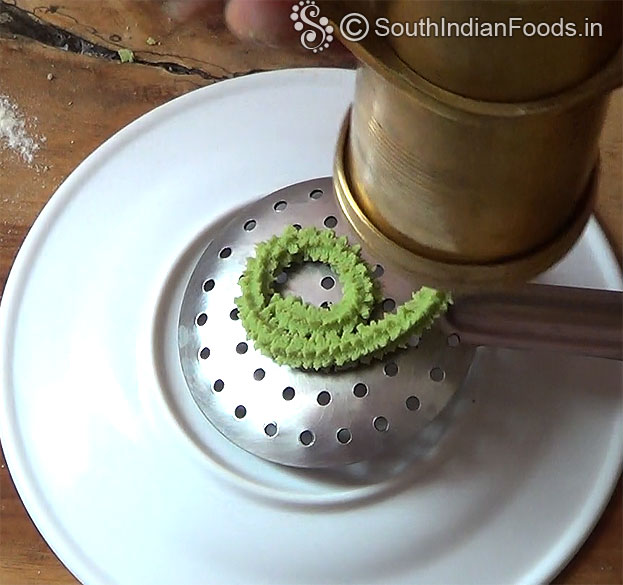 Shape star murukku
Raw spinach murukku is ready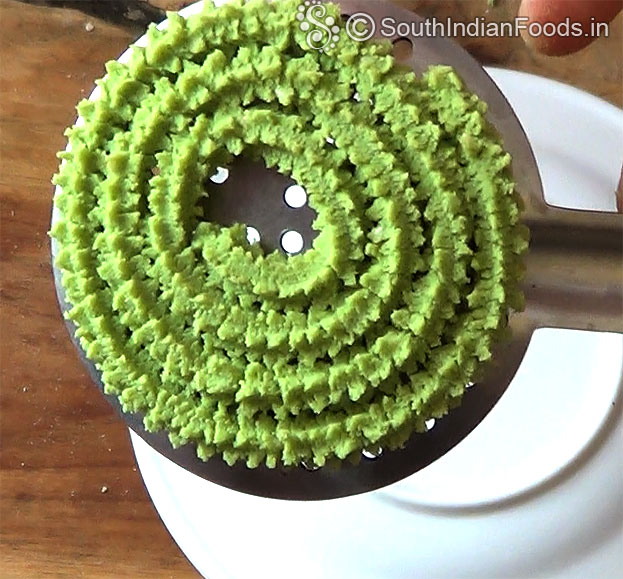 Drop it in hot oil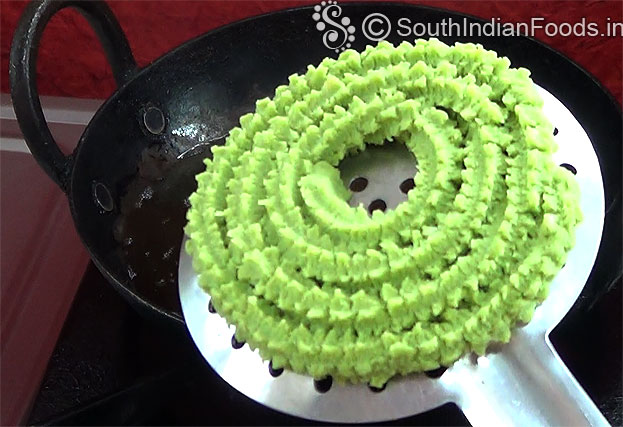 Deep fry till crisp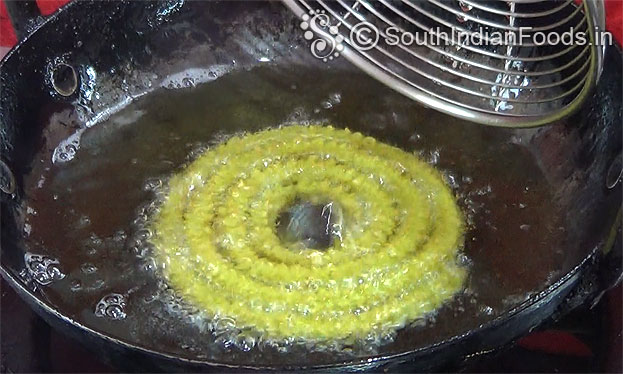 Flip over, cook both sides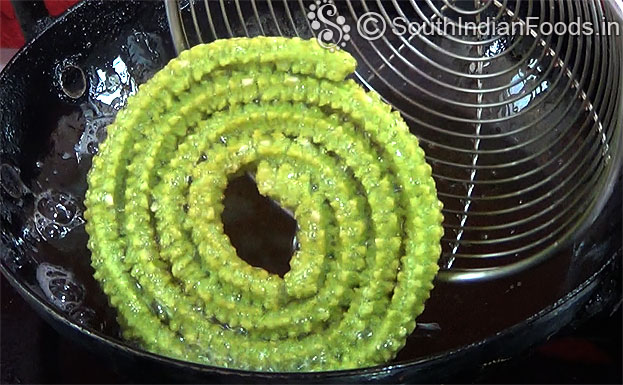 Now its ready, remove from oil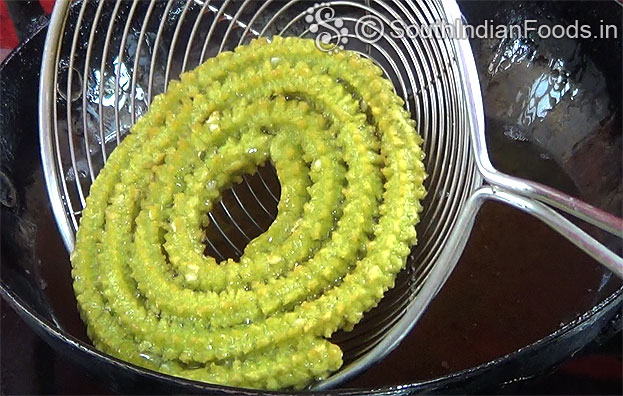 Crispy star chakli is ready, store in an airtight container, us within 1 week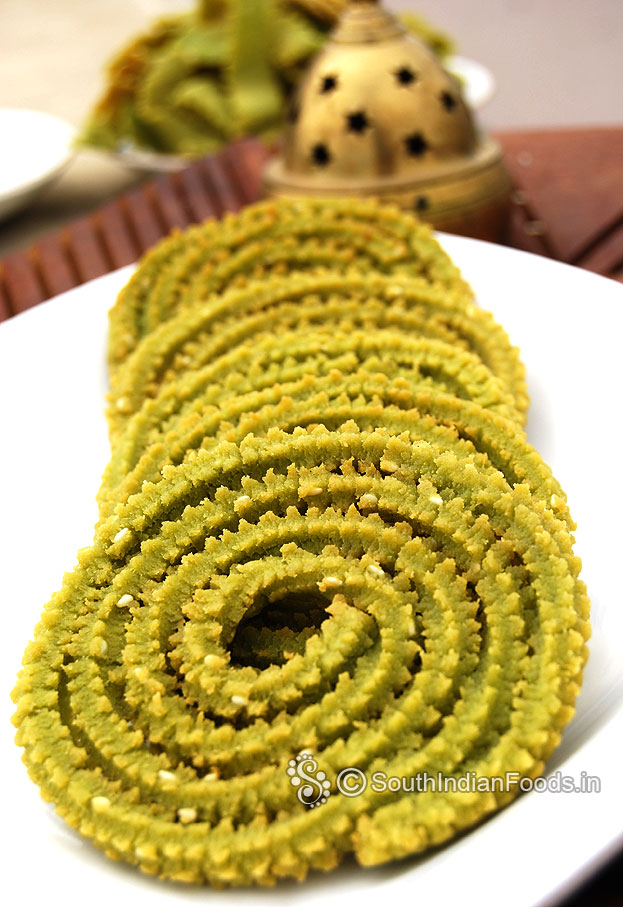 Spinach star chakli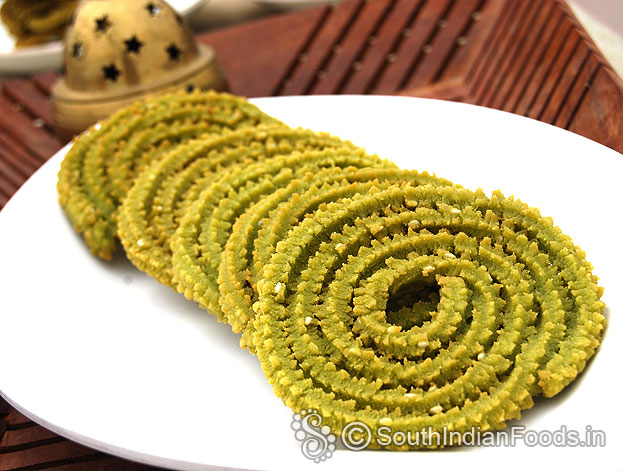 Rate this recipe
You may also like these recipes

Chocolate ladoo
Cocoa powder [Unsweetened] - 4 tbsp. Sweet condensed...
Read More >>

Palak poori
Spinach[Palak, pasalai keerai] – ¼ cup [finely chopped]...
Read More >>

instant basundi
Milk - 1 ltr. Sweet condensed milk - 1/4 cup...
Read More >>

Sago moong dal kichdi
Sago small [javvarisi, ...
Read More >>

Carrot laddu
Carrot - 1 [ big, finely grated] Apr.½ to ¾ cup]. Swee...
Read More >>

Mangalore buns
Wheat flour – 1 cup. Banana - 1 [fully riped]. Sugar - 2 tbsp...
Read More >>
Recipes by Categories