Kids Recipes >Peanut butter banana dosa rolls-Easy breakfast and dinner recipe for kids
Peanut butter banana dosa rolls-Easy breakfast and dinner recipe for kids

By
Sridher
Cuisine Style: India | Preparation Time: 5 minutes | Cooking Time: 3 to 5 minutes | To Serve: 2 | Take with: Honey or cream | Type: Breakfast, Dinner
Ingredients
Idli rice - 1 cup
Urad dal – ¼ cup
Fenu greek seeds – ½ tbsp
Rice flour - 1 tbsp
Jaggery [grated] – ¼ tsp
Peanut butter – 1 tbsp
Banana – 1 [peeled & slice or chopped]
Salt to taste
Oil – 1 tbsp
Water as needed
Method
Wash and Soak urad dal, idli rice and fenugreek seeds separately for 6 hours.
Drain water then grind to nice batter.
Transfer the batter to a container then add sea salt / normal salt then mix well, cover it and leave it for fermentation (approximately 8 hours).
After fermentation add rice flour & grated jaggery mix well (add water if the batter is too thick).
Heat Dosa pan and brush oil then spread the batter quickly to round shape and make sure it not too thick. Cover it for 1 minute.
Then place peanut butter, spread evenly & place banana slices, fold dosa & cook till crisp [Apr 1 min].
Then cut off heat serve hot with honey.
Tip
You can make more variations with apple, berries, etc
Dosa with peanut butter and banana topping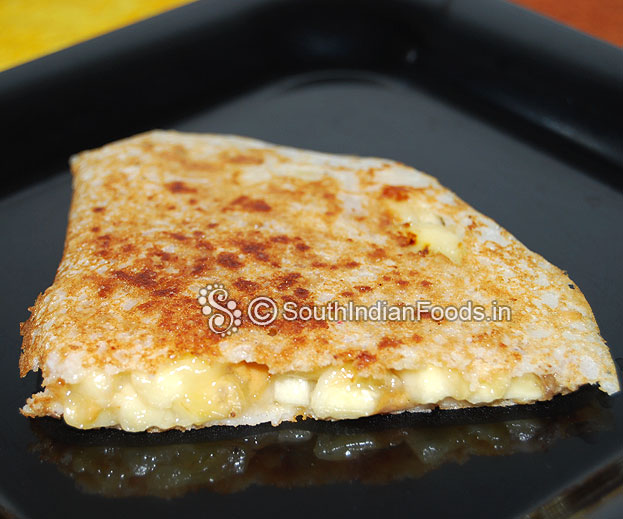 Rate this recipe
You may also like these recipes

Gooseberry pickle
Gooseberry [Amla, Nellikai, Ribes uva-crispa] – 10...
Read More >>

Raw banana kofta curry
Raw banana – 1 [boiled...
Read More >>

Lemon pickle
Lemon – 9. Gingelly oil – 50 ml. Mustard seeds – 1 tbsp...
Read More >>

Tomato chutney
Tomato – 3 [chopped]. Onion – 2 [sliced]. Coconut – 1 tbsp...
Read More >>

Bird nest recipe
Potato – 3. Corn flour – 2 tbsp. Bread crumbs – 1 tbsp...
Read More >>

Sago idli
Sago [Sabudana, Javvarisi] – 1 cup. Rava[white...
Read More >>

Delhi carrot halwa
Delhi carrots [red]-2 cups [finely grated]. Ghee...
Read More >>
Recipes by Categories