Raw banana kofta curry | Kacha kela kofta curry | Plantain kofta curry

By
Sridher
Cuisine Style: North India | Cooking Time: 25 minutes | To Serve: 4 | Type: Gravy | Take With: Roti,Chapati,Paratha,Naan,Rice
Ingredients For Koftas
Raw banana – 1 [boiled, mashed]
Potato – 1 [boiled, mashed]
Green chilli – 1 [finely chopped]
Ginger – ½ tbsp [finely chopped]
Curry leaves – 1 spring
Coriander leaves – 2 tbsp [finely chopped]
Corn flour – ½ tbsp
Maida – ½ tbsp
Red chilli powder – ¼ tsp
Garam masala – ¼ tsp
Lemon juice – ½ tbsp
Sugar – ¼ tsp
Salt to taste
Butter – ½ inch cube
Oil for deep fry
Method for making koftas
In a bowl put mashed potatoes, raw banana and above mentioned ingredients then mix well to make soft dough. Then divide the dough in to equal size balls. Deep fry all balls till golden brown.
Ingredients for Curry / Gravy
Tomato puree – 1 ½ cup
Cashew nut paste – ¼ cup [soak cashew nuts in milk for 5 min then paste]
Cumin seeds – ½ tbsp
Cardamom - 2
Star anise - 1
Cinnamon - 1
Cloves - 3
Bay leaves – ½
Ginger & garlic paste – 1 tbsp [each]
Onion – 1 [finely chopped or paste]
Green chilli - 1
Curry leaves – 1 spring
Coriander leaves – 2 tbsp [finely chopped]
Curd – 3 tbsp [fully whisked like cream consistency]
Garam masala – 1 tsp
Redchilli powder – ½ tbsp
Turmeric powder – ¼ tsp
Coriander powder – ½ tbsp
Cumin powder – ½ tbsp
Sugar – ½ tbsp
Salt to taste
Oil – 2 tbsp
Butter – 1 inch cube
Water as needed.
Method for curry
Heat pan with oil & butter add cumin seed, cardamom, cloves, bay leaves, star anise and cinnamon stick.
Add onion sauté till soft [not golden brown] then add ginger and garlic paste. Add green chilli & curry leaves sauté.
Add tomato puree cook till bubbles come out. Then add turmeric and red chilli powder mix well.
Add cashew nut paste, coriander powder and cumin powder mix well. Leave it for 2 min.
Add curd, garam masala powder, sugar and salt mix well. Once gravy is ready add fried koftas then cut off heat.
Add chopped coriander leaves and butter serve hot with bastmathi rice or chapathi.
Plantain kofta curry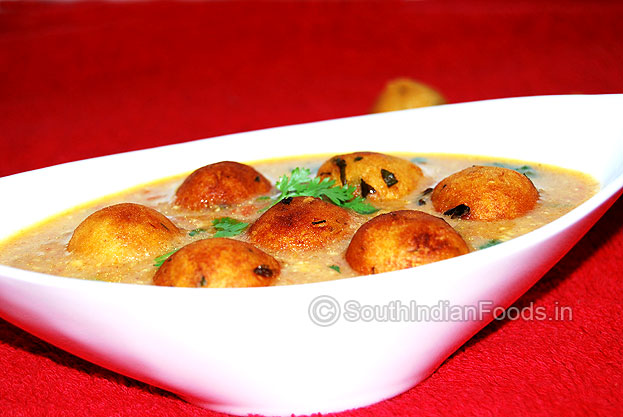 Rate this recipe
You may also like these recipes

Mini thayir vadai
Urad dal – 1 cup. Curd – 2 cups. Sambar...
Read More >>

Crispy okra
Slice okra [ladies finger] alongside and...
Read More >>

Sambar
Choose a heavy cooking pot. Wash and clean...
Read More >>

Thinai payasam
Thinai arisi [Foxtail millet] – 1 cup. Milk – 2 ½...
Read More >>

Red cabbage cucumber salad
Purple cabbage – ¼ cup...
Read More >>

Senai kizhangu chips
Senai kizhangu [Elephant foot yam] – half...
Read More >>

Penne Rigate Pasta
Penne Rigate Pasta - 200 g. Black olive...
Read More >>

Carrot Idli
The usual idli has only two forms fried idli...
Read More >>

Thinai upma
Thinai [Foxtail Millet]- 2 cups. Onion-1. Carrot...
Read More >>

Tamarind Rice
Soak tamarind in the water for 45 minutes and...
Read More >>

Ellu kolukattai
Dry roast sesame seeds. Take a bowl add, roasted...
Read More >>

Cornmeal payasam
Cornmeal [Corn rava, makka solam] - 1 cup. Milk...
Read More >>

Javvarisi payasam
Javvarisi [Sago, Tapioca, sabhudhana]- 1 cup. Milk...
Read More >>

Tamarind ragi semiya
Ragi semiya [Anil] – 2 cup [200 gm]. Tamarind...
Read More >>
Recipes by Categories