Aloo paneer samosa | Paneer potato samosa-Instant evening snacks recipe

By
Sridher
Cuisine Style: North India | Cooking Time: 15 minutes | To Serve: 4 | Take with: Tomato Sauce or Green Chutney | Type: Evening Snacks
For Filling[Stuffing]-Ingredients
Paneer - ¼ cup [grated]
Potato - 1 [boiled, mashed]
Onion -1 [finely chopped]
Garlic – 1 [finely chopped]
Ginger - 1 tbsp [finely chopped]
Green chili- ½ tbsp [finely chopped]
Red chilli powder – ½ tbsp
Dry mango powder – ½ tbsp
Garam masala – ½ tsp
Coriander leaves - 2 springs
Salt to taste
Oil-2 tbsp
Oil for deep frying
Tomato sauce or ketchup for serving
Method for filling[Stuffing]
Heat oil in a pan add onion, ginger, & garlic saute.
Then add green chilli, red chilli powder, dry mango powder, garam masala powder, potato& carrot saute for a min.
Add green chilli garam msala, dry mango powder, turmeric & red chilli powder mix well.
Finally add coriander leaves mix well. Then cut off heat keep it aside.
For Samosa Dough[Samosa Shell]-Ingredients
Wheat flour – 1 cup
All purpose flour / Maida - 2 tbsp [optional]
Carom seeds [Ajwain in hindi, Omam in tamil] – ½ tbsp
Salt to taste
Sugar a pinch
Ghee – 2 tbsp
Oil - 1 tbsp
Water as needed
* Mix all ingredients then make soft dough & cover it & leave it for 10 min.

Method For Making Samosa[Final Cut]
Divide the dough in to equal size balls (lemon size).
Take one ball, sprinkle flour, roll into thin round shape and cut into equal halves using knife. Now what you get is semi circle.
Make a cone shape from the semi circle, fill with paneer potato stuffing and cover it (it should look like a triangle shape).
Dip your finger into water and stick firmly all the edges.
Heat oil in a pan, put raw samosa on low to medium hot oil deep fry till crisp & golden brown
Once its ready, remove from oil, drain on absorbent paper.
Serve hot with green chutney or tomato or chilli sauce.
Paneer potato samosa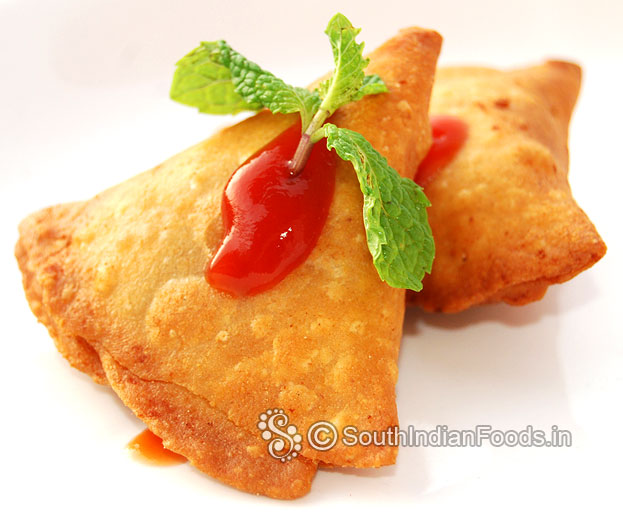 Rate this recipe
You may also like these recipes

Carrot sago payasam
Sago [Sabudana, javvarisi] – ½ cup. Carrots - 1 [finely...
Read More >>

Paneer tomato gravy
Paneer - 1 cup [cut into cubes]. Tomato - 3. Onion - 1...
Read More >>

Ven pongal
Rice [Boiled rice, Raw rice] – 1 cup. Moong dal...
Read More >>

Carrot laddu
Carrot - 1 [ big, finely grated] Apr.½ to ¾ cup]. Swee...
Read More >>

Mangalore buns
Wheat flour – 1 cup. Banana - 1 [fully riped]. Sugar - 2 tbsp...
Read More >>

Semiya payasam
Semiya [Vermicelli] -1 cup [Roasted or plain]. Ghee...
Read More >>

Chocolate ladoo
Cocoa powder [Unsweetened] - 4 tbsp. Sweet condensed...
Read More >>

Palak poori
Spinach[Palak, pasalai keerai] – ¼ cup [finely chopped]...
Read More >>

Ragi semiya upma
Soak (till ragi sink completely) ragi semia in salt...
Read More >>

Thinai sakkarai pongal
Thinai rice (Foxtail Millet)...
Read More >>

Adhirasam
Adhirasam is one of the traditional sweets...
Read More >>
Recipes by Categories