Breakfast Recipes >Cornmeal puttu | Makka cholam rava sweet puttu | Mokkajonna rava puttu | Corn rava jaggery coconut puttu
Cornmeal puttu | Makka cholam rava sweet puttu | Mokkajonna rava puttu | Corn rava jaggery puttu

By
Sridher
Cuisine Style: TamilNadu, Kerala, South India | Preparation & Cooking Time: 20 minutes | To Serve: 3 | Type: Breakfast, dinner or sweet
Cornmeal [Corn rava, makka cholam, broken dried maize]– 1 cup
Ghee – 2 tbsp
Coconut [Thengai] – ½ cup [grated]
Salt a pinch
Jaggery [Vellam]– ¼ cup
Cardamom powder – ½ tbsp
Preparation Method
Dry roast cornmeal.
In a bowl add roasted cornmeal, jaggery & salt mix well.
Add warm water mix well, cover it & then leave it for 2 min.
Add coconut, cardamom powder & sprinkle ghee mix well.
Heat idli cooker with water & let it boil.
Then grease idly plates with oil, place cornmeal mixture in each cavity, then place it in boiling water, cover lid and steam it for 10 min.
Transfer steamed cornmeal sweet idlis to a bowl, crumble, Sprinkle ghee & serve hot.
Corn rava puttu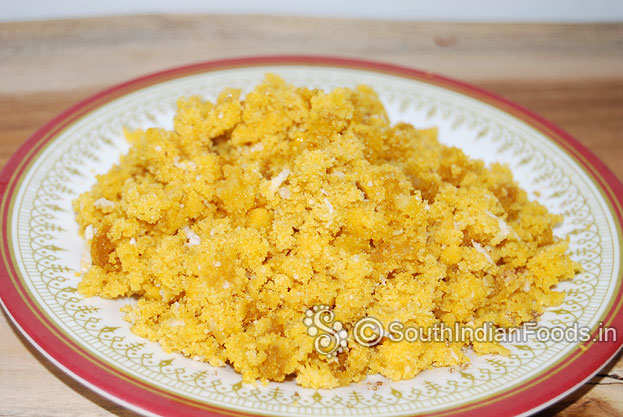 Makka cholam rava sweet vella puttu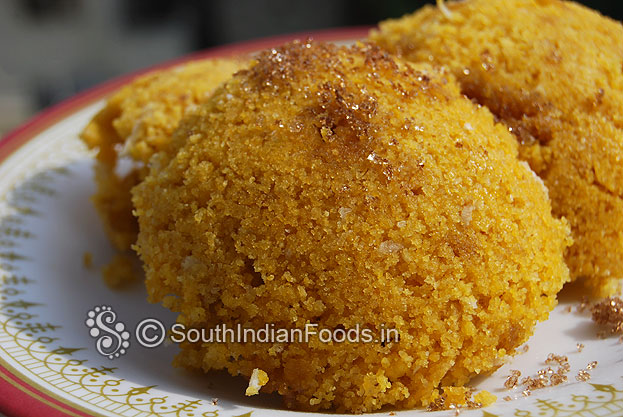 Rate this recipe
You may also like these recipes


Veg burger with samak rice balls
Bread Bun[Salted,...
Read More >>

Cauliflower Kurma
Cauliflower – 1 cup. Sambar onion...
Read More >>

Hotel Idli Sambar
Though everyone hates hotel food some times we...
Read More >>

Kara Kuzhambu
Brinjal - 3 nos. Small Onion (Sambar Onion) - 10...
Read More >>

Veg burger with beetroot balls
Bread bun [Salted,...
Read More >>

Ven pongal
Rice [Boiled rice, Raw rice] – 1 cup. Moong dal...
Read More >>

Simple thakkali kuzhambu
Tomato – 4 [chopped]...
Read More >>
Recipes by Categories