Poriyal Recipes > Yellow Pumpkin Poriyal | Poosanikai Poriyal | Parangikai Poriyal | Arasanikai poriyal
Yellow Pumpkin Poriyal | Poosanikai Poriyal | Parangikai Poriyal | Arasanikai poriyal

By
Sridher
Cuisine Style: Tamil Nadu, South India | Cooking Time: 10 minutes | To Serve: 7 | Type: Thoran, Poriyal, Stir fry
Ingredients
Yellow Pumpkin [Parangikai, arasanikai] – 1 cup [cut into cubes]
Sambar Onion – 3 [finely chopped]
Green chilli – 1 [sliced]
Coconut – ¼ cup [grated]
Curry leaves -1 spring
Turmeric powder – ¼ tsp
Red chilli powder – ½ tbsp
Mustard seeds – ½ tbsp
Bengal gram – 1 tbsp
Urad dal – 1 tbsp
Salt to taste
Sugar a pinch
Oil – 2 tbsp
Water as needed.
Method
Heat oil in a pan, add mustard seeds & let it splutter. Then add Bengal gram, urad dal sauté gently.
Add sambar onion sauté till soft. Then add green chilli and curry leaves.
Add Yellow Pumpkin, turmeric powder, red chilli powder and salt sauté well then add 2 tbsp of coconut sauté. Add water then cook till soft.
Add sugar & coconut mix well.
Then cut off heat. Serve hot with rice.
Parangikai Poriyal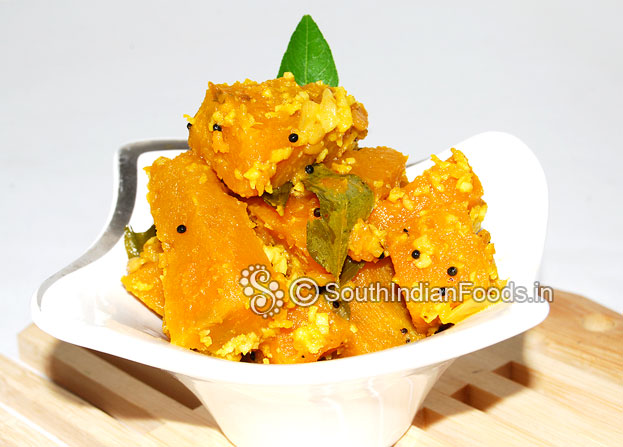 Rate this recipe
You may also like these recipes

Crispy okra
Slice okra [ladies finger] alongside and...
Read More >>

Sambar onion ellu puli kootu
Sambar onion [Shallots...
Read More >>

Spinach wheat rava pongal
Wheat rava [Godhumai...
Read More >>

Kara Kuzhambu
Brinjal - 3 nos. Small Onion (Sambar Onion) - 10...
Read More >>

Red cabbage pakoda
Red cabbage[Purple cabbage] – 1 cup [cut into...
Read More >>

Kuska biryani rice
Basmati rice – 1 ½ cup. Tomato -2 [chopped]...
Read More >>

Salna kurma
Carrot, beans, potato – 1 cup [Cut into small cubes]...
Read More >>
Recipes by Categories