Breakfast

Recipes >Vegetable ragi poha upma | Kezhvaragu aval upma with carrot & capsicum
Vegetable ragi poha upma | Kezhvaragu aval upma with carrot & capsicum

Cuisine Style: TamilNadu, Karnataka South India | Preparation & Cooking Time: 15 minutes | To Serve: 4 | Type: Breakfast, dinner, | Take with: Chutney, sambar
Ingredients
Ragi aval [Ragi poha, kezhvaragu avul, finger millet pohe] – 1 cup
Onion – 1 [sliced]
Carrot – 1 [finely chopped]
Capsicum – 2 [chopped]
Green chilli – 1 [sliced or chopped]
Ginger – 1 ½ tbsp [finely chopped]
Curry leaves – 1 spring
Coriander leaves – 2 tbsp [roughly chopped]
Mustard seeds – 1 tbsp
Bengal gram – 1 tbsp
Urad dal – ½ tbsp
Oil – 2 tbsp
Salt to taste
Preparation Method
Wash ragi aval then drain water [don't soak] & steam in an idli cooker for 3 min. Then let it cool [2 min].
Heat oil in a pan, add mustard seeds & let its splutter, Bengal gram, & urad dal.
Then add onion sauté well.
Add ginger, carrot, capsicum, green chilli & curry leaves sauté.
Add steamed ragi aval and salt mix well on medium to low flame.
Sprinkle coriander leaves mix well & cut off heat.
Serve hot with pickle, coconut chutney.
Veg kezhvaragu aval upma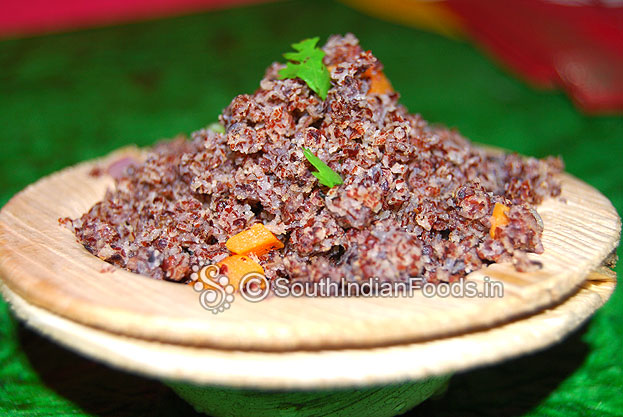 Rate this recipe
You may also like these recipes

Palani panchamirtham
Banana [poovan banana, poovan pazham] – 5...
Read More >>

Corn rava idli
Corn rava – 1 cup. Curd – 1 cup. Water as...
Read More >>

Bread gulab jamun
Bread – 4 slices. Milk -1 cup or ¼ ltr. For sugar syrup...
Read More >>

Seppankizhangu[Arbi] varuval
Seppankizhangu [Taro...
Read More >>

Potato noodles croquettes
Potato [Aloo] – 3. Noodles...
Read More >>

Cauliflower butter masala
Cauliflower [gobi in hindi]...
Read More >>

Kadala curry
Chickpea – 1 cup [wash & soak overnight...
Read More >>

Onion samosa
Onion – 3 [sliced]. Carrot – 1 [finely chopped]. Garlic...
Read More >>
Recipes by Categories