Vegetable idli recipe

By
Sridher
Cuisine Style: Tamil Nadu, South India | Preparation & Cooking Time: 15 minutes | To Serve: 4 | Type: Breakfast, Dinner
Ingredients
Idli batter – 1 cup
Carrot – ½ cup [finely chopped]
Capsicum – ½ cup [finely chopped]
Ginger – 1 tbsp [finely chopped]
Green chilli – 1 or 2 [finely chopped]
Curry leaves – 2 springs [finely chopped]
Coriander leaves – 2 springs [finely chopped]
Red chilli powder – ½ tsp
Turmeric powder – ¼ tsp
Urad dal – 1 tbsp
Oil – 2 tbsp
Salt to taste
Preparation
Heat oil in a pan, add urad dal. Then add carrot, capsicum, ginger, curry leaves, green chilli sauté.
Then add turmeric& red chilli powder sauté then cut off heat.
Finally add coriander mix well.
In a bowl, add idli batter, sautéed ingredients & mix well.
Heat idli cooker with water & let it boil. Then grease idly plates with oil and pour idli batter in each cavity, place it in boiling water, cover lid and steam it for 8 to 10 min.
Then Serve hot with coconut chutney.
Vegetable idli with carrot & capsicum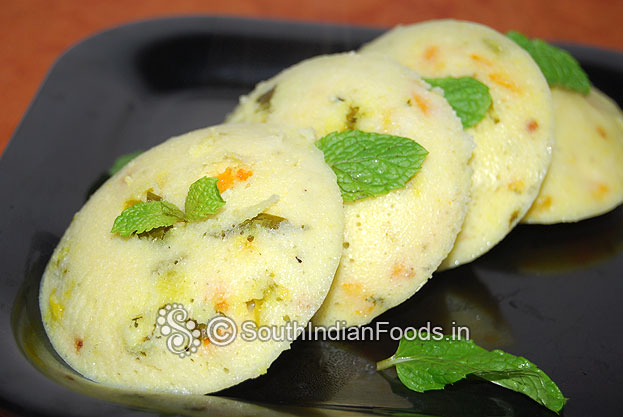 Rate this recipe
You may also like these recipes

Onion samosa
Onion – 3 [sliced]. Carrot – 1 [finely chopped]. Garlic...
Read More >>

Potato paneer gulab jamun
Potato[Aloo, Urulaikizhangu...
Read More >>

Sago idli
Sago [Sabudana, Javvarisi] – 1 cup. Rava[white...
Read More >>

Verkadalai puli kuzhambu
Peanuts[Verkadalai,...
Read More >>

Carrot payasam
Delhi carrots [red]-1 cup [finely grated]. Ghee...
Read More >>

Crispy okra
Slice okra [ladies finger] alongside and cut...
Read More >>

Godhumai kozhukattai
Wheat flour – ½ cup. Ghee – 2 tbsp. Grated...
Read More >>

Sweet Paniyaram
Idli batter – 1 cup. Cardamom powder – ½ tbsp...
Read More >>
Recipes by Categories