Sweets / Desserts > Sweet pidi kozhukattai | Rice flour sweet dumplings | Arisi vellam thenagi inippu Kolukattai
Sweet pidi kozhukattai | Rice flour sweet dumplings | Arisi vellam thenagi inippu Kolukattai

By
Sridher
Cuisine Style: Tamil Nadu, south india | Cooking Time: 20 minutes | To Serve: 5 | Type: Ganesh [vinayagar] Chaturthi festival special recipe
Ingredients
Rice flour [Arisi maavu] – 1 cup
Coconut – ½ cup [Grated]
Jaggery [Vellam] – ¼ cup [Grated]
Cardamom powder [elaichi, elakkai] - 1 tbsp
Cashew nuts [Kaju, munthiri] – 8
Ghee – 1 tbsp
Warm water as needed [Apr.3 tbsp]
Method
Dry roast rice flour for 1 min.
Heat ghee in a pan roast cashew nuts, then chop.
Take rice flour in a bowl, add grated coconut, cashew nuts, cardamom powder and grated jaggery. Sprinkle ghee and 2 tbsp of water mix well & make soft dough.
Divide the dough into equal size balls. Take a lemon size portion and fold down all fingers and press gently.
Steam it in an Idli cooker for 5 to 8 min. Then serve hot.
Rice flour sweet pidi kozhukattai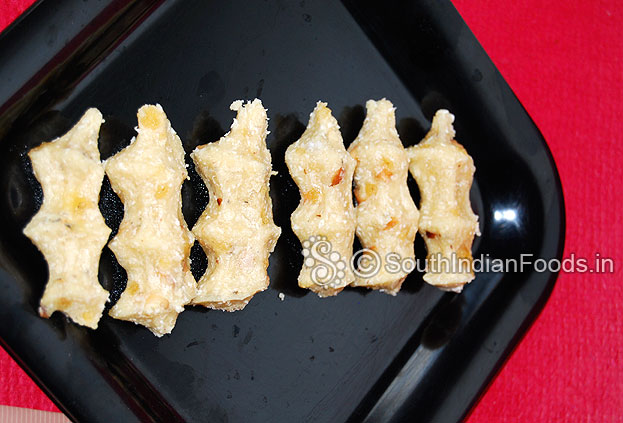 Rate this recipe
You may also like these recipes

Senai kizhangu chips
Senai kizhangu [Elephant foot yam] – half...
Read More >>

Thinai upma
Thinai [Foxtail Millet]- 2 cups. Onion-1. Carrot...
Read More >>

Paneer tikka with tandoori masala
Paneer [Cottage Cheese]...
Read More >>

Poha pulihora
Aval [poha or Flattened rice] – 1 cup. Tamarind puree...
Read More >>

Ulundu kozhukattai
Rice flour – 1 cup. Water – ¾ to 1 cup. Urad dal...
Read More >>

Vendakkai kara kuzhambu
In a thick pan fry Okra...
Read More >>
Recipes by Categories