Sweet aval | Poha with jaggery for krishna jayanthi festival

By
Sridher
Cuisine Style:South India | Preparation & Cooking Time: 15 min | To Serve: 4 | Type: Sweet, Krishner jayanthi festival
Ingredients
Avul [Poha, pohe, Aval, or beaten rice flakes] – 1 cup [Thin]
Coconut – ¼ cup [grated]
Jaggery – 4 tbsp [grated]
Green cardamom powder – ½ tbsp
Ghee – 1 tbsp
Water as needed.
Preparation
Wash thin avul then drain water [don't soak].
Heat pan with 2 tbsp water & jaggery continuously stir well & let it boil.
Then add green cardamom powder, grated coconut mix well.
Finally add avul mix well & cut off heat, serve hot.
Jaggery Poha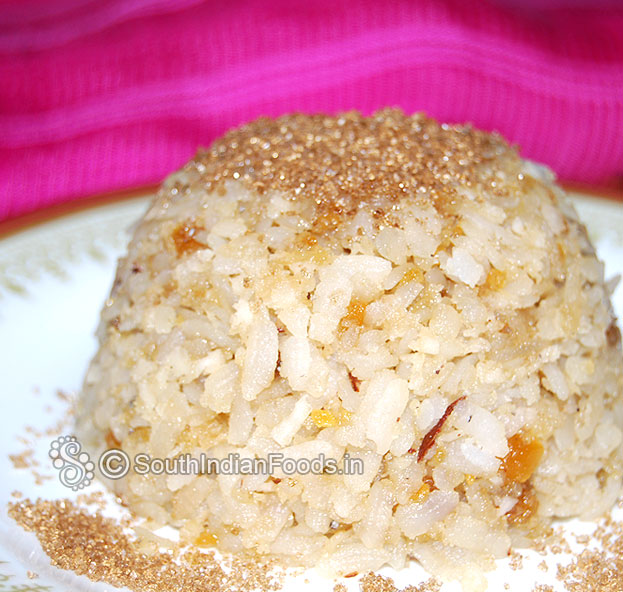 Rate this recipe
You may also like these recipes

Curry Leaves Chutney
Curry leaves - 2 cups, Small onion - 4, Red chilli...
Read More >>
Ragi semiya kuzha puttu
Ragi semiya – 1 cup. Ghee...
Read More >>

Coconut Milk
Take grated coconut with peppercorn, 1 tumbler...
Read More >>

Corn rava idli
Corn rava – 1 cup. Curd – 1 cup. Water as...
Read More >>

Onion samosa
Onion – 3 [sliced]. Carrot – 1 [finely chopped]. Garlic...
Read More >>

Bitter gourd fry
Bitter gourd [Pavakkai, karela, Momordica charantia]...
Read More >>
Recipes by Categories