Thalippu Vadagam

By
Sridher
Cuisine Style: Tamil Nadu, South India | Cooking & Processing: 2 days | Type: Vadagam, vadam
Ingredients
Sambar Onion (Small Onion): 3/4 Kg
Turmeric powder- 1 tbsp
Curry leaves - 2 cup
Urad dal - 1/2 cup or 100 gram
Bengal gram - 1 tbsp[optional]
Mustard seeds - 1/4 cup or 50 gram
Cumin seeds - 1/4 cup or 50 gram
Fennel seeds -1/4 cup or 50 gram
Fenugreek seeds[Vendhayam] - 1/4 cup or 50 gram
Garlic cloves - 5 bulbs
Castor oil[vilakkennai] - 1/4 cup or 25 ml (This keeps this vadagam for a long time and brings taste to it)
Preparation (Method 1)
Wash & soak urad dal & bengal gram for 2 hours. Mash garlic.
Finely chop onion & curry leaves
Heat castor oil[10 ml] in a pan, add soaked uradal, bengal gram, onion, curry leaves & garlic saute till you get nice aroma.
Then add 10 ml castor oil, fenugreek seeds, fennel seeds, cumin seeds, mustard seeds, & turmeric powder saute well.
In a Manual grinder or Stone Mortar and Pestle (Tamil: aatukkal) add all sauteed ingredients Coarsely grind.
Then make balls. & dry out in the sunlight for a day.
Then crush balls then add castor oil, mix well, make balls again
Then place into a reca beetal nut leaves (Tamil: Pakku mattai) and expose to sunlight for 2 days to 1 week
Once its ready, preserve this in a glass jar.
Use it for all type of seasoning for Sambar, Kuzhambu Dal fry etc.
Preparation (Method 2)
Put all ingredients together in a mixer grinder and grind, Keep it in a glass jar for 2 days then spread onto a white cloth and expose to sunlight. Preserve this in a glass jar.
thalippu vadagam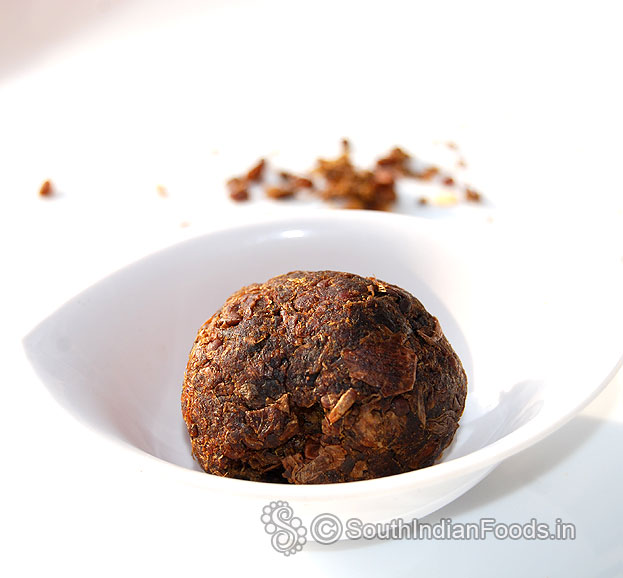 Rate this recipe
You may also like these recipes

Crispy okra
Slice okra [ladies finger] alongside...
Read More >>

Gooseberry pickle
Gooseberry [Amla, Nellikai, Ribes uva-crispa...
Read More >>

Onion samosa
Onion – 3 [sliced]. Carrot – 1 [finely chopped]...
Read More >>

Mango rava kesari
Mango - 1 [sweet]. Semolina [suji, Sooji...
Read More >>

Simple carrot raita
Carrot - 1 cup [grated]. Curd / yogurt– ¾ cup [fully...
Read More >>
Recipes by Categories