Savoury wheat diamond cuts | Wheat flour chips | Crispy masala diamond cuts

By
Sridher
Cuisine Style: South India | Preparation & Cooking Time: 15 minutes | To Serve: 8 | Type: Diwali spicy snacks
Ingredients
Wheat flour [Godhumai maavu] – 1 cup
Turmeric powder – ¼ tsp
Red chilli powder – 1 tsp
Pepper powder - ½ tsp
Salt to taste
Oil for deep frying
Method
In a bowl add wheat flour, turmeric powder, red chilli powder, pepper powder, salt & 1 tbsp oil mix well.
Then add water, knead it and make soft dough.
Sprinkle flour then roll out evenly[thin] then cut in to diamond shapes.
Heat oil in a pan then deep fry till light brown & crispy on medium hot oil.
Cool it and put in airtight container use within 2 days.
Crispy diamond cuts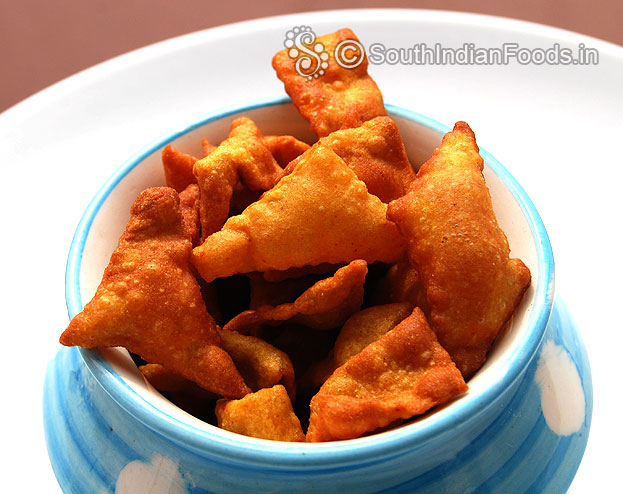 Rate this recipe
You may also like these recipes

Crispy wheat dosa
Wheat flour [Atta] – 3 cups. Black urad dal...
Read More >>

Sesame bhindi
Bhindi [Okra, vandakkai, ladies finger] – ¼ kg...
Read More >>

Garlic pickle
Garlic cloves [Poondu-Tamil, Lehsun-Hindi] – 1 cup...
Read More >>

Instant beetroot halwa
Beetroot - 1 cup [finely...
Read More >>

Kambu sadam
Kambu [Pearl millet, Bajra] – 1 cup. Water – 8 to 10...
Read More >>
Recipes by Categories