Samai rice upma | little millet vegetable upma-Healthy breakfast recipe

By Gunaselvi
Sridher
Cuisine Style: Ancient Tamil Nadu | Cooking Time: 10 minutes | To Serve: 3 | Type : Siru dhaniyam Breakfast, Weight loss & Easy diabetic recipes | Take with : Coconut Chutney, pickle
Ingredients
Samai rice [Little Millet]- 2 cups
Onion-1[sliced]
Carrot – 2 [chopped]
Green peas – 1/4 cup
Potato –1 [cut into small cubes]
Green chilli-1[chopped]
Ginger-2tbsp [finely chopped]
Mustard seeds-1 tbsp
Bengal gram-1 tbsp
Urad dal-1 tbsp
Coriander leaves-2 tbsp [chopped]
Curry leaves- 1 spring
Red chilli powder - 1 tsp
Turmeric powder - 1/4 tsp
Water-3 ½ cups
Salt to taste
Oil – 2 tbsp
Preparation
Wash samai rice.
Heat oil in a pressure cooker add mustard seeds & let its splutter.
Then add Bengal gram, urad dal & curry leaves sauté gently
Aadd onion sauté well then add ginger, green chilli, carrot, green peas, potato, red chilli powder and turmeric powder sauté.
Add water and salt and mix well & let it boil.
Then add samai rice mix well then cover it and cook for 3 whistle.
Then add coriander leaves mix well and serve hot with coconut chutney, pickle.
Saami rice upma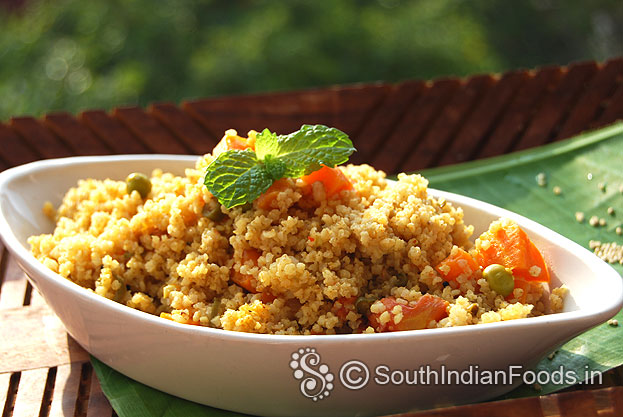 Vegetable samai rice upma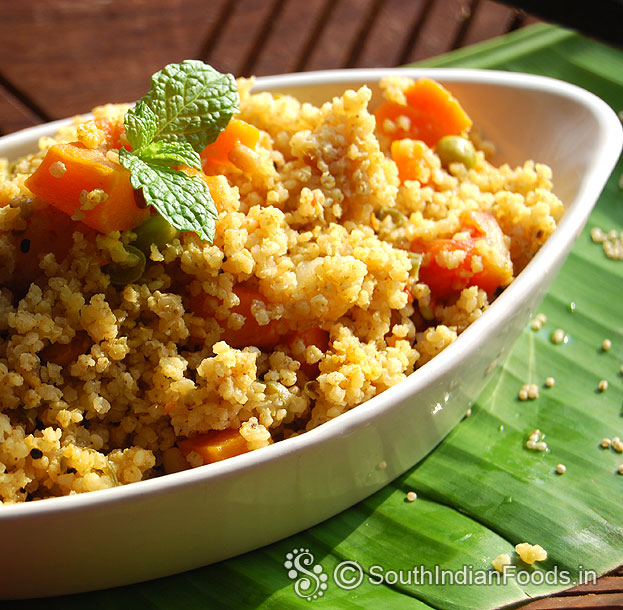 Samak rice upma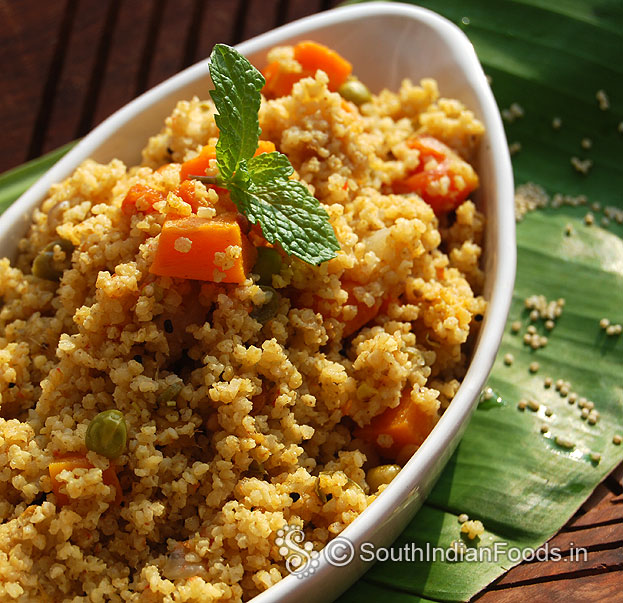 Samai uppittu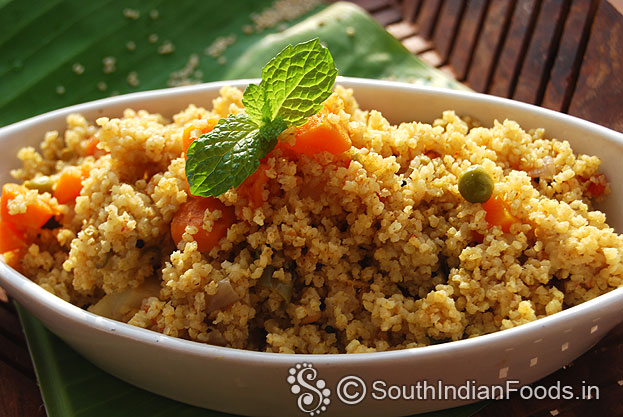 Rate this recipe
You may also like these recipes

Cauliflower Kurma
Cauliflower – 1 cup. Sambar onion...
Read More >>

Crispy okra
Slice okra [ladies finger] alongside and cut...
Read More >>

Tomato chutney
Tomato – 3 [chopped]. Onion – 2 [sliced]. Coconut – 1 tbsp...
Read More >>

Kathirikai gothsu
Egg plant [brinjal, Kathirikai]– 1 big.Tamarind...
Read More >>

Hotel Idli Sambar
Toor Dal -1 Cup. Moong Dal - 1/2 cup. Carrot...
Read More >>

Coconut chutney
Coconut - ½ cup [chopped]. Roasted gram...
Read More >>

Manathakkali Chutney
manathakkali [Black night shade Leaves] - 1 bunch...
Read More >>

Sesame bhindi
Bhindi [Okra, vandakkai, ladies finger] – ¼ kg...
Read More >>

Lemon pickle
Lemon – 9. Gingelly oil – 50 ml. Mustard seeds – 1 tbsp...
Read More >>

Chickpeas puli kootu
Kondakadalai [Chickpeas, Channa] – 1 cup...
Read More >>

Senai kizhangu chips
Senai kizhangu [Elephant foot yam] – half...
Read More >>

Pomegranate kesari
Semolina [suji, Sooji , rava, ravai] - 1 cup...
Read More >>

Sambar
Choose a heavy cooking pot. Wash and clean...
Read More >>
Recipes by Categories