Sago Pudding | Sago pudding with ice cream

By
Sridher
Cooking Time: 20 minutes | To Serve : 5 | Take with : Honey, Dry fruits, Fruits | Type : Desserts
Ingredients
Sago - 1 cup
Sugar syrup - 3 tbsp
Coconut milk – ½ cup
Chocolate syrup – 3 tbsp
Vanilla ice cream – 1 scoop
Strawberry ice cream – ½ scoop
Grated roasted coconut – 2 tbsp
Pistachio powder – 1 tbsp
Preparation
Boil water then add sago. Once sago becomes transparent cut off heat. Drain excess water fully, run cold water and drain excess water if any.
Put this in square shaped mold then refrigerate for 20 mins.
Prepare sugar syrup (put sugar on boiled water) and keep it aside.
Prepare chocolate syrup (double boil dark chocolate ) then keep it aside.
Once sago is set take this out from fridge then unmold this and place it in a serving plate or bowl.
Then stack sugar syrup, coconut milk, pistachio powder, vanilla ice cream and straw berry ice cream one by one.
Sprinkle roasted coconut on the top then add chocolate syrup.
Serve cold immediately.
Sabudana chocolate ice cream pudding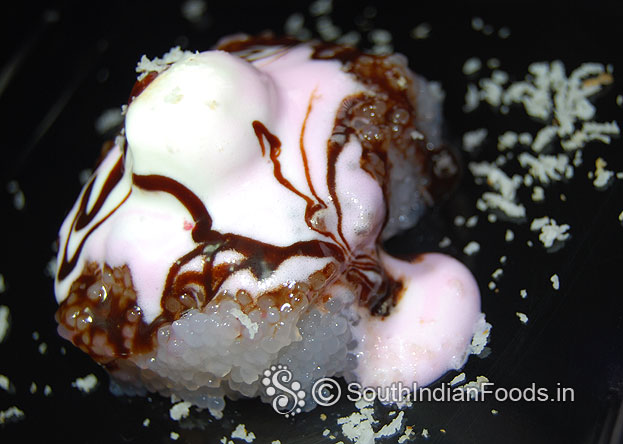 Rate this recipe
You may also like these recipes

Milagu kuzhambu
Soak tamarind for 45 minutes. Dry roast and...
Read More >>

Kathirikai bonda puli kootu
Kathirikai [Brinjal or...
Read More >>

Fried Rice
Put soaked (1 hr) basmati rice in boiling water...
Read More >>
Recipes by Categories