Red rice poha upma | Red matta aval upma-How to make-Video

By
Sridher
Cuisine Style: Tamil Nadu, India | Cooking Time: 10 minutes | To Serve: 3 | Type : Breakfast | Take with : Coconut Chutney, Green chutney, mango/ lemon pickle
Ingredients
Red rice poha [Red matta rice aval] – 1 cup
Peanuts – ¼ cup [roasted, peeled]
Onion – 1 [sliced]
Green chilli – 1 [sliced or chopped]
Carrot - 1 [finely chopped]
Curry leaves – 1 spring
Ginger – 1 ½ tbsp [finely chopped]
Coriander leaves – 2 tbsp [roughly chopped]
Mustard seeds – 1 tbsp
Bengal gram – 1 tbsp
Urad dal – ½ tbsp
Peppercorns - 1 tbsp
Turmeric powder - 1/4 tsp
Lemon juice – 1 ½ tbsp
Asafetida a pinch
Oil – 2 tbsp
Salt to taste

Preparation
Wash red matta poha 2 times then drain water.
Heat pan with oil add mustard seed let it crackle.
Add Bengal gram, urad dal, peppercorns and peanuts.
Add onion sauté well then add ginger, green chilli & curry leaves.

Add turmeric powder, asafetida & carrot sauté gently.
Add red matta poha and salt then mix well.
Add lemon juice mix well.
Add chopped coriander leaves over it and mix well.
Cut off heat and serve hot with pickle, coconut chutney.

How to make Beaten red rice upma video
Red matta rice aval upma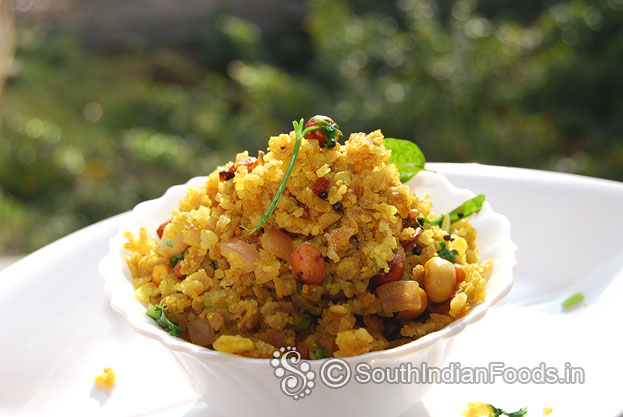 Rate this recipe
You may also like these recipes

Coconut chutney
Coconut - ½ cup [chopped]. Roasted gram...
Read More >>

Cauliflower Kurma
Cauliflower – 1 cup. Sambar onion...
Read More >>

Hotel Idli Sambar
Though everyone hates hotel food some times we...
Read More >>

Kara Kuzhambu
Brinjal - 3 nos. Small Onion (Sambar Onion) - 10...
Read More >>
Recipes by Categories