Sweets / Desserts >Red aval payasam | Red poha kheer | Sigappu Aval Payasam | Matta Rice Flakes Payasam
Red aval payasam | Red poha kheer | Sigappu Aval Payasam | Matta Rice Flakes Payasam

By
Sridher
Cuisine Style: Tamil Nadu, South india | Cooking Time: 15 to 20 min | To Serve: 4 | Type: Sweet, dessert, diwali special sweet, kheer, payasam
Ingredients
Red avul [Red poha, Sigappu Aval, Matta Rice Flakes] - 1 cup
Milk – 3 cups
Saffron – few
Jaggery or sugar – ½ cup
Green cardamom powder - ½ tbsp
Cashew nuts - 7
Raisins - 6
Pistachio - 4
Almonds [sliced] -3
Ghee - 3 tbsp
Preparation
Wash and soak Red poha for 5 min.
Heat ghee in a pan, roast cashew nuts, raisins, pistachios and almonds keep it aside.
In the same pan add milk, Red poha & cook till soft [apr 8 to 10 min]. Then add jaggery or sugar mix well.
Add ghee roasted cashew nut, raisins, pistachio and almonds slices.
Finally add cardamom powder & saffron then cut off heat.
Serve hot or cold.
Red Poha Kheer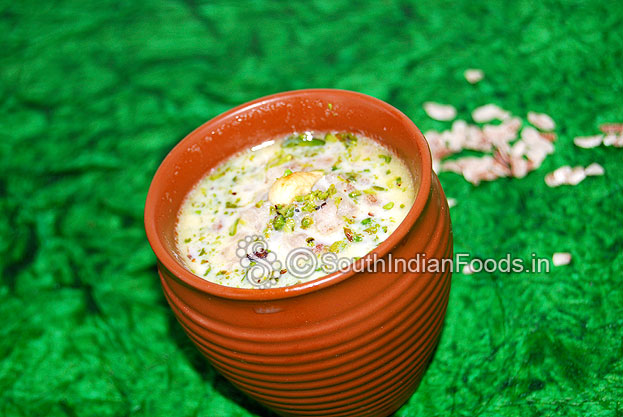 Rate this recipe
You may also like these recipes

Ragi flour dosa
Ragi flour [Kezhvaragu maavu, Finger millet flour...
Read More >>

Raw mango rice
Rice – 1 cup. Raw mango [pulippu mangai] – 1 cup...
Read More >>

Paneer tikka with tandoori masala
Paneer [Cottage Cheese]...
Read More >>

Ragi rotti
Ragi [Finger Millet]– 1 cup. Cabbage – ¼ cup [grated]...
Read More >>

Green gram & potato sundal
Green gram [Pachai payaru...
Read More >>

Tomato bath recipe
Basmati rice – 2 cup. Water – 2 ½ cup. Tomato – 4...
Read More >>

Shavige bath recipe
Semiya [vermicelli] – 200 gram. Lemon juice – 2 tbsp...
Read More >>
Recipes by Categories